This afternoon was Jack's long awaited Harry Potter themed birthday party.
I'm not sure who was waiting longer, me or him.
After some of his more esoteric requests (what can you do with a Mater themed party?), I was very excited to find he chose such a rich theme.
We transformed our house into Hogwarts, starting with the entrance…
Jack's Aunt Joy sent him a Harry Potter vest, wand, cape and quittich goggles which he donned for the party.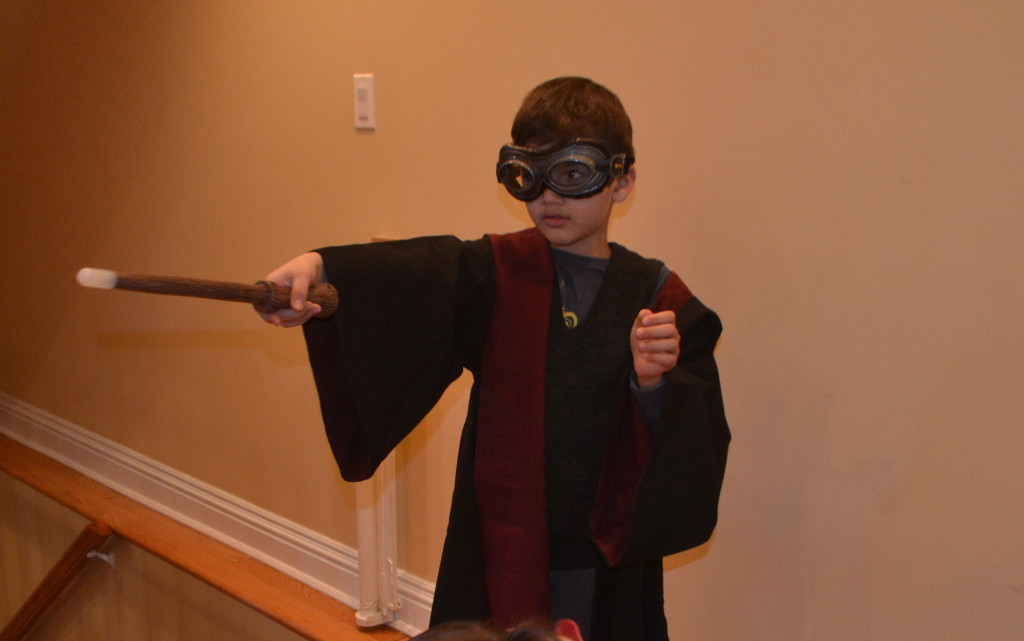 Even Bubbie, who is visiting for Jack's birthday, dressed for the occasion.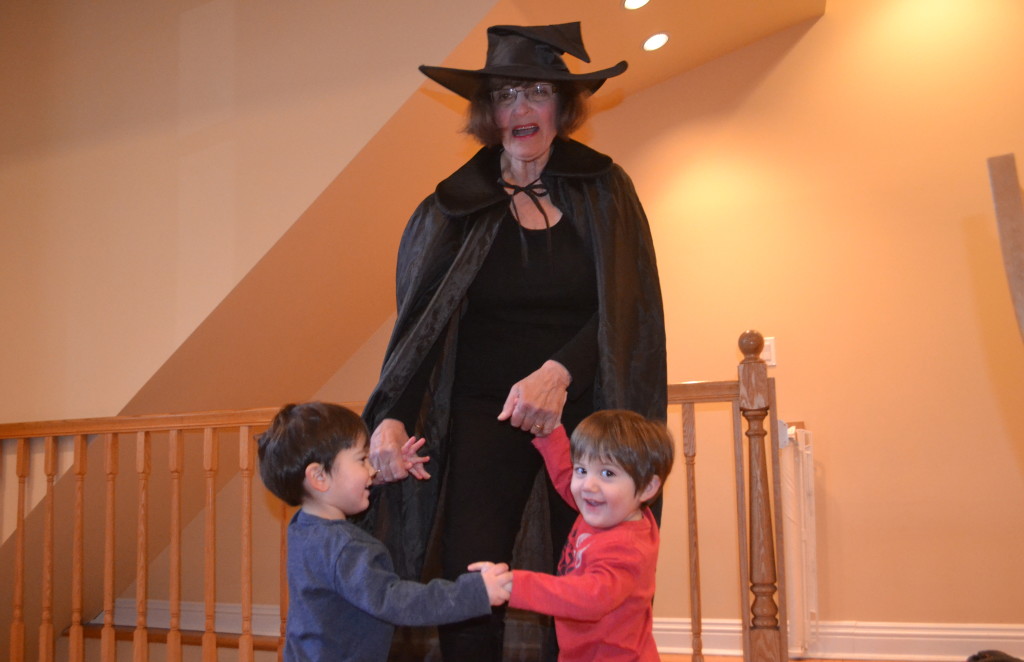 When the kids first walked in, we presented them with a scavenger hunt.
I just want to point out how giddy it made me to make the pencil cup. It's comprised of every single pencil Jack received at Halloween or Valentine's Day. I was so happy to finally find a use for them that I was chuckling to myself at 11:30 last night when I carefully sharpened every last one.
Here are a few of the clues on the scavenger hunt…
Afterwards the scavenger hunt, we hired The Great Scott to perform a magic show.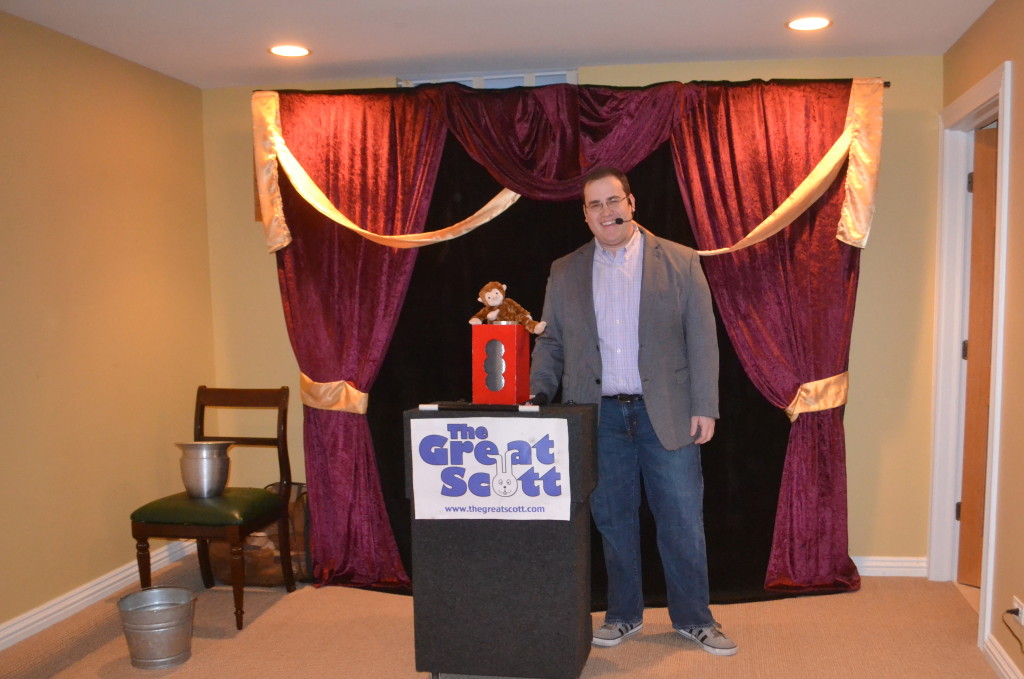 He did a great job. I already knew he would because he performs at our block party. But I was touched when he was super sweet to Ben. We all know Ben has some issues. At the show he was unable to sit and watch without being disruptive. So he got pulled out. He was very upset about it. Later, after the show, Scott asked if Ben could come back so he could do a trick just for him. He had no idea that Ben had issues and could have just treated him like a bratty kid, instead he made an extra effort to make him feel special.
While the kids were downstairs, we adults were free to chat upstairs.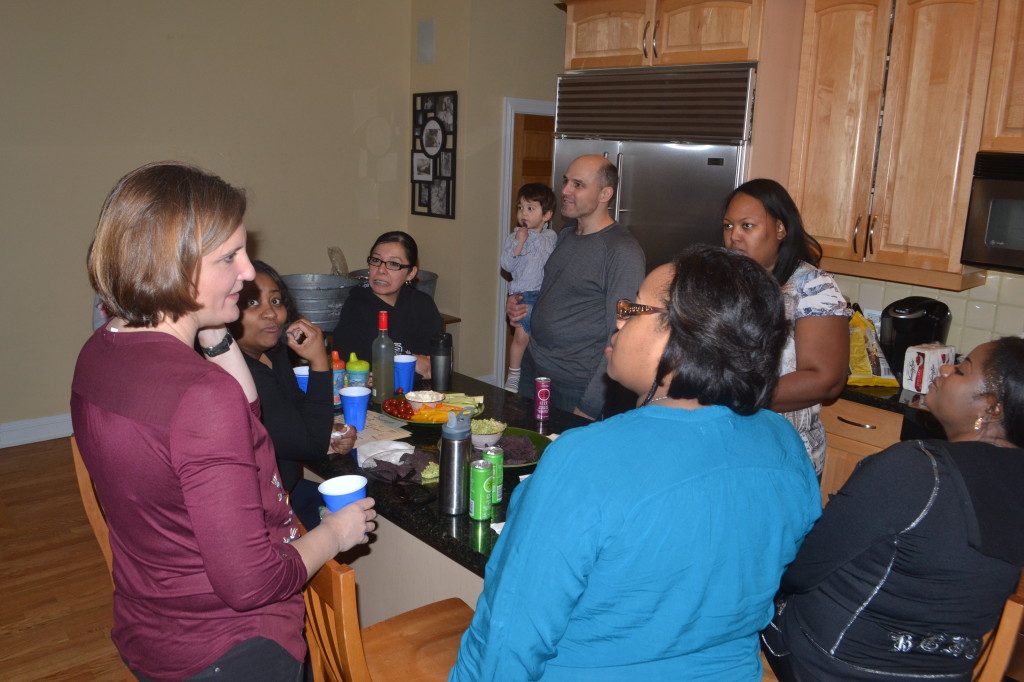 It also gave us some time to set up the dinner spread. We made sure to include Jack's favorite, Sushi (Owl Eyes), fruit wands and lots of Hagrid's Stoat Sandwiches – turkey, pastrami, caprese, and egg.
The kids took about 5 minutes to eat, then another five minutes to tear through the house like a tornado.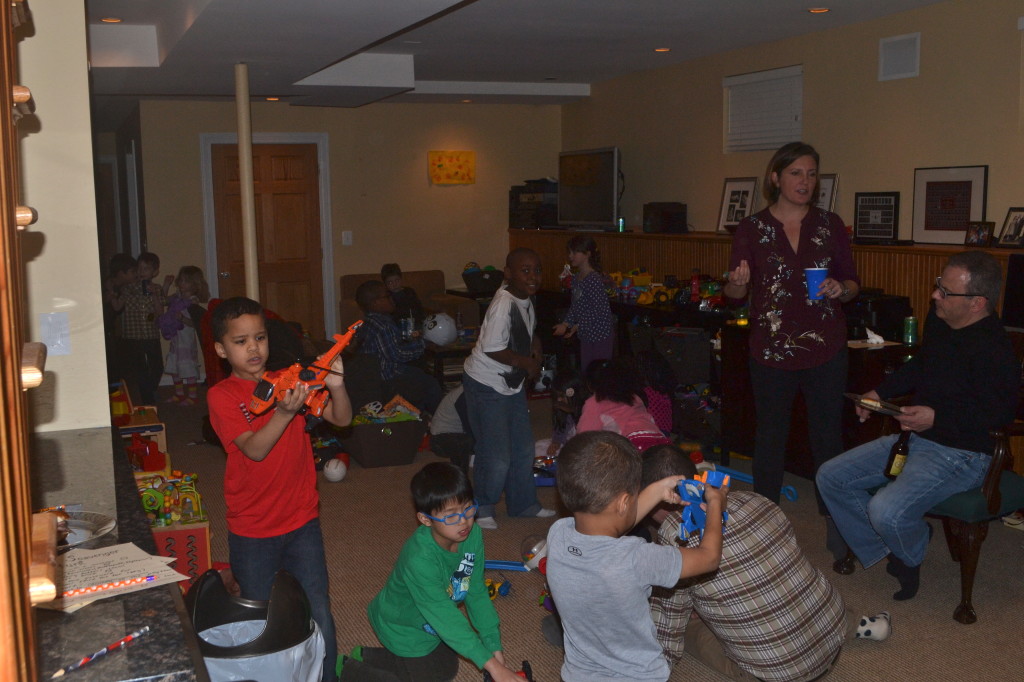 The picture above is an impromptu pillow and stuffed animal fight. Some of the other parents were alarmed by it and at one point one dad yelled, "There is candy downstairs!" just to get everyone to stop it.
Little did he know that there was, in fact, real candy downstairs. That Adam had set up the goody bags. We put up posters of different shops on Diagon Alley for the kids to fill their gift bags with.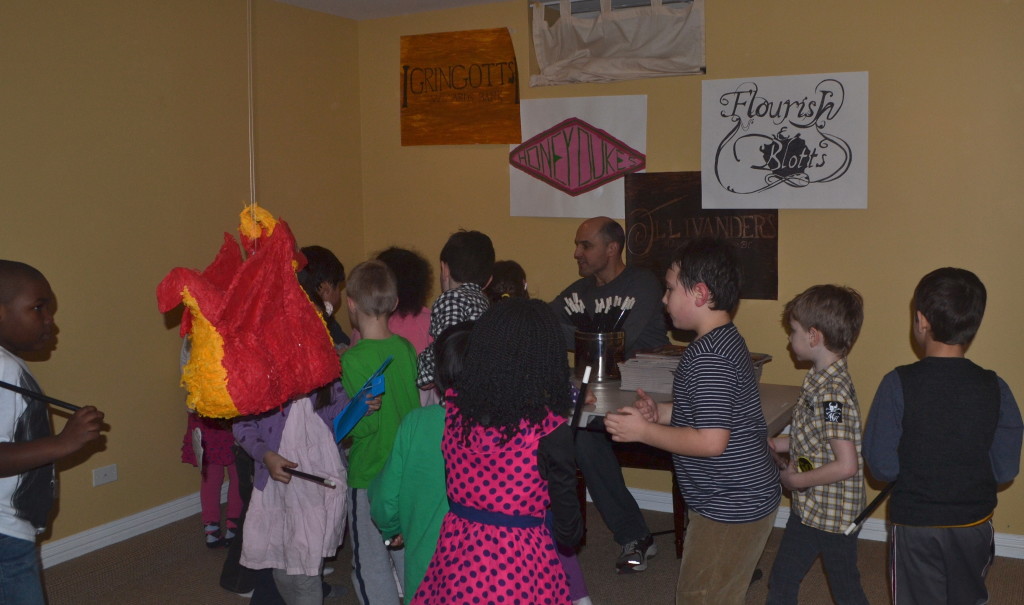 Gringotts gave out chocolate gold coins, Honeydukes had Bertie Bott's every flavor jellybean, Ollivanders – magic wands and Flourish and Blotts had Harry Potter coloring books.
Then, with their bags in hand, we started bashing away at the pinata.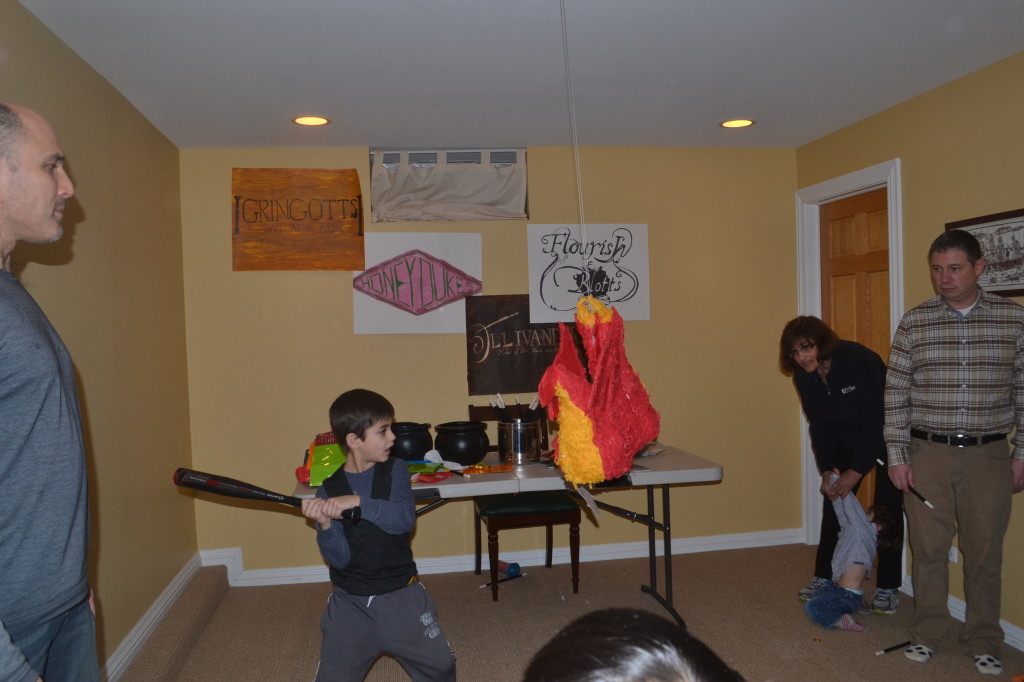 The thing finally fell and the kids descended on it like a pack of rats in the alley. It was nuts.
Adam's always takes on the task of organizing the cakes for the birthday parties, which is how we ended up with this…
Yes, it's all edible. Except for the conical towers. Actually the brown bits of the conical towers. The green tops are ice cream cones.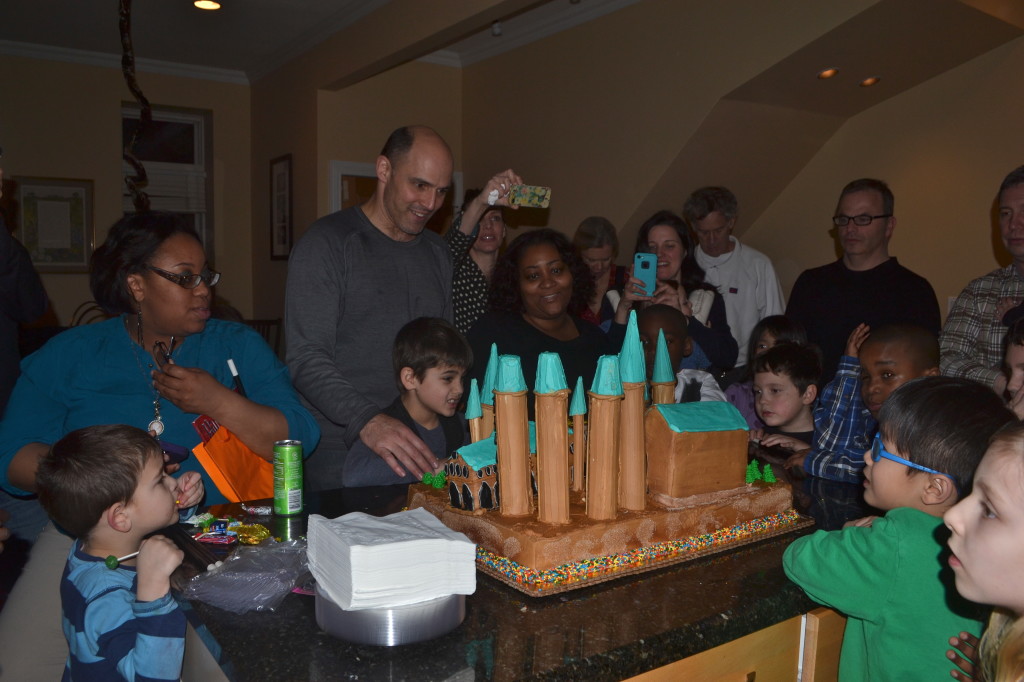 Happy birthday Jack! It was a very enchanted (ceiling) night…
Pin It