This week we received Gold Potatoes, Broccoli, Yellow Onions, Carrots, Artichokes, Red Boston Lettuce, Spinach and Garlic.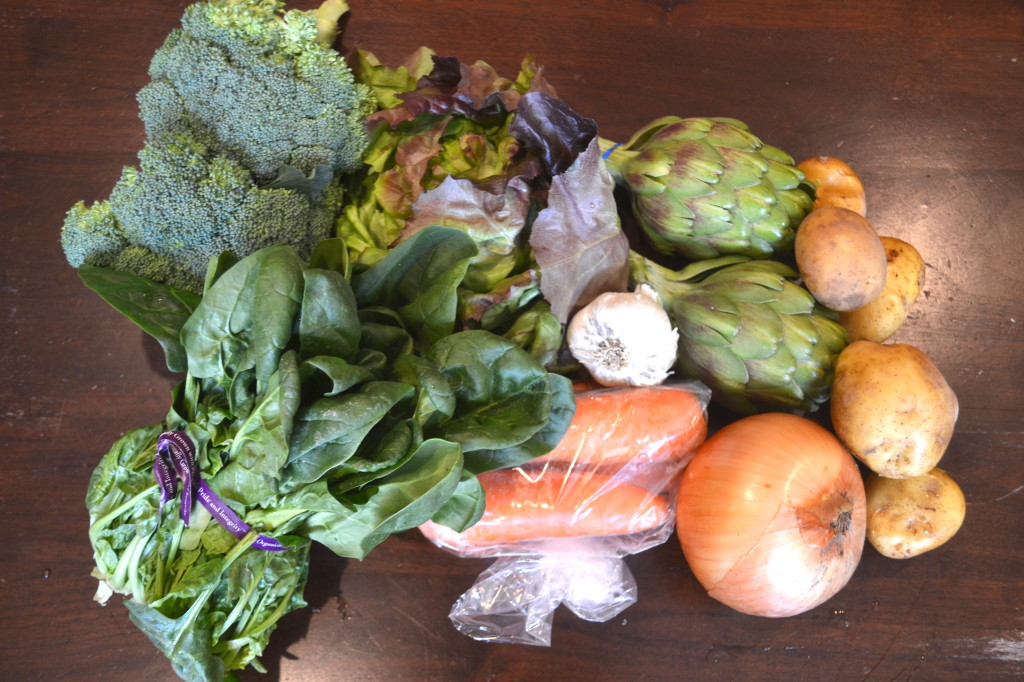 I've been on a Pioneer Woman woman kick lately.
When I first started watching her show, I was slightly disgusted at all the cheese, butter, cream and sugar she used. Normally I cringe when adding any of those ingredients in my food.
But lately I've been seeing some research that is opening my eyes. My friend Jennie recently sent me an article Whole Milk vs Skim Milk essentially saying that higher fat products lead to lower weight.
Also it seems there is a growing trend saying that good old fashion butter is actually less processed and therefore much better for you than things like canola oil. Wellness Mama lays it all out for you here.
Even the formally cholesterol feared egg is coming back in vogue.
I'm still desperately searching for the article that says a high refined sugar diet is the true answer to all life's problems.
Anyway, with my new mindset, I felt free to use two of the of the Pioneer Woman's recipes in this week's delivery.
The carrots and onion were used in her Homemade Chicken and Noodles. The turmeric really made it pop. All the kids liked it, and as an added bonus Sam and Aaron enjoyed throwing it all over the dining room once they were full.  Nothing like finding bits of carrot, celery, chicken and noodles everywhere. Your fireplace, your walls, your hair.
On valentines day I used up the artichokes, garlic, boston red lettuce, and potatoes.
I served Tyler Florence's Steamed Whole Artichokes, used the potatoes in the Pioneer Woman's Duchess Potatoes and a completely bastardized a version of Ina Garten's Cape Cod Salad for the boston red lettuce.
Broccoli was steamed and served next to Cook's Ilustrated's Grown Up Grilled Cheese and a simple tomato soup.
Finally I stuck the spinach in my new Vitamix blender to make green smoothies. I've been debating whether or not to spend the money on one for 6 months now. Finally our old blender broke and I bit the bullet. I'm so glad I did! It's amazing. The motor runs 4 times as fast as a regular blender so it really whips everything up smoothly. I heard you can even make soup in it!
Pin It