Remember my clean eating post?
I was pretty happy with the results and decided to start another program with my coach, called the 21 Day Fix. This program consists of daily 30 minute workouts and a bunch of plastic containers for you to measure your daily intake of food in.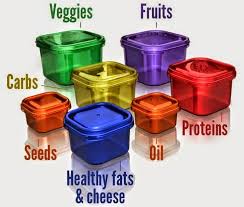 Sounds complicated but it was actually a lot easier than a calorie counting app and as a bonus you learn to eat in the right food groups, not just count calories. At the same time, you also have the flexibility to pick what you want to eat.
I really, really enjoyed it. And I had A LOT of success with it.
I lost a total of 4 pounds but more importantly, I lost 1 and 1/2 inches off my waist.
So where is my gratuitous "before and after" photo? Well, as it turns out, 1 and 1/2 inches off my waist and four pounds light isn't exactly where I want to be.
But don't fear, the picture is coming.
Right after I do just one more program. Or after I do however many programs it takes to get my freakin gratuitous "before and after" shot!
Now that I'm seeing some results, I'm jazzed to keep going, to push myself to see if you really can get your body back (without surgery) after birthing four children.
This time Coach Megan is starting a 22 Minute Hard Corps group. It's 8 weeks and I'm hopeful if I stick to the rules, which means eat right and complete a 22 minute workout a day, I will be "Beachbody" ready, as the company is so aptly named.
Want to shape up before it's time to bare it all at the beach this summer? Would love to have some friends join me in the group, it's a great way to be healthy and social all at the same time.
(I'm not a coach, and do not get paid or compensated in any way if you join. It's just more fun with friends.)
Pin It