Kale, White Turnips, Broccoli Raab, Pea Vine, Green Onions, Russett Potatoes, Leeks, and Asparagus.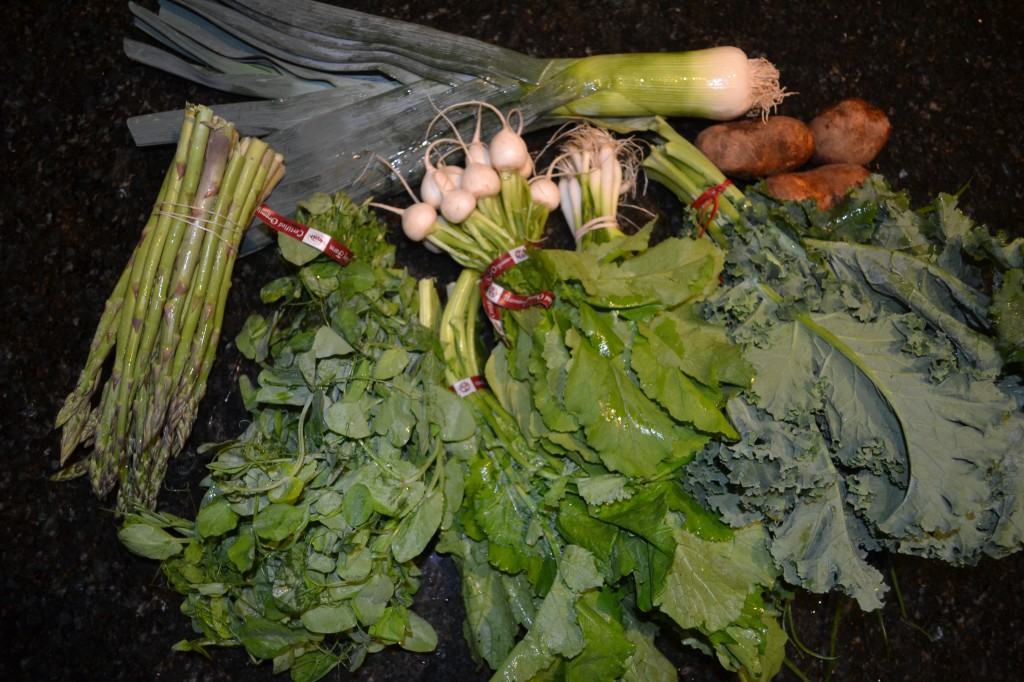 After a little bit of research, I learned that Pea Vines are actually Duo Miao – my favorite chinese green to order at Chinese Restaurants. I know they are seasonal. You could only get them in China at certain times. I used to order them year round. I was mostly rejected. But it was worth it for the few times a year that people actually had it! I decided to sauté them in the wok, Chinese style, just the way I like them. I used a very simple recipe from the internet, Sauteed Dou Miao. For some reason it wasn't as good as the restaurants. The stems were very chewy. I'm not sure if I didn't cook it long enough or if I cooked it too long?
I tried a new recipe for Kale, one I saw on Food Network with over 500 reviews and still it kept it's 5 star rating. Massaged Kale Salad. Except I didn't have mango. Or sunflower seeds. So I threw in grilled peaches and slivered almonds instead. So good. Seriously, so good. Go out and get some kale. Right now.
The leeks and potato were a natural match. I made them into a soup along with some of the green onions. Simply sauteed leeks, green onions, diced potatoes in a pot, then chicken stock. Simmered about 30 minutes, added a dash of milk and blended. I left the skin of the potato on because it has added nutritional value. it whizzed in easily and the soup had little brown flecks in it.
The rest of the green onion went into turkey burgers.
White turnips we sliced thin and added to salads. I put them in a spinach salad with mandarin orange vinaigrette, leftover baked salmon, tomatoes, shredded carrots, tomatoes, strawberries and feta. It was delish. They went equally as well in my butter lettuce salad with a mustard vinaigrette.
Asparagus was simply steamed and eaten with a dash of olive oil, salt and pepper. I didn't even share it with the family.
The Broccoli rabe was added to a calzone. I cut the stems, then boiled for about 8 minutes, then flash cooled, then sauteed in garlic with some mushrooms. I added precooked crumbled Italian sausage to the mix. Then I folded some shredded mozzarella into ricotta, spread it on rolled out, circular pizza dough from trader joes. I topped with the broccoli rabe mixture and baked. I added a side of marinara for dipping.
Pin It