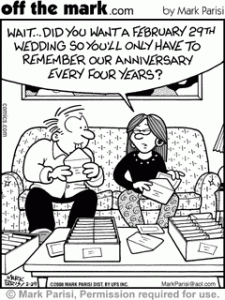 Why do we have leap days?
After a bit of research, I learned that we do not rotate exactly 365 years around the sun, but rather approximately 365 days and 6 hours.
So they added another day every four years, when an extra 24 hours have accumulated.
However, it's a little more complicated than that. I always assumed leap days happened every 4 years, but in fact it is slightly inaccurate to calculate an additional 6 hours each year. It is more like 365 days, 5 hours, 49 minutes, and 16 seconds.
To compensate for the difference, an end-of-century year is not a leap year unless it is also exactly divisible by 400. This means that the years 1600 and 2000 were leap years, as will be 2400 and 2800, but the years 1700, 1800 and 1900 were not, nor will 2100, 2200 and 2300.
Besides their rarity, what else is special about leap days?
Supposedly women can propose to men. Though I've yet to hear from someone who actually did this successfully, leap day or not.
Our Grandpa Bill celebrates his 19th birthday today. (He's actually 76!)
And keeping with theme or rarities, we had a freakishly warm 60 degree February day. We ended up taking Jack's new bike to the park for a ride. I hope everyone enjoyed the nice weather as much as we did!
Pin It