A day before Thanksgiving, with most of my family members coughing or sniffling, we took COVID tests. Adam had a friend he hadn't seen in years from his days at USC in town and we had plans to have him and his family over for dinner.
Before the tests there was the usual murmurings, no one thought they actually had it. I administered the tests in a staggered fashion. First Adam's came back. It was positive. Next I tested Ben. Negative. Aaron, who was sure he didn't have it…positive. Sam, also positive. After I swiveled Jack's nose he asked if the three of us could still go do all fun the activities we had planned this Thanksgiving holiday since everyone else was sick. Then his test came back positive. Seriously, why is it no one ever thinks they have it? Mine was negative. But I still remember my shock and disbelief when my test came back positive in September of this year.
Next came a flurry of moving electronics and the tables to support them downstairs in our newly makeshift "COVID ward". I canceled the soccer session, the eye doctor appointment, the expensive Thanksgiving buffet at the club and a two nights stay at the water park.
Then Ben and I ran to the store to pick up a very last minute Thanksgiving feast.
On the phone the morning of Thanksgiving, my sister and I had a giggle about how our mother would be turning in her grave if she knew the Thanksgiving we were both preparing. My sister is recovering from surgery and I had no time to prepare so we both had store bought cranberry sauce. Both our turkeys were not fully thawed by Thanksgiving morning. I just chucked my turkey into the over half frozen and hoped for the best.
In the end I managed to cook a small buffet of my own. I took a picture of it and let the patients on my COVID ward point to what they wanted. They made a half hearted attempt to eat it, and some complained it was tasteless, which I'm assuming (or blaming!) was COVID related.
I'm not sure what possessed me to spend all day cooking it. Why was I working away for a bunch of people with no appetites and failing taste buds? I felt like an injured runner who tries to run the marathon anyway, just because they sign up every year and can't break from the tradition of it. I should have just ordered Chinese like we do for Christmas!
Meanwhile Ben and I ran to the art store every day in an attempt to keep him busy and away from the other kids. One of his many quicks is his insatiable need for attention. One day during the holiday I counted how many times he said my name in a day. From 9am until 9pm it was 436 times. And he took a nap that day!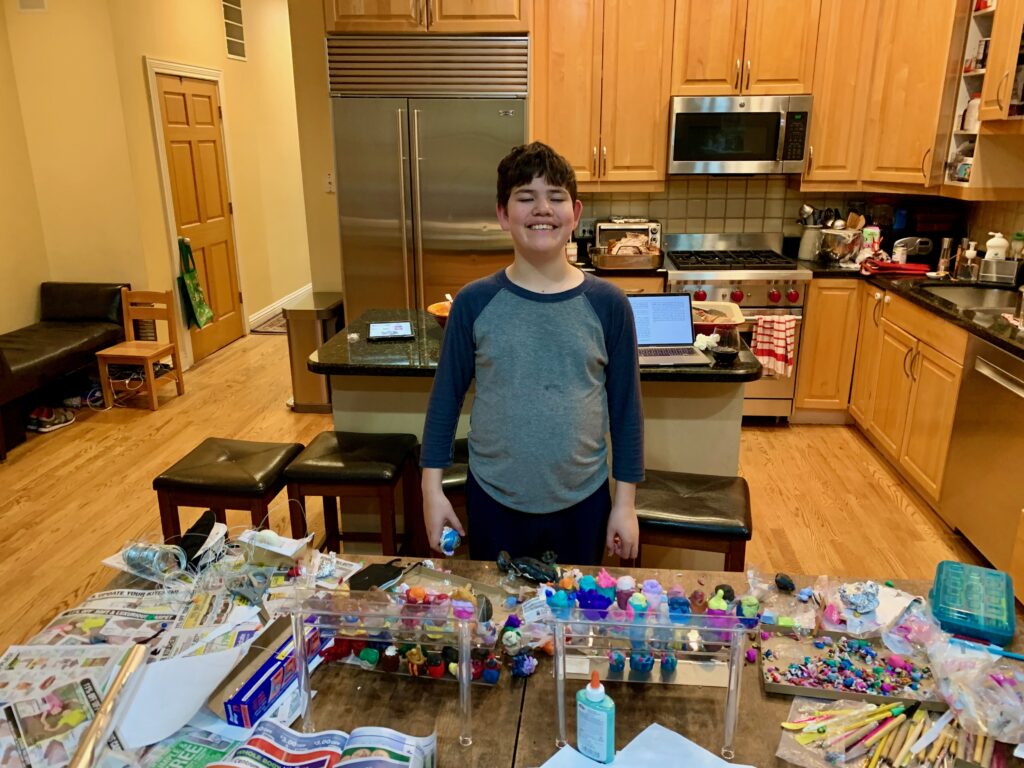 Despite the blow COVID did to our holiday, in bed at night, both of us masked up, Adam gave me a list of all the things we should be grateful for. Our health, our financial security, our wonderful kids, our beautiful marriage, and even being sick during a holiday so he could actually take time to rest and recover.
I hope everyone reading this finds something they can be thankful for this week, no matter what hardships they also face. Life might not be perfect, but there is always a silver lining somewhere if you look hard enough.
Pin It