A few months ago we received a wedding invite from Adam's cousin, Jackie. A wedding invite in Costa Rica!
We were torn, it was so expensive to take the kids and the thought of spending two full days traveling with them was harrowing. But we didn't want to miss this momentous event either.
I mentioned it to my father and he very kindly told us we were crazy to even consider taking the kids. He insisted he come up and watch them so we could still attend.
And he even roped my sister Lara in for the cause.
Adam and I could hardly believe our good fortune!
A vacation for the two of us just two weeks after our 10 year anniversary. ON VALENTINES DAY. It was too good to be true!
Lara showed up as we were leaving so we actually met at the airport. The lack of overlap made Dad nervous, but I knew Lara could handle whatever was thrown her way.
And there was plenty of stuff thrown her way! Some of it her own doing.
Lara showed up with oodles of entertainment, including marshmallow shooters, home made by her husband, Brent.
And crafts! So many crafts!
She even brought a balloon blower, a bunch of long balloons and a kit that shows you how to twist them into shapes like dogs and flowers.
But the entertainment didn't stop there. They also took them to MacDonald's and let them play in the playroom, spent an afternoon at the museum, and did a session at Pump It Up.
When it snowed, Grandpa let the kids suit up and pummel him with snowballs.
I'm not sure after a visit like this, the kids will want us to come back!
And even though we missed them dearly, having a few days off was really quite enjoyable.
Even if the trip started a bit rocky.
We landed and got lost on bumpy Costa Rican roads. By the time we arrived it as 1am. Our well trained clocks woke up with the kids at 6am, even though they weren't there.
Then we planned a eco walk. A 3 hour drive away.
When we arrived at the gates, the park was closed. So we drove a bumpy 2 hours back and finally figured out the right thing to do – take a nap.
First night in we joined the wedding party at the prenuptial dinner.
Dinner on the beach with a group of charming adults did the trick. We were really on vacation!
The next day we vacationed right. A walk on the beach, a swim in the pool, and getting sunburned while reading books.
Even though we missed our eco walk, the resort we stayed at had plenty of wild life for us to spot.
In the evening we joined the main event. A beautiful beach wedding ceremony.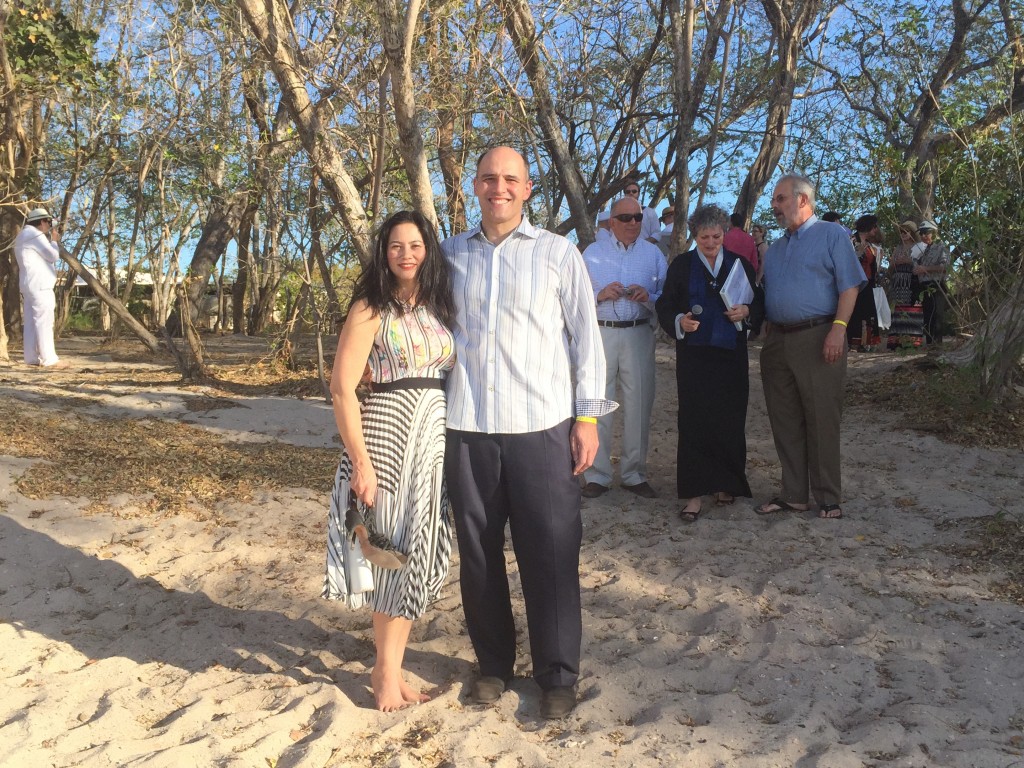 The final day we had brunch and headed back to reality.
We couldn't have had such a wonderful time without our support team, Lara and my father. Thank you both – Adam and I are forever grateful!
Pin It