This year we suggested a switch up from our usual at home extravaganza for Jack's birthday.
We had heard from my friend Pam that Laser Tag was the coolest party her son had been to in a while.
The minimum age for Lasertag at WhirlyBall is 8 years old so this was the first time we had experienced something like this. But after we saw how much fun the kids had, I'm pretty sure it won't be our last.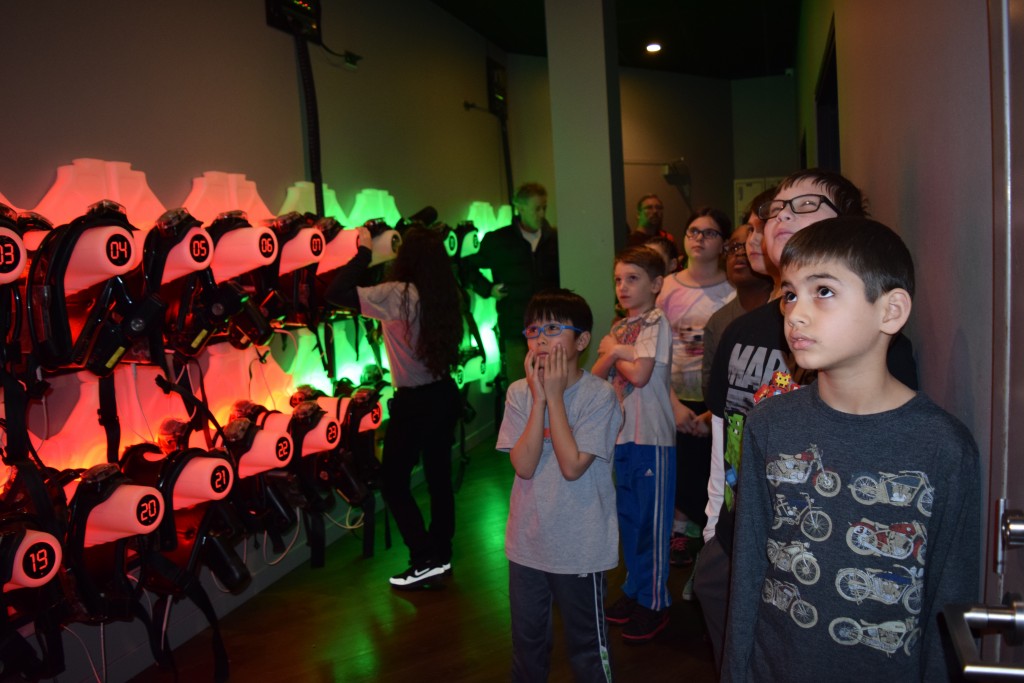 Instructions and suiting up for the big game.
After Adam saw this shot, he marveled how you can put a gun in any 8 year old's hands and they know exactly what to do. Quite a statement about our society.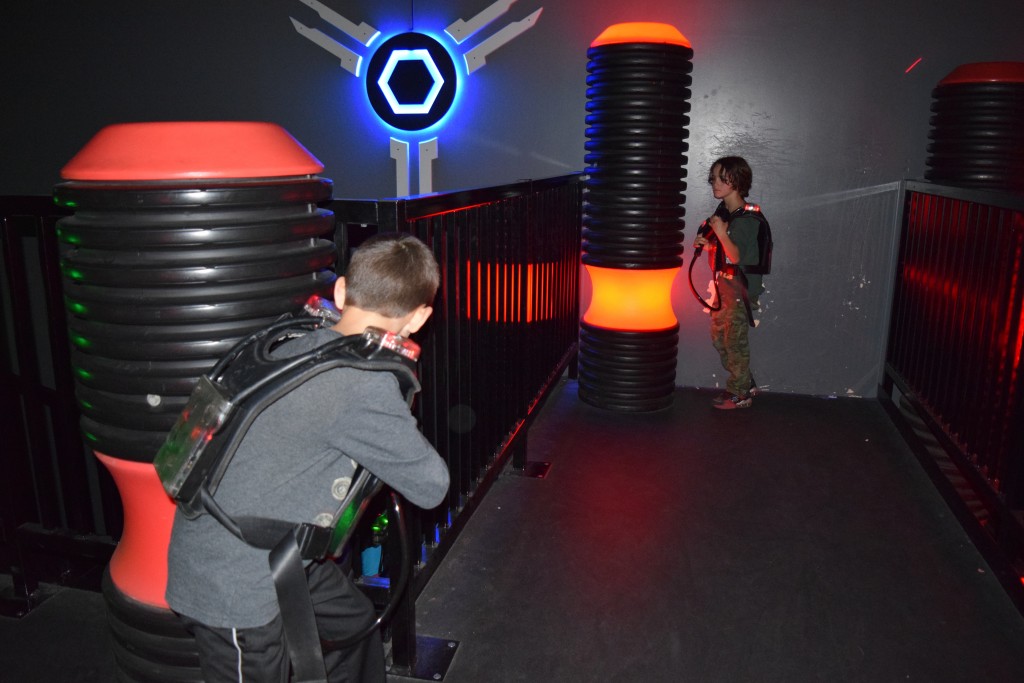 There were two levels you could play on. The teams were split by vest color – Red vs Green. You shot the other color vest to gain points and when you got enough hits or got hit too much you had to go back to your base to recharge. Rounds were played in 6 minute intervals.
Because it was a party for ages 8 and up, we got a sitter for the other kids. But Ben was so upset we decided to bring him and let him hang out with us and wait. I saw them put a 4 year old in from another party so I don't think they are super strict, but I was still worried about Ben getting upset in this sort of scenario and thought it best for him to sit out.
As it turns out, there was a bowling lane upstairs by the party room. Some of the adults and younger kids did that while waiting for Lasertag to finish.
One nice thing about this venue is that they have more then just pizza. They also have a full bar and full service restaurant so we were able to get some other pub grub like steak rangoon, wings and nachos.
And even though the party package came with a cake and cupcakes, we still were able to bring in our own cake. (You know it was going to be a deal breaker if Adam couldn't design the cake!)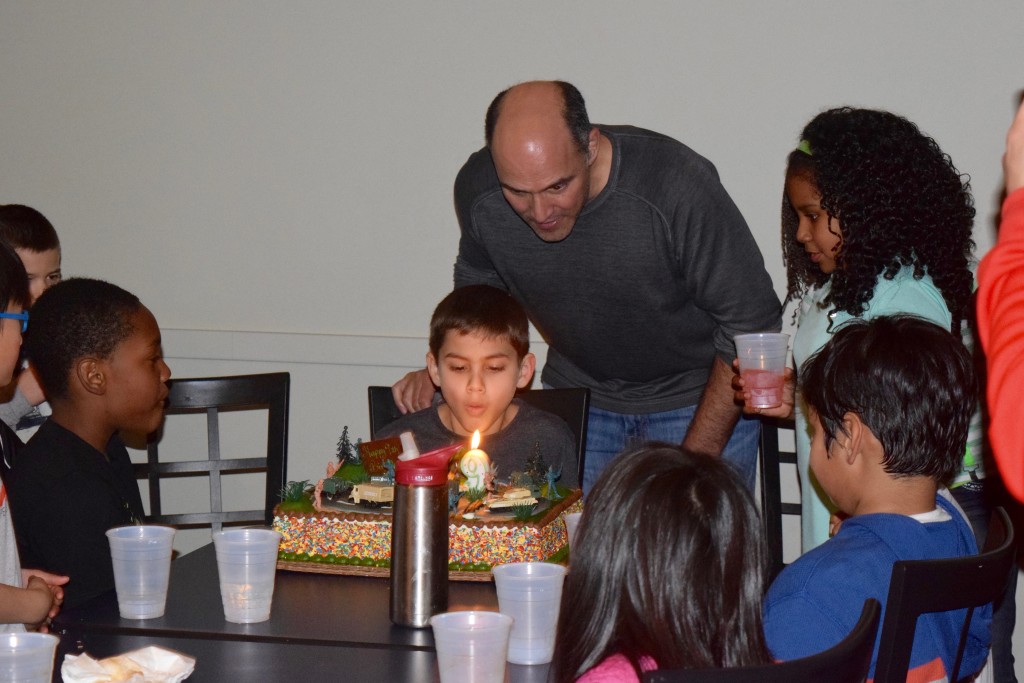 Later when we got home, I was happy that I wasn't cleaning up spilled juice and cake crumbs off my floor, that our house was relatively clean and it was still early enough to open up Jack's presents and enjoy some of them.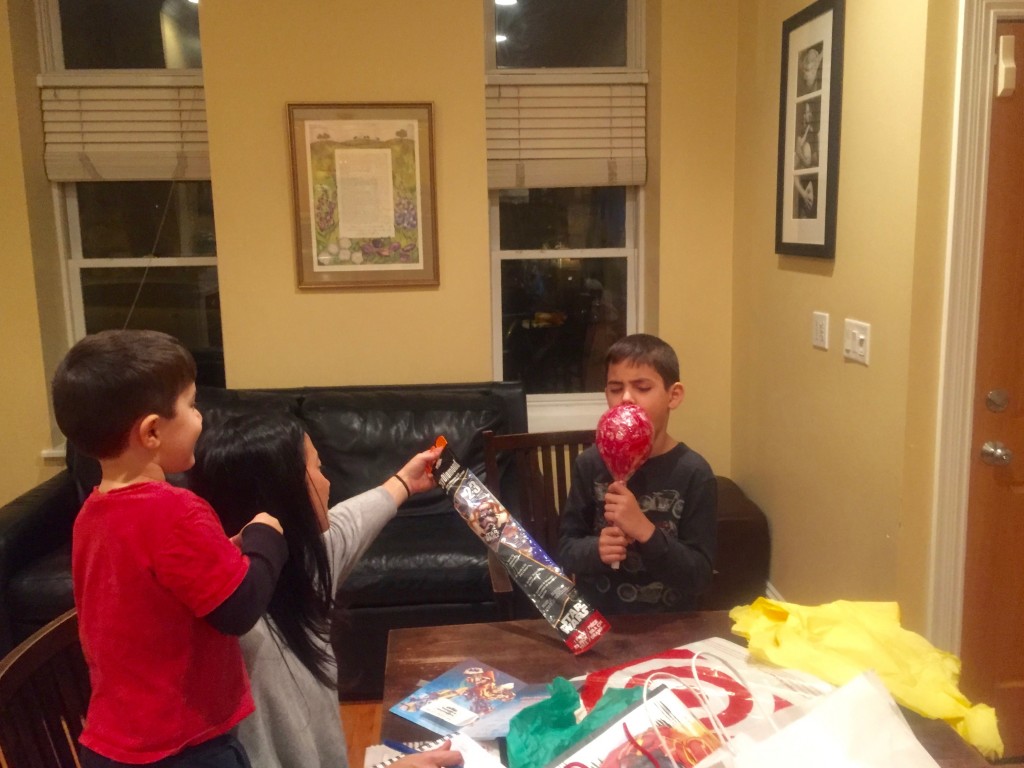 Jack thought Lasertag was awesome and wasn't upset about not having a house party either.  We would definitely do it again.
My only tip for anyone considering a party as this venue I will tell you this, they may oversell your slot.
There was some miscommunication on their part about the fact that they booked another party during Jack's time slot. They booked the same age group of kids and they all played nicely together but it was a little upsetting to find out, when I called to confirm 20 kids, that only the 15 original vests I put a down payment on would be available. That I would have to switch the kids out every 6 minutes so everyone could play. Again miraculously it worked out that each kid only had to sit out one 6 six minute period each. And the staff kindly gave us a free bowling lane to entertain those kids who were waiting. They also threw in a bunch of extra free food and drinks for their mistake. Most importantly, as the manager said, after you see all the kids smiling faces, you will be happy. And I was.
Pin It