Adam decided for his 50th birthday present he wanted to take the kids to Mackinac Island. Since we all know that Adam is larger than life, this quickly turned into a week long drive around Lake Michigan visiting everything along the way.
He started researching hotels. We are hotel point junkies. We have hotel credit cards, rack up points, and get free stays for vacations. Unfortunately most of the northern areas surrounding Lake Michigan don't have chain hotels. Later, when we finally traveled through the Upper Peninsula, I realized why. It is so sparsely populated, the tourist attractions are so far apart, and the season is so short that most major hotel chains would probably not make enough money to build and maintain a property here.
That's when we decided to rent an RV. Remember when I mentioned that Adam is larger than life? So you can guess the kind of RV he decided to rent, right?
I took a picture of it next to other cars so you could see the boat we were driving. The advertisement online said it 'sleeps 8 comfortably'.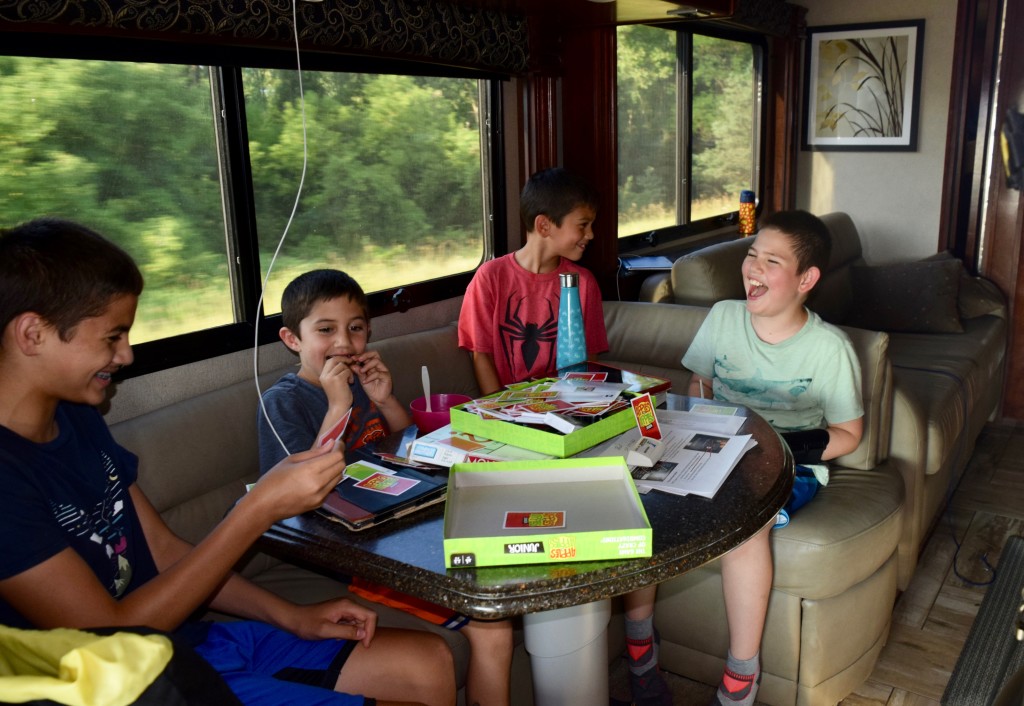 The kids really enjoyed having a bit more space. There was definitely less fighting. And Sam, who gets carsick, seemed fine in the RV. I loved that we didn't have to stop a million times to go to the bathroom.
Our first stay was in Door County at Peninsula State Park. There were all kinds of cool things to do in this park that we didn't have time for, like outdoor plays, a nature center, golf and biking trails.
We did enjoy the morning on Nicolet Beach.
While all the other kids on this beach played exactly as you'd expect, our kids morphed every normal game into something else.
A normal game of catch became a game where you had to throw the ball through someone else's legs and hit another kids butt.
A normal sand castle turned into a huge wet sand fight.
Adam usually starts the trip slowly untangling himself from work, which means the first few days he is still working.
He didn't get to enjoy the beach at all.
In the afternoon, we hiked Tramper's Trail to the Lighthouse.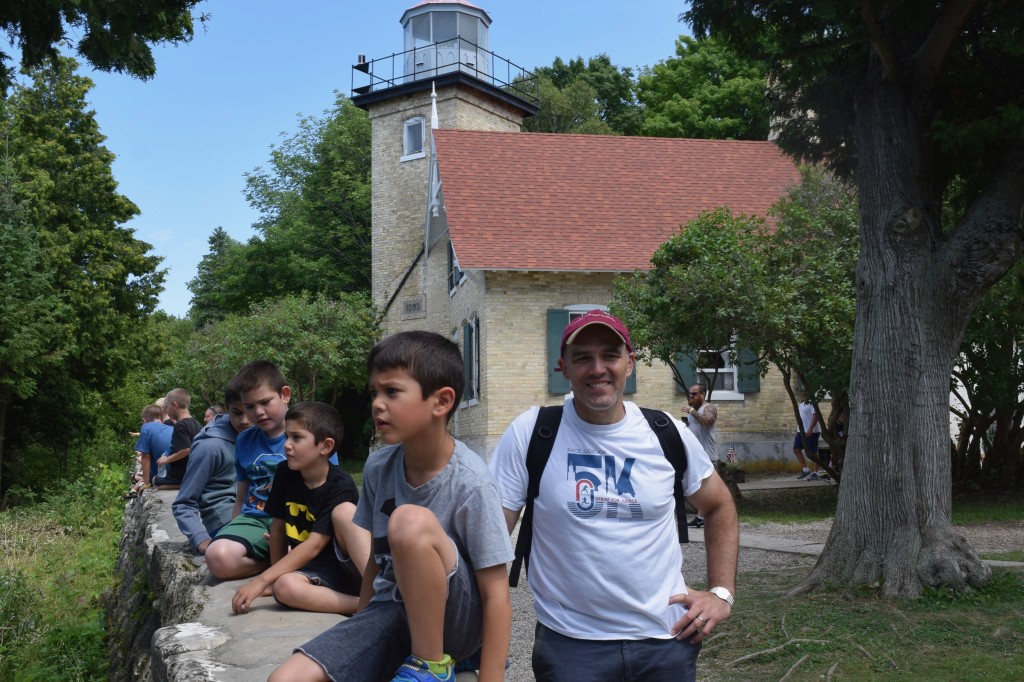 Every night we roasted s'mores and played bags. Aaron learned how to build the campfire and became the official fire builder every night.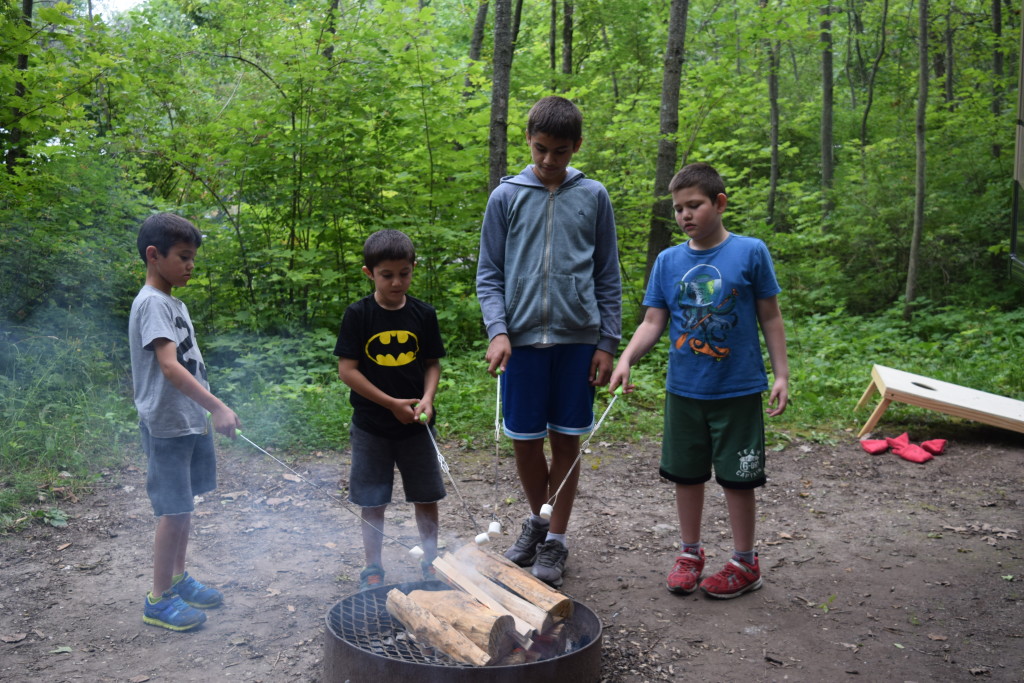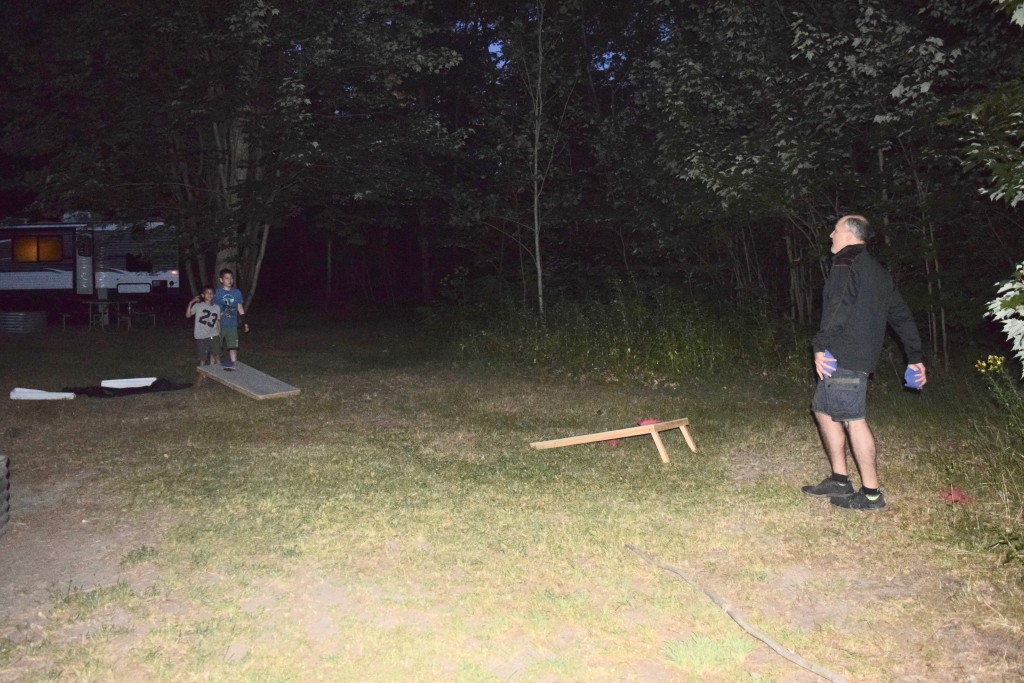 The next morning we woke up and had breakfast at the famous Swedish restaurant in Sister Bay, Al Johnson's.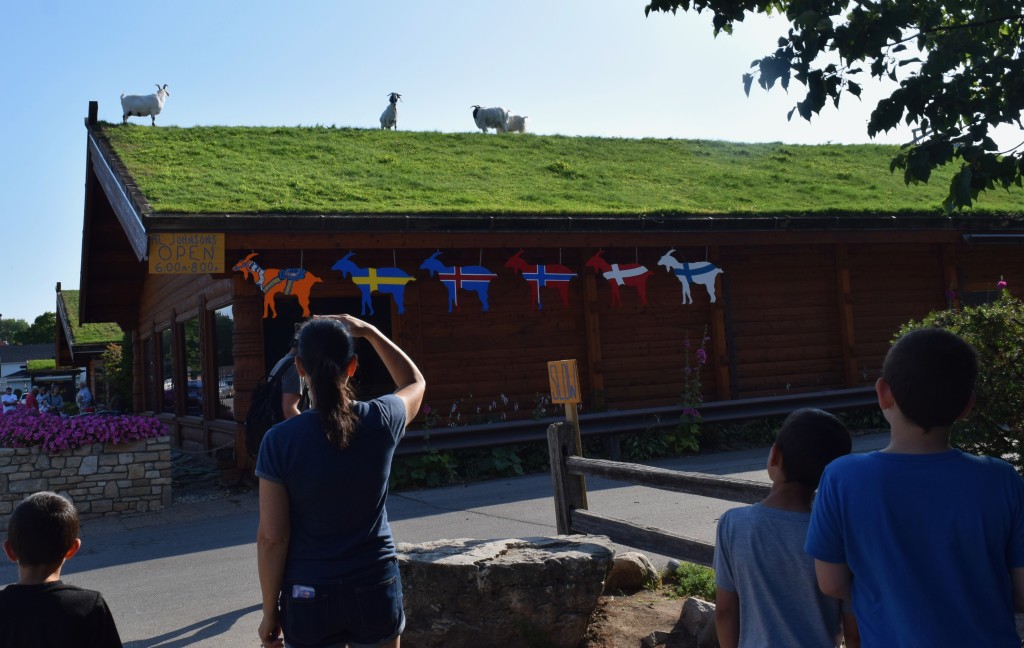 Yes. Those are goats on their roof.
We all ordered the Swedish Pancakes! (I had to throw my vegan tendencies to the side to sample the Swedish Meatballs.)
After that, it was time to head to our next campground, but not before a stop by Hiawatha National Forest to see the Big Spring, AKA Kitchitikipi.
They take you over the spring in a open bottom boat so you can view all the fish and bubbling springs.
Then, onto the next campsite, Tahquamenon Falls.
The first day Adam booked a kayak tour of Pictured Rocks. He booked with a company called Pictured Rocks Kayaking. It was the only tour that shuttles you by boat to all the good stuff so you don't have to spend hours kayaking yourself there.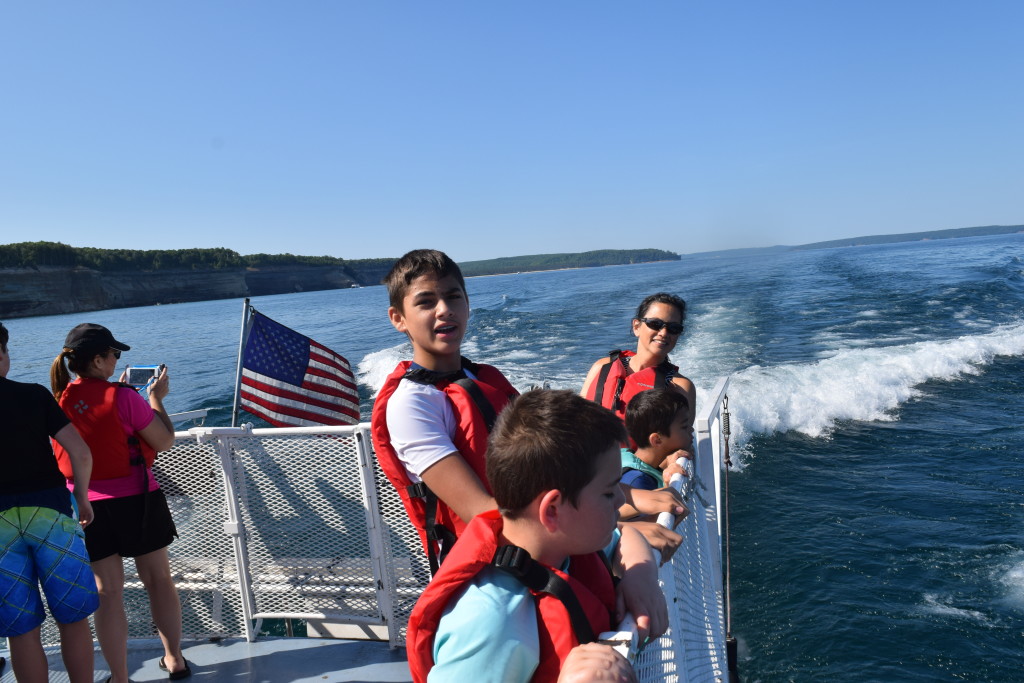 That said, it was still a 2 hour kayak tour. Our kids did an amazing job paddling, especially Jack who had to steer as well!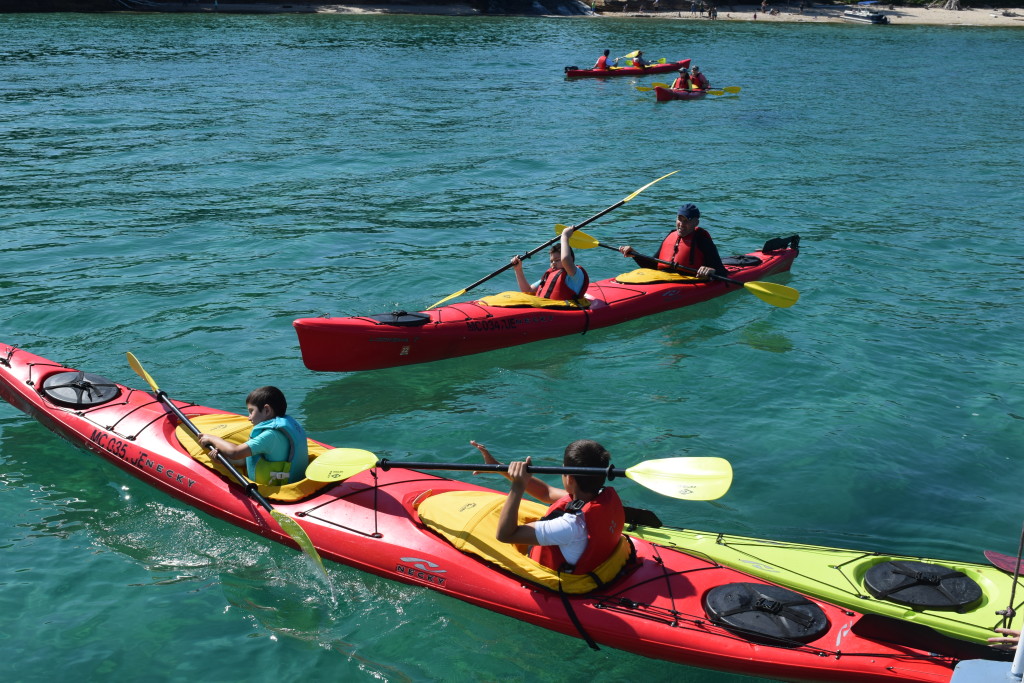 We passed a lot of unusual sights like strange rock formations and rocks that look painted by dripping mineral deposits. We also visited caves and saw cliff divers. I was too scared I would lose my camera so I'll leave this part of the trip to your imagination, or your google searches…
On the way back to the campsite, we did a quick stop at Grand Marais off of Lake Superior. We were hoping to see sand dunes, but instead we ended up collecting rocks. Adam let each kid pick three, and all the kids gave their picks to Aaron, who loves collecting these things much more than the rest of them.
The next day, we did a four mile hike from the Lower Tahquamenon Falls to the Upper Tahquamenon Falls.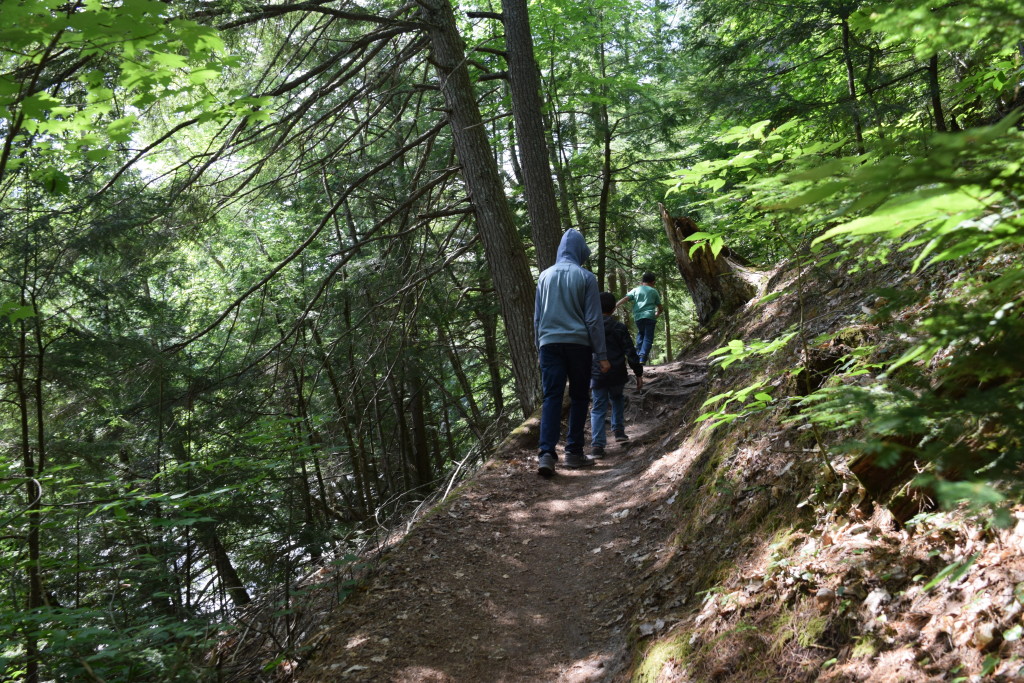 At one point it got so buggy the kids put on the face nets we brought just for this occasion.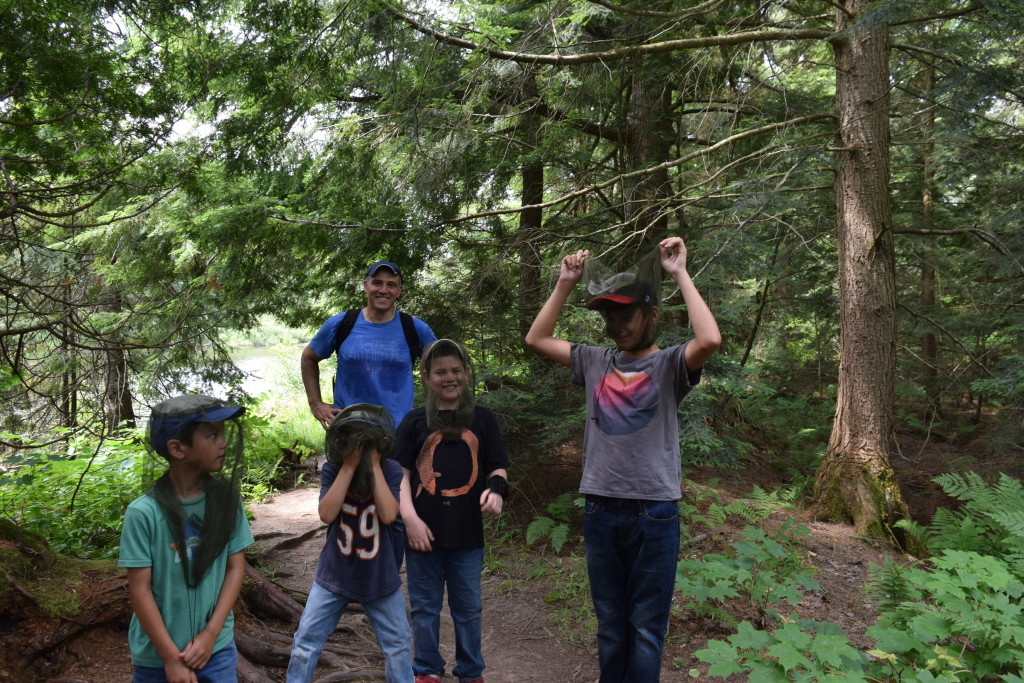 When we got to the Upper Falls,  I looked over at Adam and realized we were wearing the same shirt. Wearing the same shirt coupled with all the kids we had made me feel like we were part of some Christian family reunion. The kids kept calling us tour guides.
It took 2 hours to complete and the kids were absolutely exhausted by it.
But lunch at the Brewery and Pub at the Upper Falls helped rejuvenate them.
We sampled the Upper Peninsula traditional fair, pasties. They are kind of like a calzone with meat, potatoes and vegetables baked inside, served with gravy.
I threw my vegan tendencies out the window again, this time to sample the local Whitefish, along with the Peach Wheat Beer.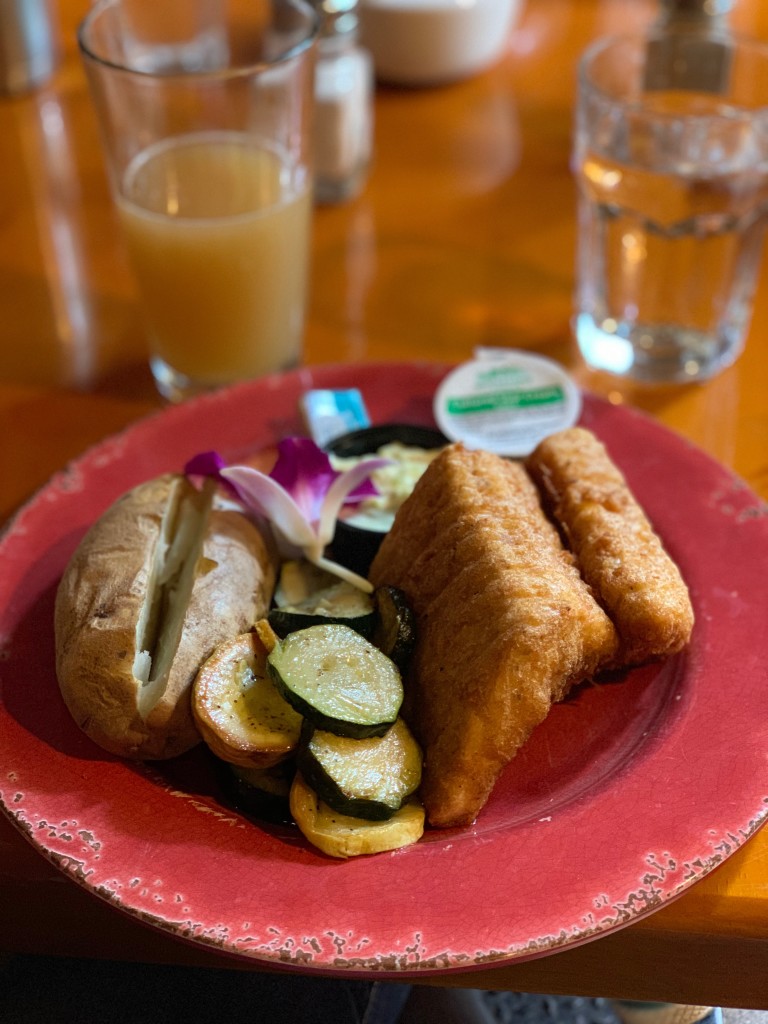 Then Adam treated them to a trip to the Gift shop. For my treat from the gift shop, I bought Fairy Dust packages that you can throw on fire to make it turn different colors.
We took Jordan's Shuttle back to the Lower Falls. The kids were grateful not to walk another four hours with the bugs!
Again, there were s'more s'mores and rounds of bags.
After the kayaking and hiking, it was time to move to our next campsite at Burt Lake, Michigan.
Adam picked this because of it's proximity to Mackinac Island, the catalyst for this entire trip.
We started the visit on the island at the Hotel Iroquois for a resort style lunch.
After a walk down Main Street, we rented bikes. The twins just completed a week at PetalHeads, where they learned to bike without training wheels. They biked for two hours and completed the loop around the entire island, an eight mile bike ride.
And of course no trip to Mackinac would be complete without fudge!
Ferry back on Shepler's Ferry Service.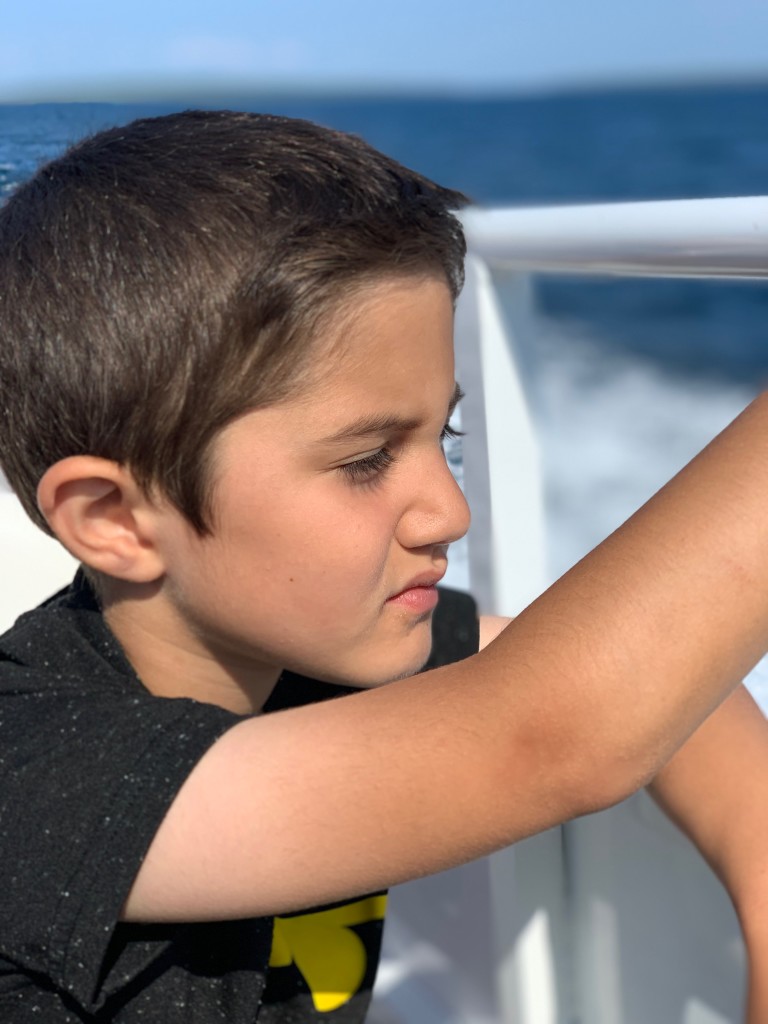 That night we enjoyed our last s'mores and game of bags.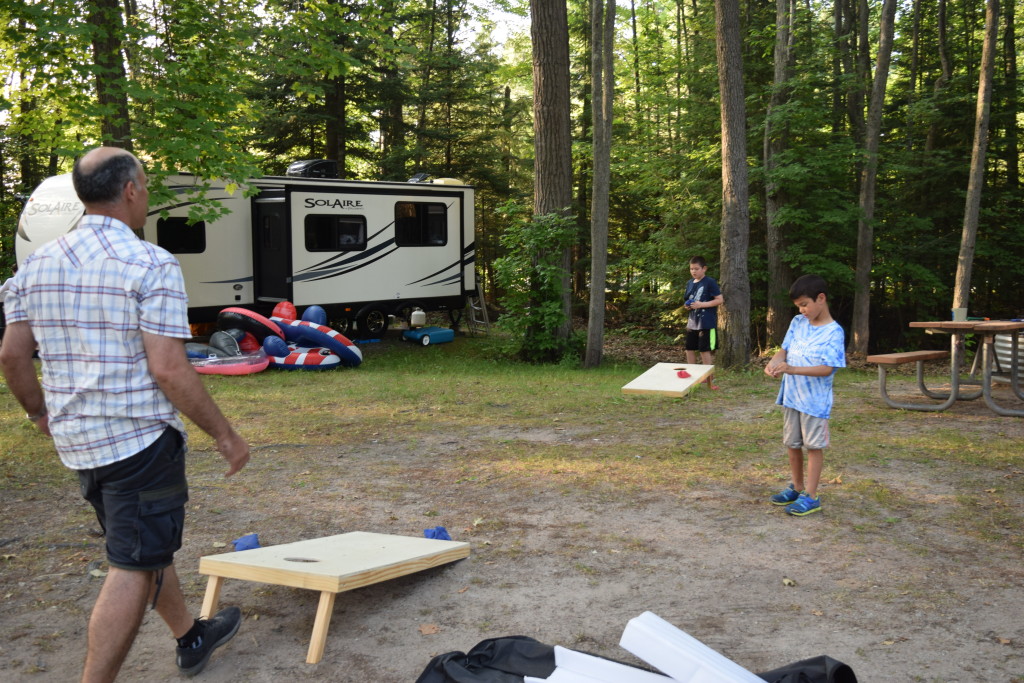 The next day we returned the RV and stayed at a hotel.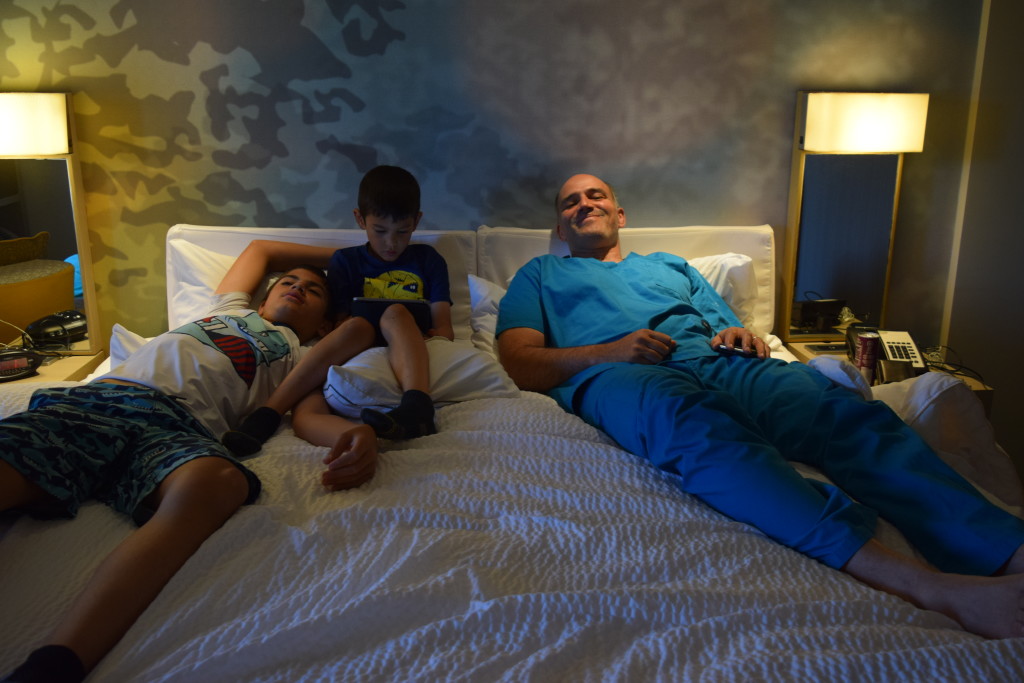 The kids were so incredibly happy with the lack of bugs, lack of dirt, good wifi, soft beds and extra space that they didn't leave the room once! (Adam too!)
Pin It