At the beginning of the summer, my friend Nicole (also Jack's buddy's mother) suggested the boys get season passes for Six Flags Great America.
She had seen a special online, for the price of one day entry you could get a pass for the season.
And so, just like that, Jack graduated up to the next level of fun. Great America is a playground for older kids!
This week they had a buddy pass. Bring a friend for free with your season pass. Jack invited another friend and I invited Ben. Camila watched the twins for the day until Adam got off work and relieved her.
I was a bit worried about Ben. Last time he refused to do any of the rides, even the simplest ones designed for kids even younger than he was.
This time, I got the older boys to accompany him on the 'Little Dipper' ride. It is approved for kids height 36″ of taller. (The twins can ride it.)
Ben tried it, which I praised him for greatly. Sadly he came off the ride saying he never wants to do a roller coaster again.
Now I was worried Ben's day would be ruined when he figured out he couldn't do any of the roller coasters that the older boys enjoyed, yet he was too big for the kiddie rides. Luckily one of Jack's friends brought money for everyone to win prizes with.
It was the kind of thing I would never offer to my own kids, but it saved the day.
They played a few games and when Ben's money was almost out, he let Jack have his last turn with the claw game. You know the one where you try to pick up prizes by moving a big claw around to the right spot and pressing a button to pick up?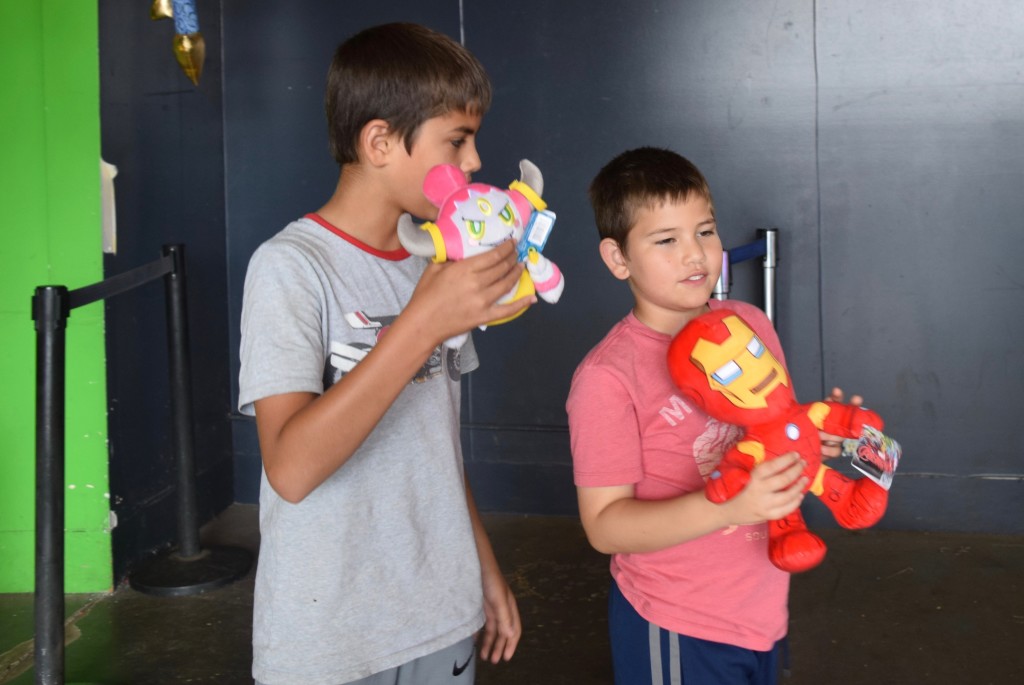 Jack picked up this mini-ironman for him in one turn. Ben was ecstatic! (Jack won this pokeman toy for himself).
These toys saved the day later. When the older boys did the big roller coasters, Ben busied himself with make believe games.
He also enjoyed a few other rides with the older boys, like the '4D Justice League: Battle for Metropolis'. It had screens that full of stuff to shoot at, and with the 3D glasses it was so realistic he was screaming a bit. I put my arm around him and told him it was okay, I would keep him safe. But that didn't help, apparently I'm no match for a bunch of super villians!
Next I told him to look away from the screen to see it wasn't real. After he looked to the side and saw the end of the screen he was able to relax and enjoy it.
And the Buccaneer Battle! Fun for all! The people sitting the boat can also be shot by cannons on land, and the boat people can shoot the land people. It's a very clever set up.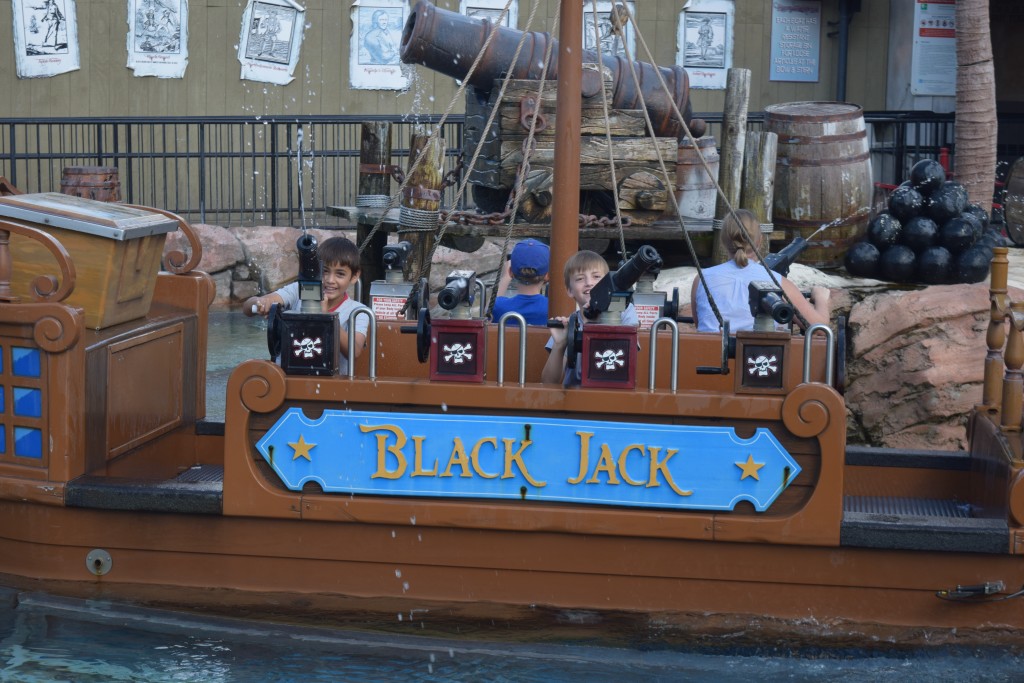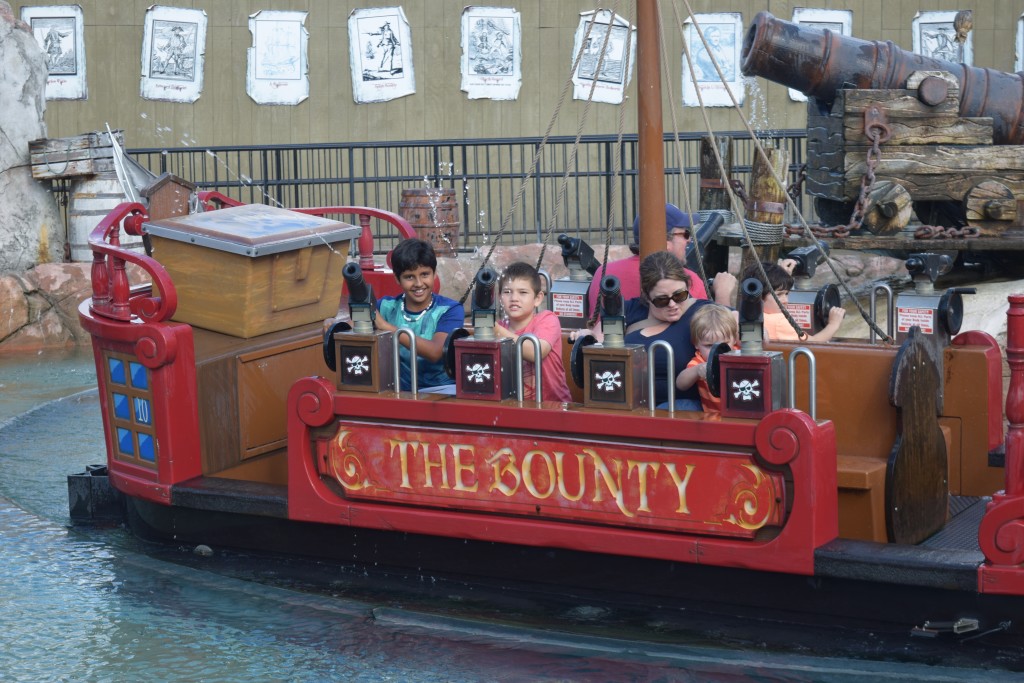 At first I was upset they were in different boats.
But then this happened…
They got to battle each other!
Ben also sat in Jack's car for bumper cars.
The boys spent most of their time in a three way triangle. They would all ram each other, then try to get out of it only to find themselves in the same position minutes later.
'Logger's Run' was so much fun it was worth two visits…
 Some roller coasters were too scary for Jack to try also. His two buddies went on the X-Flight. They ran right into the line. Jack hesitated, then started walking after them, then stopped and came out.
I told him he didn't have to do it but if he wanted to I'm sure his buddies would go again. When they returned, Jack walked into the line and they cheered and laughed and ran after him. Shortly after the gate closed on the ride, they got the last ride of the day.
Can you spot them? They are in the top row, Jack is the inside seat, three rows in.
Afterwards I asked Jack if it was as horrible as he thought it was going to be. He said, "Worse."
I asked him if he would do it again. He said, "Yes."
Pin It