After our trip to St Louis, we came to the realization that less is more for our kids.
And we used that knowledge for Passover this year.
With no family in the area, we were free to decide whatever tradition we wanted for our young household.
We didn't ask them to sit still, starving, while we read a lengthy prayer book.
We didn't eat a drawn out, multiple course dinner.
I didn't even set out a seder plate.
Instead Adam read the boys a story from one of the books we got from the PJ Library, a program that sends free Jewish educational books to our home every month. (Thank you Jennifer for the tip!) The book was titled, "Let My People Go" and describes the 10 plagues in a much more kid friendly kind of way.
I made a delicious  Date and Apple Charoset (which I ended up smearing all over my turkey), matzoh ball soup, and roast veggies with turkey breast.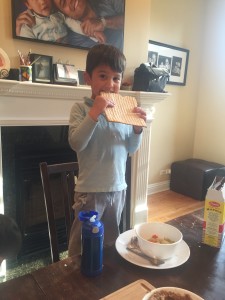 Then we let the kids eat as much matzoh as they wanted without telling them it would ruin their appetite. We finished almost the entire box, Aaron ate FOUR pieces. I'm pretty sure if you lined them up on top of each other they would be taller than him.
We also kept the tradition of hiding the Afikoman, which is basically hiding a piece of matzoh for the kids to find. Ben found it but Adam doled out money to all of them anyway.
The kids loved the meal.
After tonight I decided to change another family tradition. Matzoh isn't just for passover anymore…
Pin It