On a last minute whim, Adam booked us a last minute mini-vacation.
It was only a 30 minute drive from Chicago in the suburbs. So technically we didn't go anywhere.
We didn't vacate.
We stayed.
We had a staycation.
But in fact, we didn't even have that. Because staycation infers leisure and enjoyment and in truth staying at the Lincolnshire Marriott ended up a lot more headache than just staying at home. It was a disaster!
It wasn't a staycation.
It was a staycaster.
The hotel was one Adam remembers from childhood. A resort type hotel with swimming pools, game room, and little lake with paddle boats.
Cute for a quick get away with four small children, right?
Adam called the day before and confirmed directly with the hotel for adjoining rooms, one with king and the other with two double beds. He also confirmed that they still had the game room he remembered as a child.
Yesterday after the naps away we went!
When we arrived an hour after check in time, they didn't have the adjoining rooms. The manager explained to us that they can not guarantee rooms together under any circumstance. He would have to check to see if that was available. It wasn't.
Putting our kids on a completely different floor than us does sound tempting, Larry the Manager, but I'm pretty sure DCFS would have other ideas about that one.
Larry told us to hang out and wait while he sorted out rooms and he would find us later. We headed to the pool.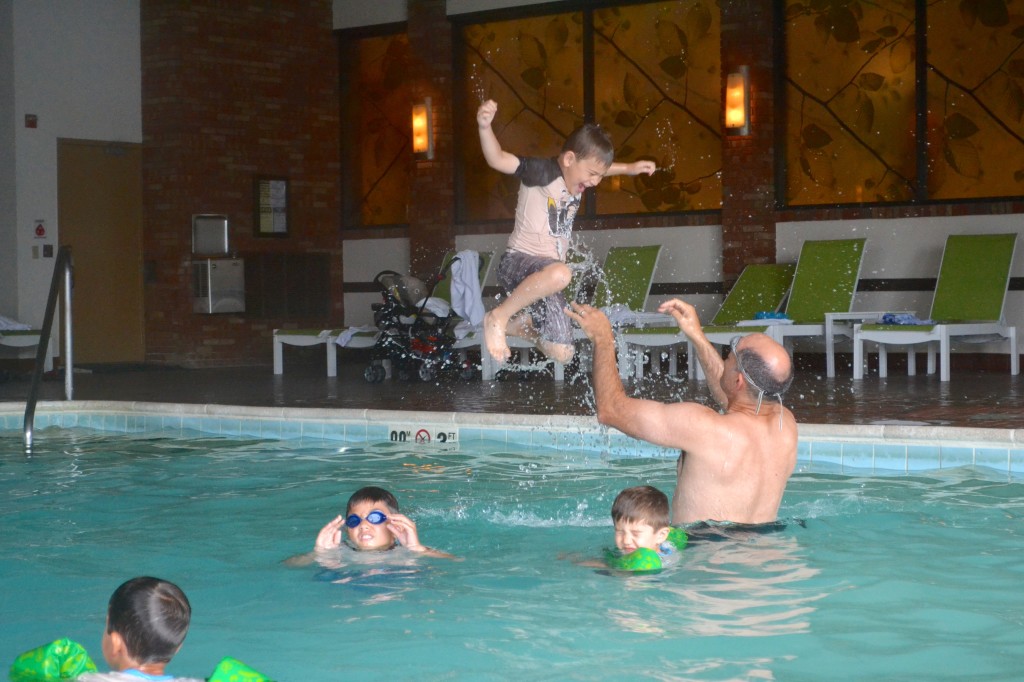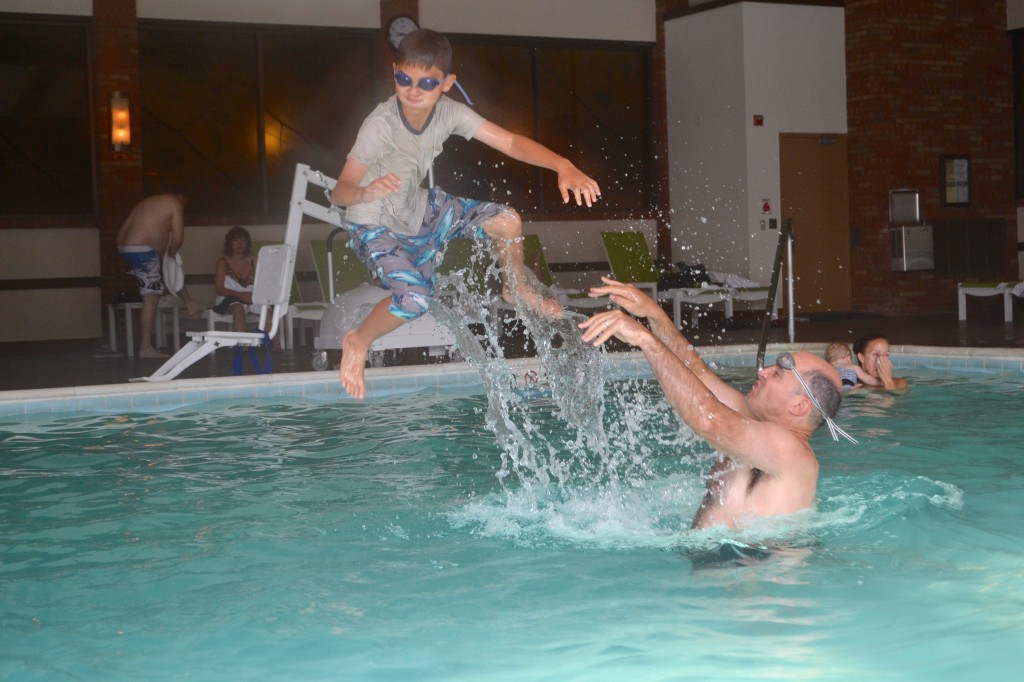 TWO HOURS LATER he brought keys to us. They were for two rooms that were next to one another, but not adjoining.
Maybe DCFS would look kinder on us, but probably not when they find a kid or two wandering the hotel in the middle of the night screaming and looking for our bedroom.
Adam went back again. This time they managed to get us two adjoining rooms, but no king bed. Fine.
That evening after room service we decided to wander down to the game room. It was gone. They got rid of it years ago.
Oh, and there was an Indian wedding blaring music until 11pm right outside our window.
And the two rooms we outrageously had to ask for THREE times were right next to the elevator. After the blaring music stopped, I really enjoyed the group of shouters that woke me and Jack up around 12:45 in the morning.
And the kids did not adapt well to their new sleeping arrangements. They couldn't sleep for hours after their normal bedtime, but they were up at the same time they usually wake. Of course!
The nicest part of the suburbs stay was going to our favorite suburb restaurants.
Like Walker Bros.
Afterwards we checked out the grounds, including their chef's farm.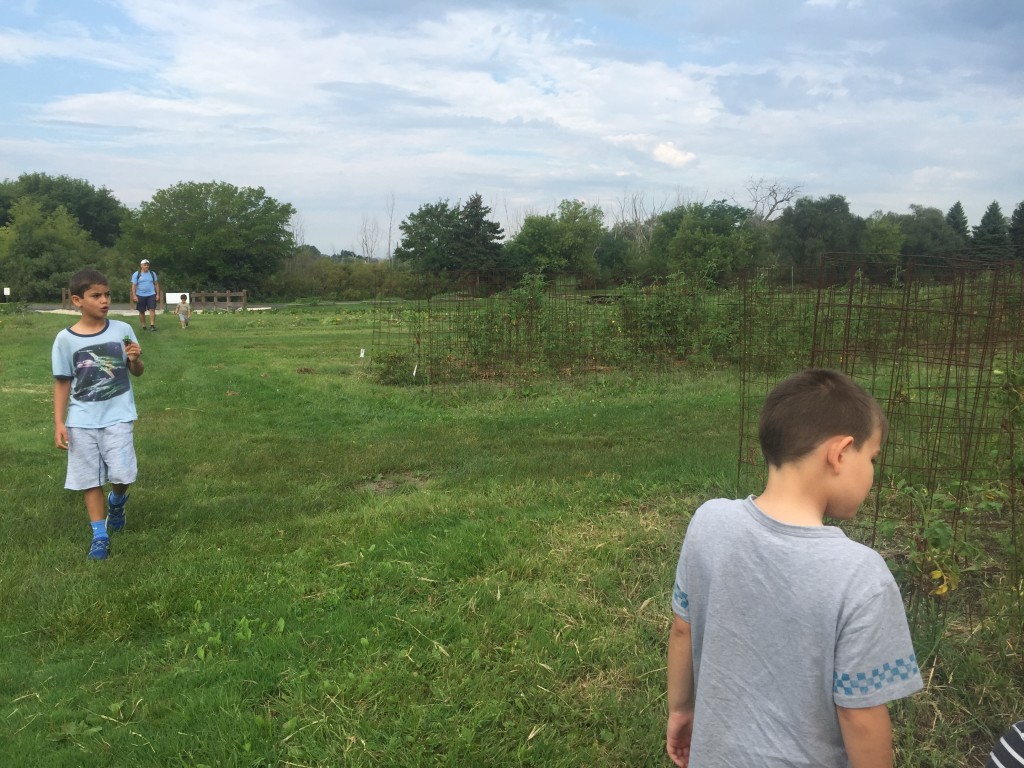 And a little more swimming…
After the swim, it was time to head home. We used the opportunity to stop at one more suburb favorite, the Claim Jumper.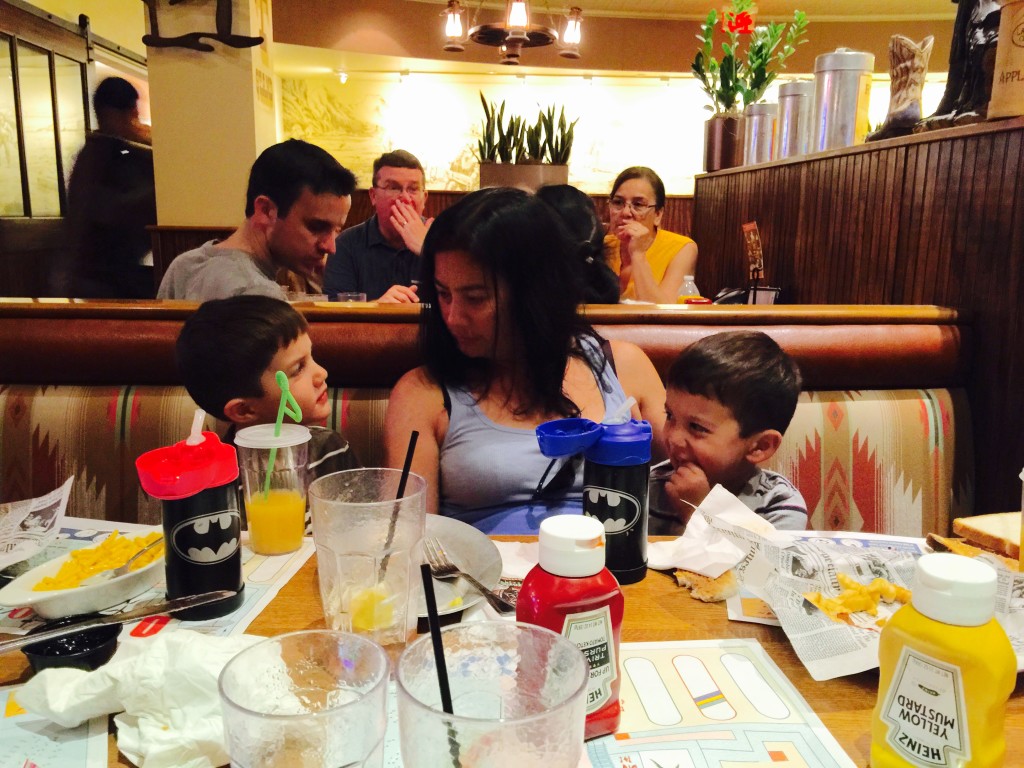 And now onto the next adventure – school!
Pin It