Can you tell what's Ben's theme was this year? Plants vs Zombies!
I'm sure if you have kids around Ben's age they are all addicted to it, along with Minecraft. If you don't, it's the Pong of the 70s, the Pac-Man of the 80s, Super Mario… you see where I'm going with this?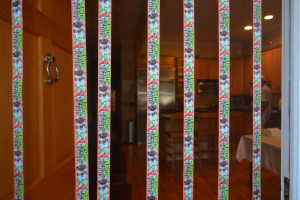 It's a game where plants battle zombies. Sometimes you are the plant, sometimes you are the zombie. It's so simple, yet so addictive.
I got a lot of stuff off Etsy for this party. The invites above. And this tape to the left that welcomed our guests as they entered the house.
Also these candy wrappers that went into the goody bag. And the labels for the bags…
Ben had two requests for the party, Mr. Singer and another egg hunt.
Mr. Singer was at Ben's 2nd Birthday, so it was interesting that he wanted him back at age 6. I wondered if the kids were getting too old for that sort of thing, but Mr. Singer proved me wrong. All the kids got right into it. Music is great for any age, and Mr. Singer can easily tailor the show for the audience.
It was awesome. Everyone was up and dancing around, both young and old.
We watched the weather every day. Up until yesterday they were forecasting over 50% chance of rain, but when the morning came, the weather co-operated and there was nothing but sunshine and warmth for the water element of the party…
They are all trying to spray our plants vs zombies interactive board.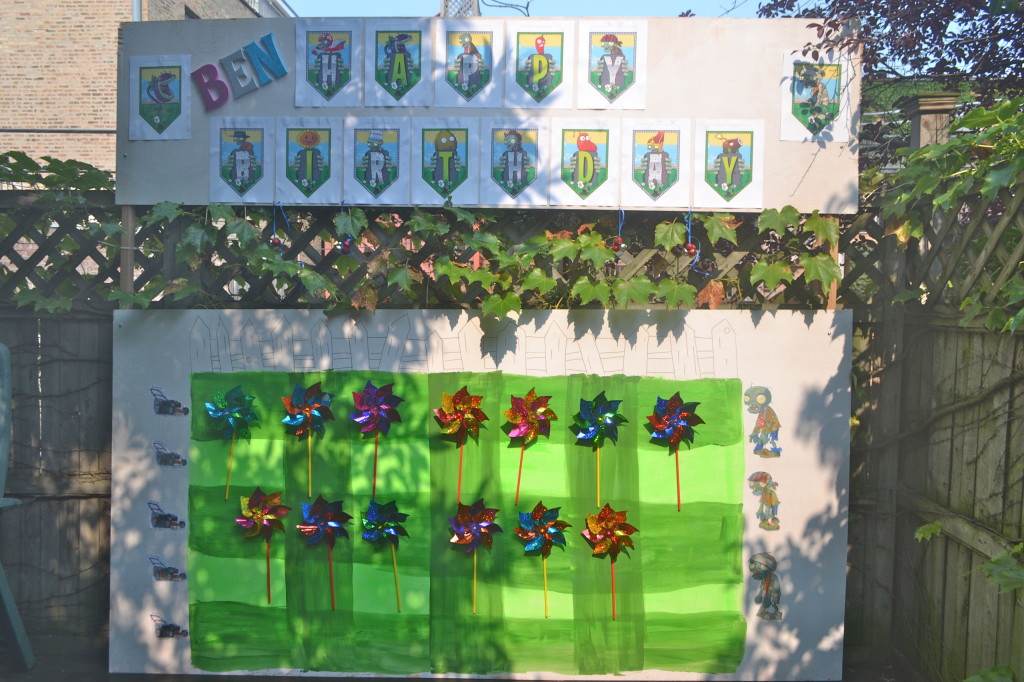 I sprayed that bad boy with Rustoleum Never Wet and the water just beaded right off everything, even the paper!
Pinwheels and bells are for aiming at, and later I added some mylar helium balloons to the top…
We got enough balloons to hand them out as party favors later.
We managed to get enough easter eggs in the middle of July so that no kid was left crying for the 'seed' (AKA easter egg) hunt.
Because I didn't know many of the parents (there were a lot of kids from Ben's therapy sessions and his new school), I didn't do the normal intensive, laborious feast. I wanted to be free to mingle.
Instead, fruit, veggies, pizza and sandwiches from Amatos Pizza made my life so much easier. I was able to actually shower before the party. Normally I'm stuck stinky, holding my armpits down the entire time with fear someone will smell me.
Adam, however, did his usual trick with the cake, ordering something that was incredibly intense and laborious for the good folks at Deerfield Bakery. As usual, they did not disappoint.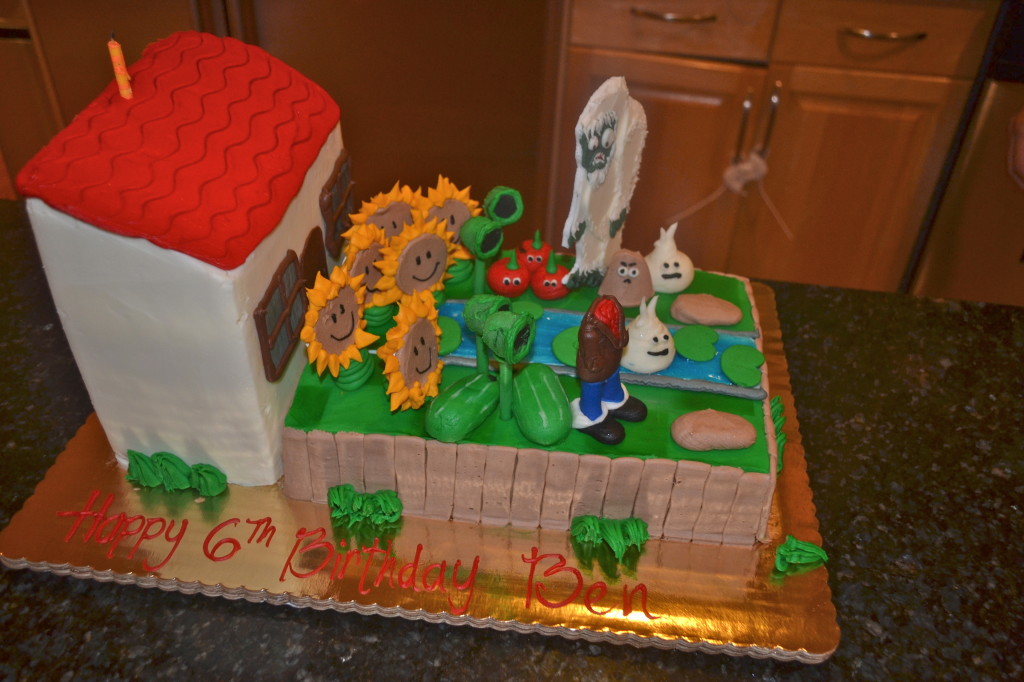 Ben had a great party, I had nothing to worry about. He socialized with his buddies, danced to the music, scrambled for egg and when it was all over, he opened up all his great presents. Not one return in this lot!
Happy Birthday, Ben. May your 6th year be a good one.
Pin It