Well Elsa the the Snow Queen struck us on Halloween. The power of all those Disney dresses must have been the reason that it HAILED buckets on us all day.
Not that it stopped us from enjoying every moment of Halloween.
Starting with a Halloween parade at Jack and Ben's school…
Afterwards I stayed at school (we had a sitter for the twins) so I could volunteer for Jack's Halloween party. I figured it was fair since I did Ben's Pumpkin Patch field trip the week before.
It was a real eye opener to be in Jack's class. I've done a few field trips but watching the kids in the classroom is completely different.
I was very pleased to see Jack was such a stellar student. I was in charge of the skeleton pasta project. Many kids couldn't figure out the instructions, or their skeletons were messy, or they complained about the task. Jack figured it out quickly and without incident and his skeleton was perfect.
Afterwards he very sweetly helped me clean up the area. Helping his own mother without me asking! It melted my heart. He's growing up so nicely.
Ben, on the other hand, still needs a few more years of growing I'm afraid. I got pulled out of Jack's class and called into the office by Ben's aide to discuss Ben's behavior. It was not good. When I arrived he was complaining of being strangled and kicked by the authorities (which they assured me was not true – Ben often has trouble articulation what is actually happening when it happens, something we constantly work on, using words to describe things accurately) and the authorities were in a tizzy about his outrageous actions.
I took Ben on my lap and did the 3 step trick – 1. empathize 2. ask questions 3. problem solve. I asked what happened before he was getting manhandled. After a bit of empathy he was able to tell me he wanted more time at the candy corn guessing game. We decided, together, that next time he would use his words not his hands. Maybe his aide would give him more time if he asked, or tell him he could have more time after the other kids took a turn, or maybe she would say, Ben the longer you guess,  the longer you have to wait for a sample of that delicious candy corn.
The principal also said we should have a plan in place in case this happens at the next party. That is was too much stimulation for Ben. I agreed.
I also mentioned that the Special Ed teacher wrote me that Ben had 4 very good days in a row this week. That after 2 months he's finally understanding and responding to the schedule. And that as soon as he got used to it, his aide arrived and a new schedule began where he spent more time in the regular classroom. And this new schedule would take time for him to adjust too as well.
I was glad I could be there to talk to him and the staff and hopefully we all understand each other a bit better now.
After school we picked up the kids and some ice and finished setting up for our annual Halloween party. I was a mess at organizing this year. Forgot to invite two dear friends until the last minute. We set up and shopped for the entire party the night before.
We emptied the back room and set up the pumpkin from last year. It sings and plays music. The kids managed to tear it to shreds about 1 hour into the party….
Here are the twins 'helping' us set up the drink station.
We trick or treated first with some of our friends….
Then we headed back to the house for the party.
People came bearing many gifts. Lots of alcohol, including a bottle of my beloved Patron and a big assortment of stuff from our upstairs neighbor who works for Diageo.  Also coffee from my friend Tami's company, Cindy's famous cookie cake and Jackie brought two huge trays of cupcakes…
Aaron really enjoyed the cupcakes. I don't think either twin ate any dinner, but that happens on Halloween and you just gotta look the other way. Jack asked me how many pieces of candy he could have and I said, "Today just don't ask me how many you can eat and I won't tell you."
I think he was confused and ended up eating none.
Here was our youngest attendee, Matthew….
And my favorite costume of the night from Alex…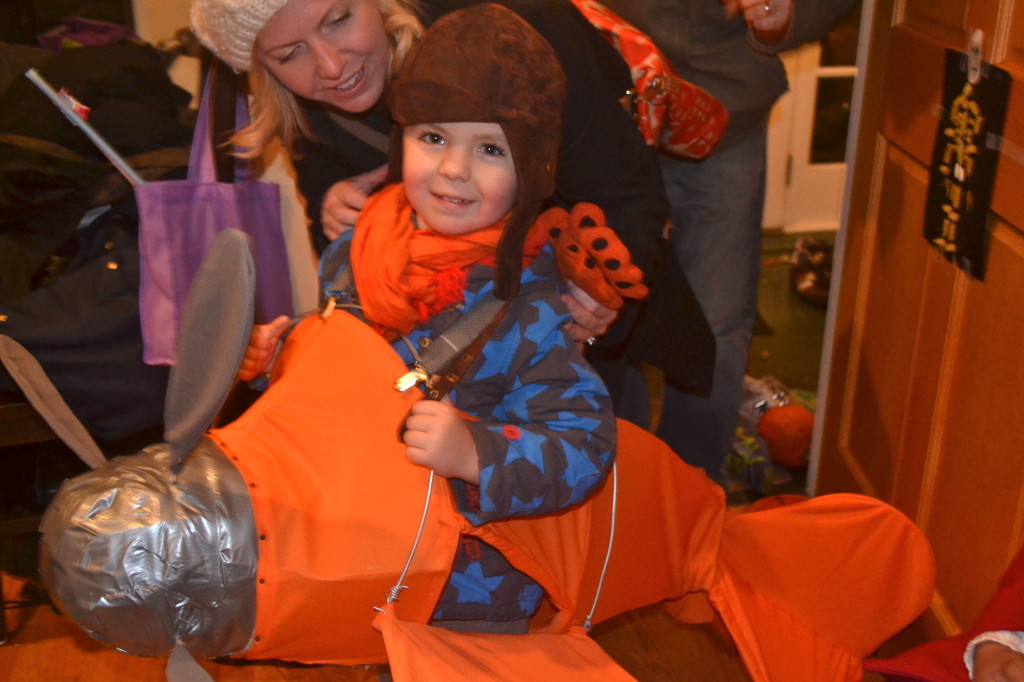 Hope everyone had as much fun on Halloween as we did. Until next year….
Pin It