The kids have anxiously been awaiting cousin Jackie's visit for weeks now. But in the last few days they have been asking about her a lot. Probably because we told them she was here, and staying in our basement since Wednesday. By Friday morning they still hadn't seen her.
Seems odd that someone could sleep in our basement for 2 full days and not see our kids at all but that is because Jackie works really long hours. You see, Jackie is starting her own company. It keeps her very, VERY busy. She is completely committed to her company, www.cruzin.com, a boater to boater website rental. It's really a very clever idea and if you are boater you will really appreciate it.
When she would arrive home late at night, Adam and I would stay up talking to her. Adam and her can relate on a business level, talking about different kinds of investor pros and cons and other business numbers and acronyms that go completely over my head. Surprisingly I found myself relating to her as well, but on a different level. When she described her complete commitment to the company, how she hasn't taken a day of in years, I could TOTALLY relate to her. Because I've been doing that for about 7 years give or take a few days. Her company is her baby. Just like me, on bad days she is there just putting out fires, on good days she is trying to grow the company/baby with proactive activities.
Today she very kindly put aside her electronics and asked how she could help us out this afternoon. We wasted no time putting her to work. With four kids, when someone offers to help we are pretty much like, "yeah!". Our standards are pretty low. Which makes the instructions minimal. "Watch that one, make sure he doesn't harm himself or get abducted."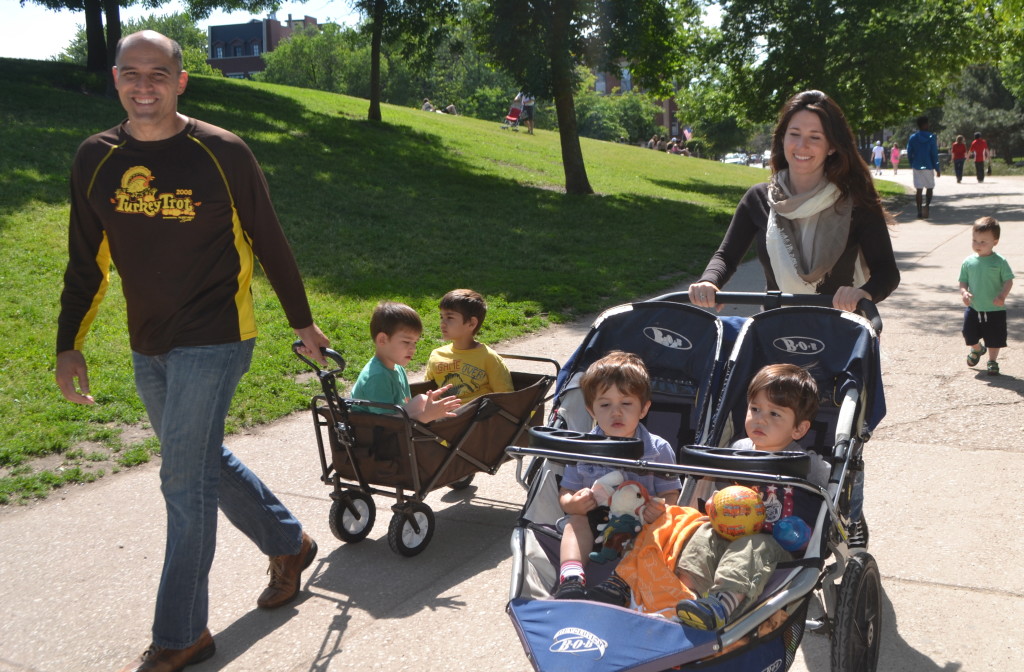 With three adults we opted for the zoo. The zoo is tricky even with two parents and four kids. Because the chances of two of the four kids staying together are not good. Which means you are constantly herding instead of enjoying the sites.
We spent a lot of time at the train and carousel, in fact we hardly saw any live animals.Typical activities for our city kids, I guess. Jack has been asking to go to the Pritzker Family Children's Zoo for ages to climb. Finally today we fulfilled the request.
Ben loved climbing too, but the twins were too scared. They found other things to look at, like the beaver swimming…
Later we went to dinner at The Four Farthings. Jackie very nicely treated us to dinner. In return, we probably staved her off having kids forever.
Pin It