Anjelica's recent departure is having much more of an impact on me than I expected.
I knew it would be more work in the afternoons, but I didn't realize my entire daily schedule would change.
I used to cook dinner in the afternoon. Right before we ate it. Anjelica would take the twins on a walk or out of the house and the older boys would do homework, play, or mess with electronics. Now that time is too hectic.
I've been trying to fit in a lot of prep work in the mornings. I've also been trying to find ways to cook less and get more out of it, without losing variety.
This morning I made a simple tomato soup that I will use twice, once with grilled cheese and the next night with alphabet shaped pasta. It's so easy, want the recipe?
First I chopped up an onion, red pepper, and three cloves of garlic…
Sauté in olive oil for about 10 minutes to soften, then add a box of chopped tomatoes….
Keep it on the stove in a low boil for another ten minutes then add a tablespoon of  sugar, salt, pepper. Add three cups of chicken broth. I use "Better than Boullion" because I live in a city and space is tight. you can store a whole lot of chicken broth if you don't need to find space for the liquid part!
Mix it in, then turn off the fire. Add dried basil. About a tablespoon.
Let it cool. We'll blend it later.
Did I mention I baked some premixed cookies for dessert while I was doing this? I never cook one thing at a time when I can cook two. Or three.
They were ready to come out of the oven now.
It's easier to cook with just the twins are around, but not by much.
Here they are throwing my keys in the garbage.
Later while I was waiting for the soup to cool, I decided to whip up some oatmeal for breakfast for the week. I chopped up two cups of dried apples, one cup of dates and added a whole cinnamon stick to the slow cooker. It's another recipe from "Forks Over Knives."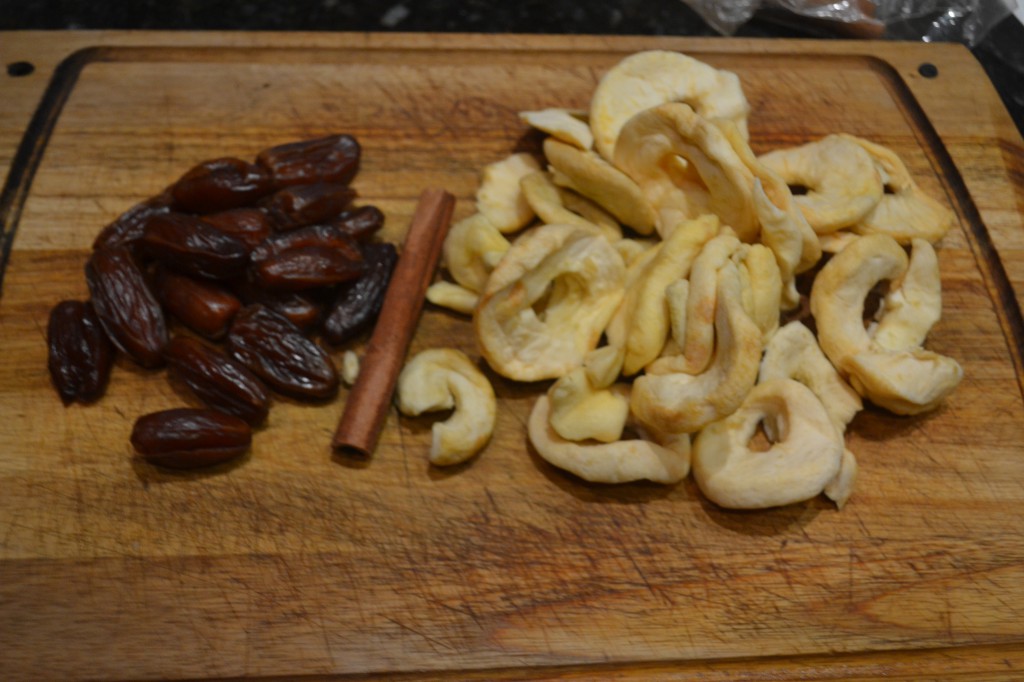 The twins pushed the dining room table chair over and figured out they could do this…
And this…
I still managed to great the oatmeal going. Another great meal that will last me for breakfast all week. The chopped up fruit and cinnamon stick went in…
Then a cup of steel cut oats…
Then four cups of water…
Slow cook on low for three hours.
When its done it looks like this…
I put it in the fridge and nuke individual servings all week.
Now it's time to change two stinky diapers. And change Sam's entire outfit, since he just grabbed a glass of water and dumped it all over himself, the counter, and chair.
Back to the soup. Time to whizz it in batches in a blender. 
I put it in the fridge until supper time. Next on the agenda, time to feed the twins lunch and put them down for a nap. I have exciting plans for nap time. I'm going to do laundry and clean up the 30 or so books they pulled off my bookshelf while I was putting away the groceries.
Here is dinner tonight. The soup served with grilled cheese on whole wheat bread…
So simple, but so delicious!
Pin It