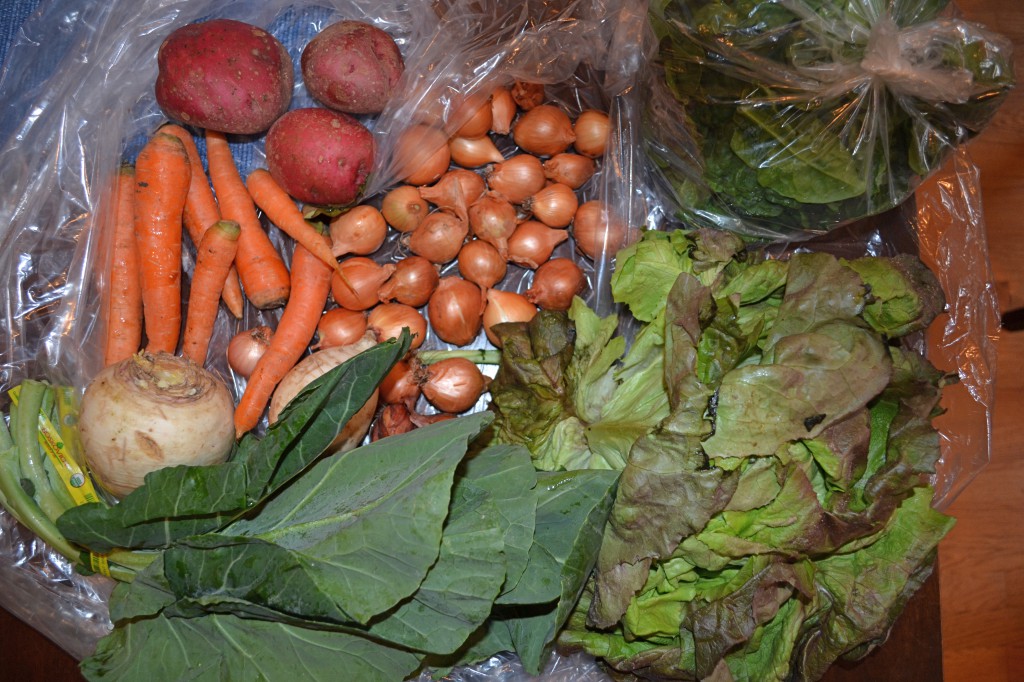 This week I received Shallots, Purple Top Turnips, Red Potatoes, Carrots, Spinach, Lettuce & Collards.
Rarely when I get my fresh picks box do I instantly think of something to do with everything in the box. Most weeks I'm googling something just to see what it is!
When I saw this lot I immediately thought, soup in cubes that can be used for baby food as well. Not everything, but certainly the turnips, red potatoes, carrots, and spinach. I found a recipe for winter vegetable soup in my new Soupbox Cookbook, which I'm obsessed with lately. As usual, it came out smashingly good.
Shallots can be put in any salad dressing to liven it up, or as a substitute for onions. I put them to use in a mustard vinaigrette that I used to dress the lettuce. I added shredded carrots, artichokes, cherry tomatoes, cucumbers, tinned chick peas, leftover quinoa and my favorite Eggplant Bacon that I'm addicted to. I added them to another Greek salad. I still have a ton left but will work away at them slowly.
Every time they send me collards it reminds me of college. My roommates, mostly Heather, grew a garden one year. Everything in it died but the collards. We went to school in a former swampland, people. The collards flourished. They filled our freezer. Heather ate collard soup for months, wishing she could think of another way to cook them. That was before the Internet. Back when we walked around in ignorance. I don't feel old but thinking back to a time when I was an adult and lived without Internet makes me realize the truth. I'm old.
Anyway, I did a quick garlic saute for the collard greens. Put it next to my grilled chicken, sweet potatoes and baked beans.
Pin It