A few weeks ago I received corn, cucumber, zucchini, red potatoes, parsley, garlic, scallions, italian frying peppers, and dandelion greens.
The first night I got the veggies I boiled the corn as a side with a little butter and salt for seasoning.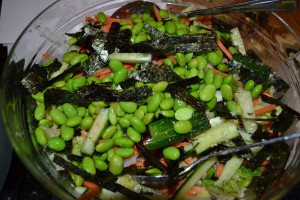 Thursday I used the cucumber, some of the garlic and the scallions in a salad from my Appetite for Reduction, the Edamame Salad. It had romaine lettuce, brown rice, edamame, carrots, cucumber, sesame seeds, nori, scallions all in a red miso dressing. It was like a vegan sushi salad. Yummy.
The zucchini and dandelion greens went together at dinner one night. Miso Cod, Brown Rice, Steamed Dandelion Greens,
together with grilled Zucchini, Squash and Eggplant.
For dinner I decided to bunch the potatoes, parsley and italian frying peppers in a healthier version of Guy Fieri's Sofrito Mashed Potatoes. I haven't done it yet, but I promise myself every day that I will. Hopefully I'll get there before the stuff spoils…
Pin It