Our friends Greg and Margie bought a house in the Hamptons and graciously invited us to visit.
As usual, Adam and I took the opportunity of a road trip as a chance to squeeze every thing possible we could think of into it.
It started with squeezing Niagara Falls into our drive over.
Adam said the Canadian side was much more picturesque so we packed the passports and headed over the border.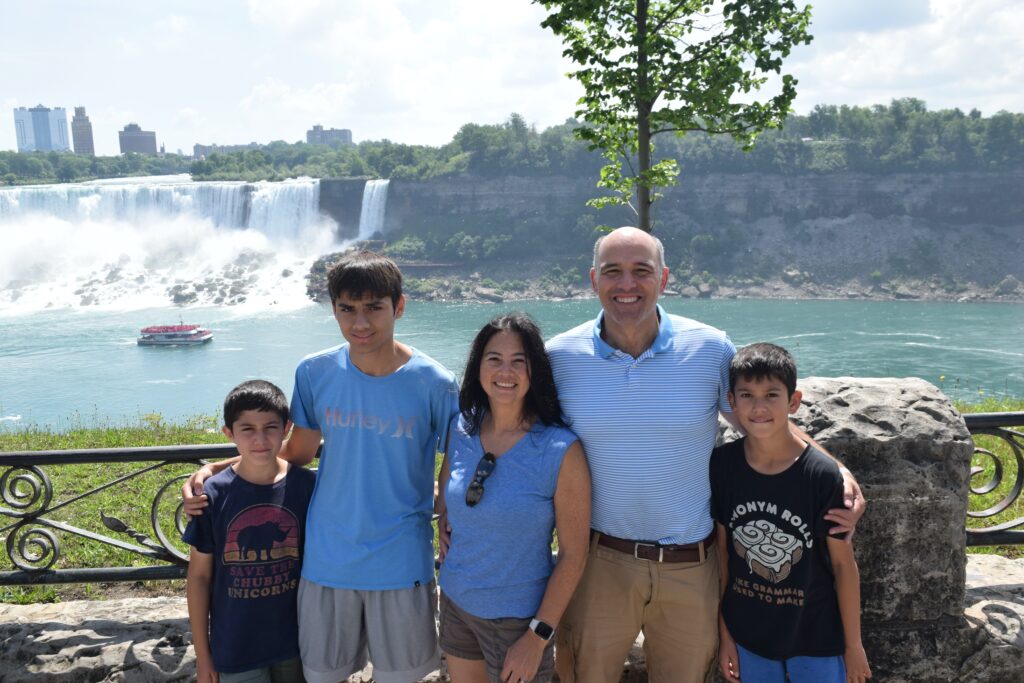 Adam booked us in a hotel right in front of the falls, with fabulous views.
Also, this meant that we had a front row seat to the nightly fireworks. We were so high the fireworks were below us!
The next day we headed to the Hamptons. Greg and Margie's place was amazing! At one point Aaron said, "I'm having so much fun, I haven't touched my iPad once!"
This is because there was so much fun to be had!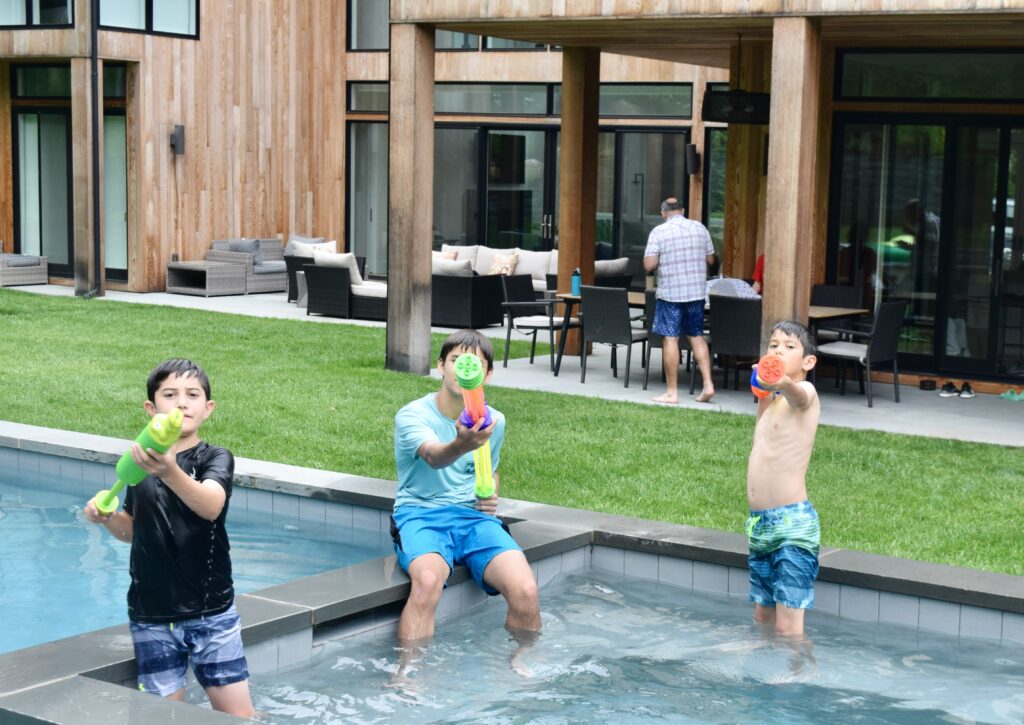 Still, we did managed to get out and about for an afternoon, eating pizza in Sag Harbor and going for Ice Cream afterwards.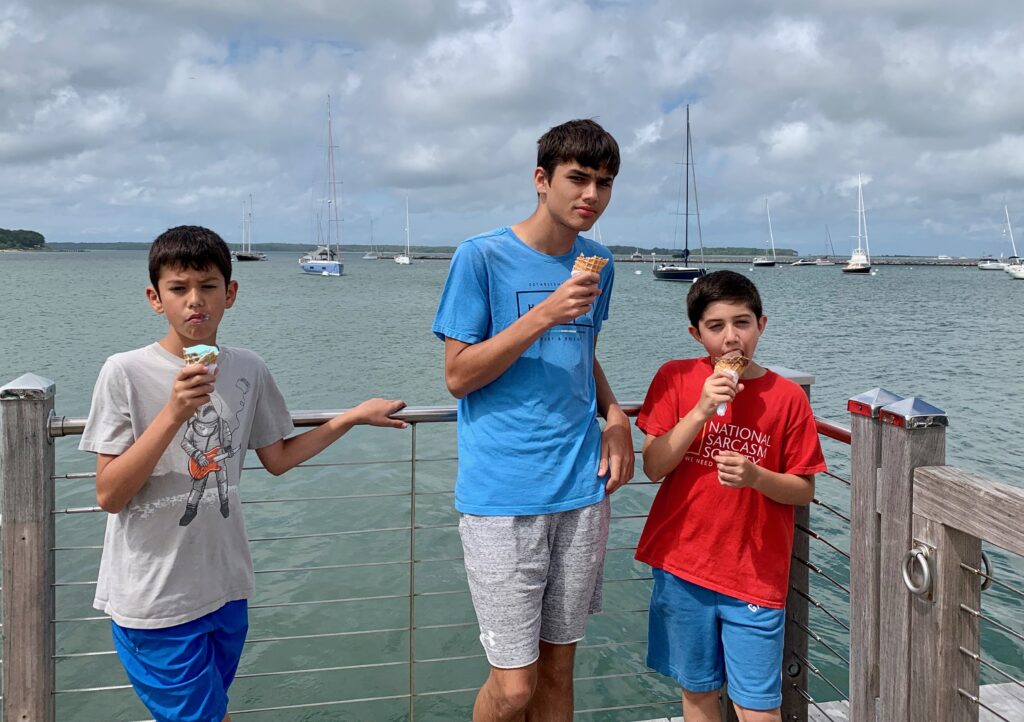 We were not the only ones staying at Greg and Margie's. Also our friend Tom came over from Hong Kong.
Greg, Tom and I were like the Three Stooges in Hong Kong. There was a lot of hanging around together and giggling and laughing, perhaps not to the point of slapstick, but many fun filled times.
Although we have met many times across the globe since the gang broke up, the last time we were all together was in Hawaii for Greg's 50th birthday, aptly named his "Hawaii 5-0", six years ago.
Thanks in part to Tom, our gang has expanded. Tom introduced Greg to his friend Margie, who he went to high school with in Hawaii. Later, Tom and Margie cajoled me into talking to Adam at Andrew's wedding in Jamaica. Tom deemed Adam suitable based on the fact that he had a "hot body". Ah Tom, always looking out for me.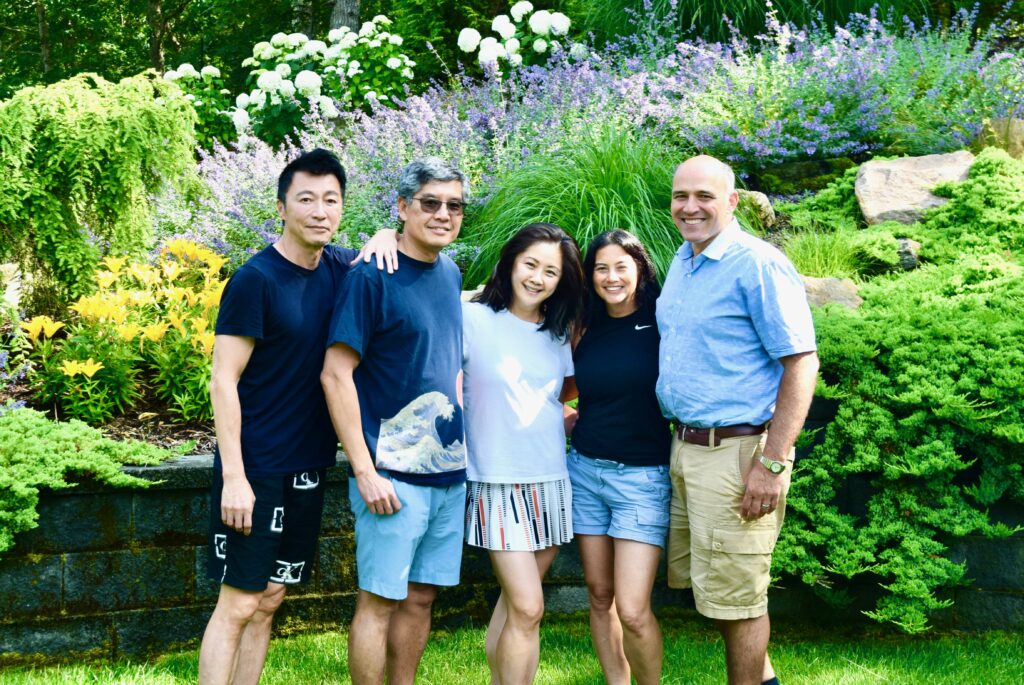 And still we expanded further….
After the Hamptons, we drove off to squeeze more fun in. We took the kids to New York, their first time (that they can remember) visiting the city.
There is so much to do in NYC, there is no way to cover it all no matter how long you stay, so the boys decided their top picks were the Statue of Liberty and Central Park.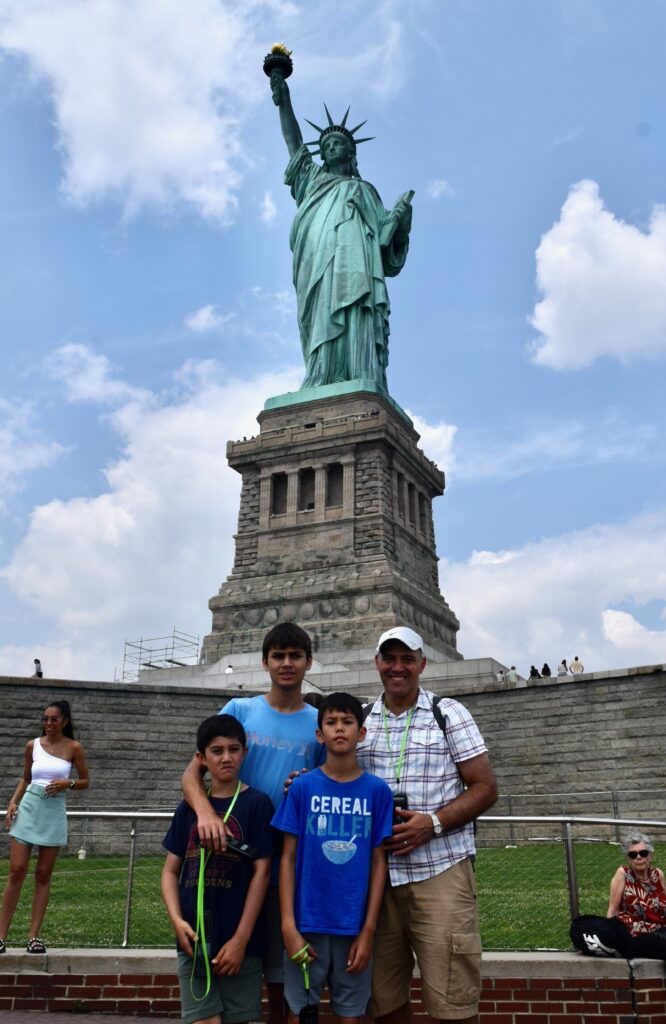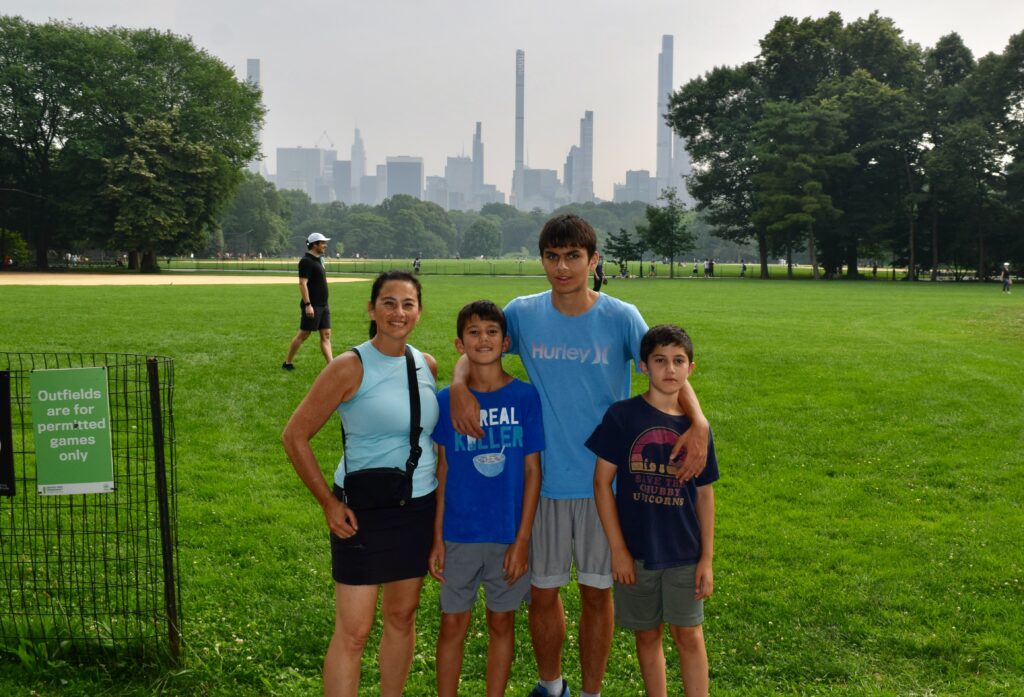 We also spent a lot of time eating our way through the city. No trip to NYC would be complete for me without Ray's Pizza and Katz Deli.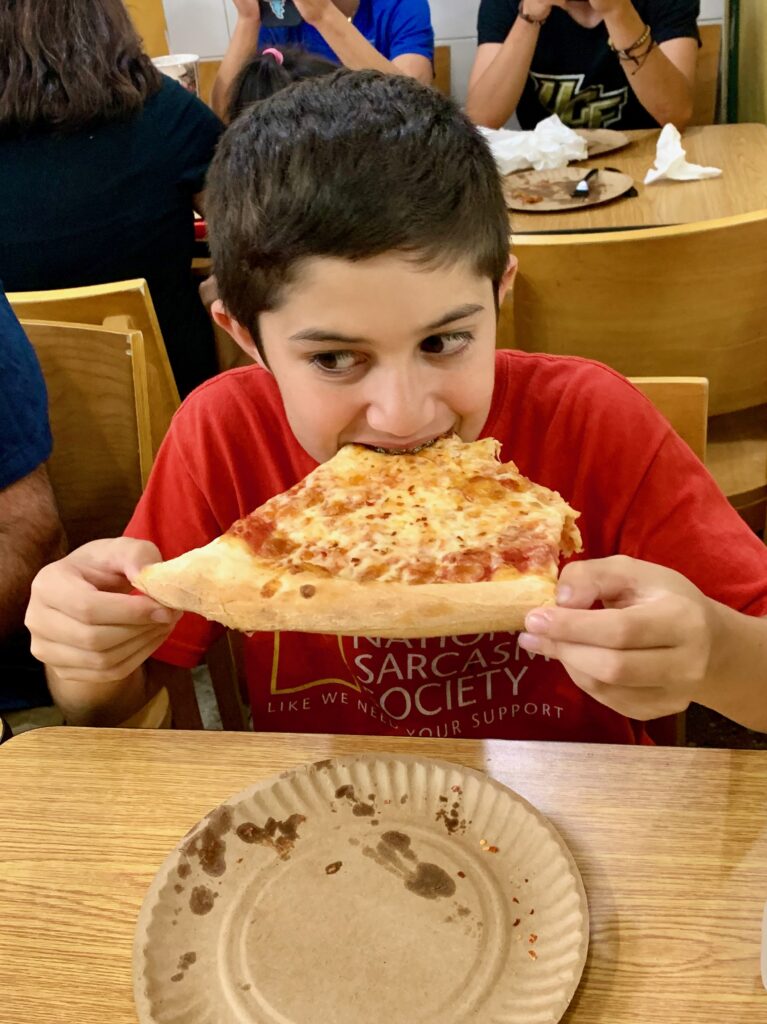 We also walked through many parts of NYC, Chinatown, Little Italy, Battery Park, Korea Town, Flatiron, Times Square, and more. At Margie's suggestion, we stopped off at her favorite Boba Tea place. It was so good, Adam order another tea after he finished his first one!
After a day filled with over 30,000 steps, we drove on the next day to squeeze in more adventure.
First we visited my friend from high school, Scott Grimes, in his beautiful 17 acre farm in Pennsylvania. They hosted us for a yummy lunch and let the kids play in their pool and on their ATV machines.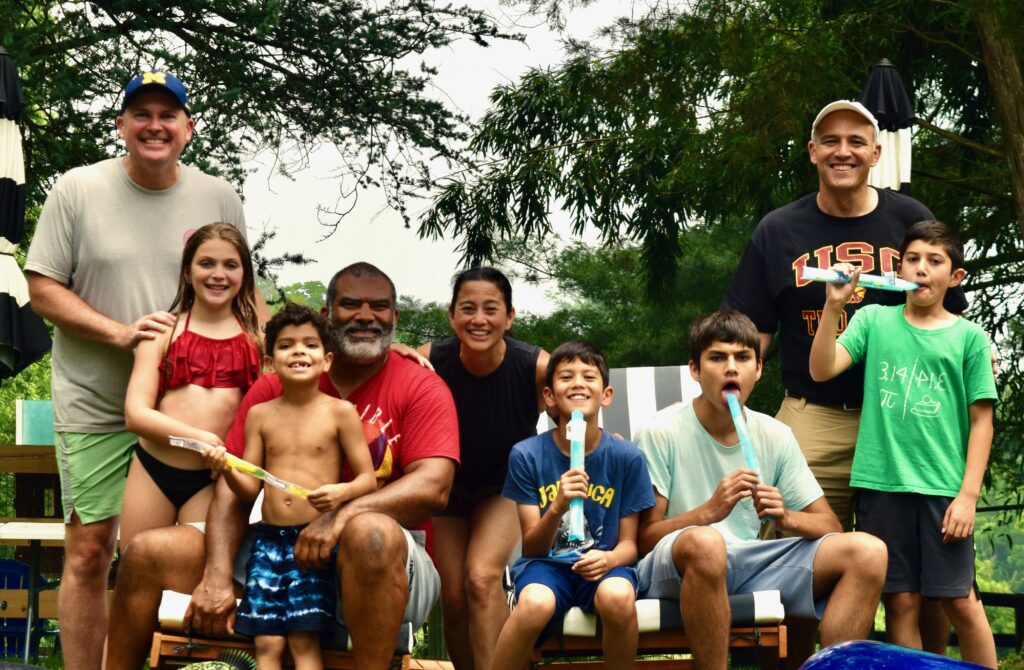 After that we meandered through winding country roads in Amish country (with a pit stop for Sam to puke because of said winding roads) and squeezed another stop in, this time in Hershey, PA.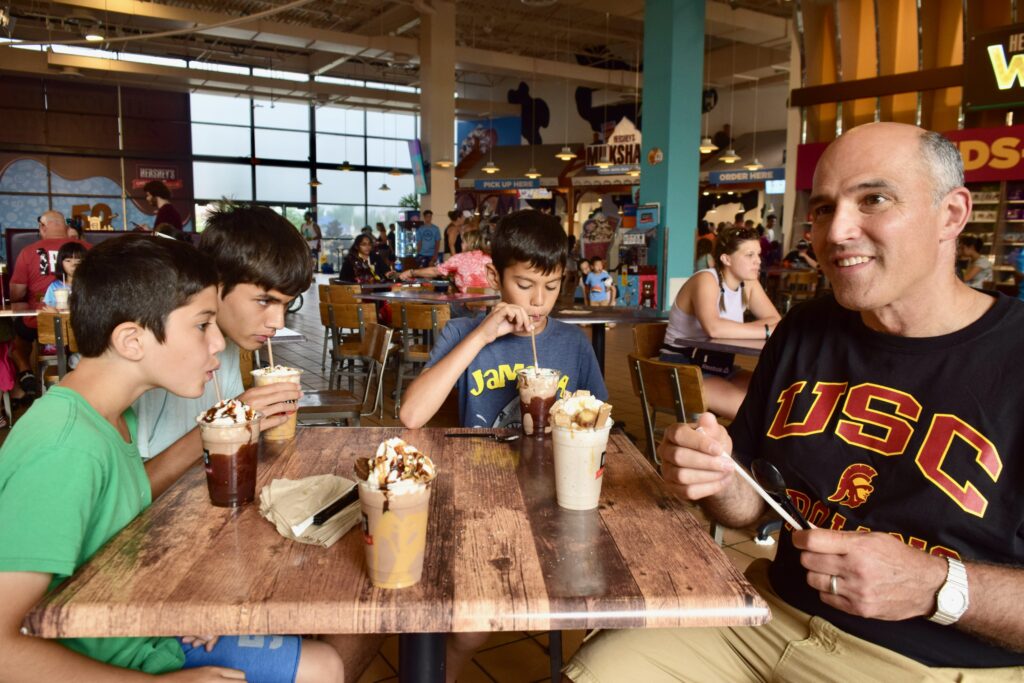 Finally we landed in Pittsburgh to stay the night before our final leg home. When we arrived, we realized we were there the same weekend as Anthrocon, a furry convention. People were all walking down the streets in full-on furry costumes. At one point, while leaving the hotel, Aaron was worried that people might mistake him for a furry because he was carrying the Hershey furry pillow he bought at the last stop.
The next day was another eight hour trek and we are finally home and reunited with Ben, who stayed back in Chicago to attend school. Such a whirlwind trip! I'm already missing all the friends we saw, wishing we had more time together!
Pin It