So the reason I missed the last two nights of Hanukkah was because a dear friend of mine, who I have not seen since our friend Mark's wedding in London 9 years ago, was passing through the states. It's a big deal since she lives over 8,000 miles away from me in South Africa.
Adam graciously let me bow out of our date night and offered to watch the kids. I thanks my lucky stars every day that I married such a kind and thoughtful man.
Whenever I talk to my friends from my days of living in Hong Kong, we all describe it as 'the bubble'. It was an incredibly special time in our lives, and now that we've all joined the real world we can look back with awe that we were once a part of it.
It was like college, where everyone lives far away from their parents and as a result forms very tight friendships. But with money. And set in an exotic location.
Anna showed up on my doorstep one day early into my time in Hong Kong, when she began dating my roommate, Rob. We struck up a quick friendship that has lasted the test of time.
After seeing her this weekend, I looked back on some of our photo albums. Its true what they say, a picture is worth a thousand words. And I had so many pictures, hopefully these few can sum up just how special our time together was.
We spent a lot of time in bikinis. On junk (boat) trips sailing around Hong Kong or at the beach after a long walk through the New Territories. Or in many exotic locations. This picture was taken at our friend Ryan & Petra's wedding in Phuket, Thailand, at the Banyon Tree Hotel.
We went everywhere. And most of the time I could only afford the flight so I had to sleep in Rob and Anna's hotel room once we got there. We were actually called Rob's 'girls'! This is a picture of a weekend trip for my birthday. Anna, Rob and my then boyfriend Arsalan flew me by helicopter to Macau.
We did a lot of dress up. This shot is from a 70s themed party we used to attend. In between Anna and I is our friend Issy who now lives in New Zealand (also about 8,000 miles away from me, but in a different direction!)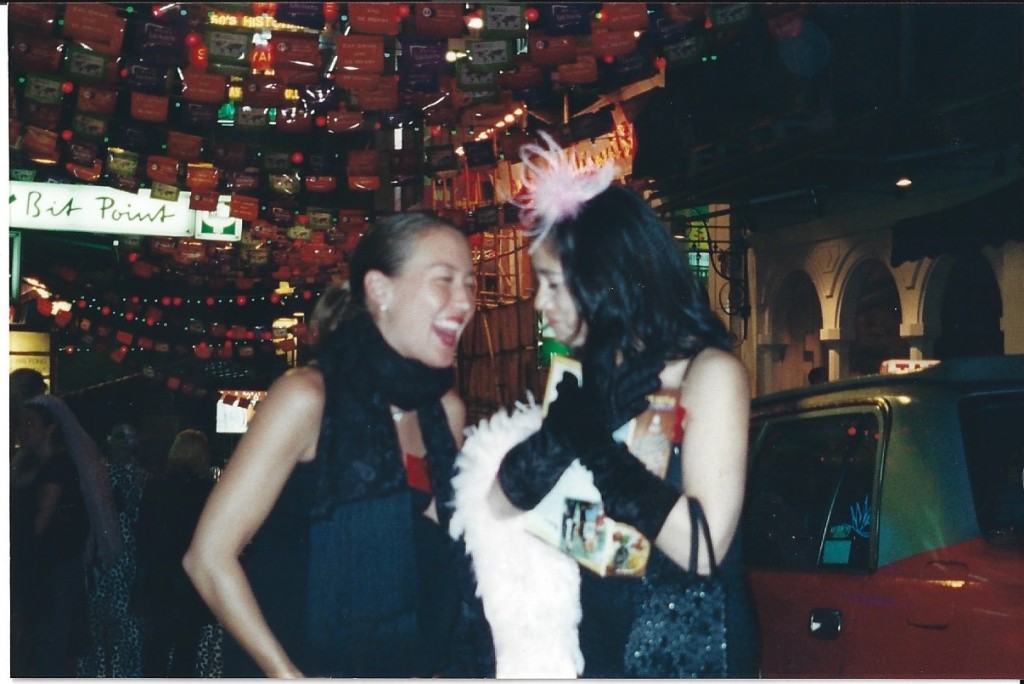 Did I mention how much dress up we did? Well, here is yet another one of many black tie events that we attended. Our friend Teena threw a lavish 40th birthday murder mystery party at the top of the China Club. Afterwards we dumped into Lan Kwai Fong and practiced our swing dancing in front of Al's Diner. Yes, we all took group swing dancing lessons together. We were a very close group that did EVERYTHING together. Anna's character was actually pregnant for this event and we had a blast watching her and our friend David, who was dressed as a priest, dance together.
Even though this photo is a bit blurry I love how it captures the moment. We had so many giggly moments like this!
It was really great to catch up with Anna and meet her kids, two of which I met about 10 years ago in New York and one that wasn't born yet then. Hopefully it won't be another 10 years before we see each other again!
Pin It