A few weeks ago Adam informed me he had a meeting in Columbus OH in mid April. After checking the calendar, I realized it was the same time as Jack's spring break.
I've never been to Columbus and it seemed like a perfect time to check it out.
So we packed the kids in the car, let Ben take a few days off school, and drove the 6 hour drive to Ohio. We packed many new videos for the trip. Schoolhouse Rock was one of the favorites.
(Picnic pit stop at Fort Harrison State Park outside of Indianapolis on our way to Columbus.)
While Adam spent the first few days working, the kids and I spent time exploring the local surroundings. I couldn't go anywhere big on my own, but that didn't mean there wasn't plenty of fun to be had.
We got in two sessions at the hotel pool, one with and one without Adam.
We have been giving Aaron and Sam swimming lessons and while Adam was with us, they showed off their swimming prowess by taking their Puddle Jumpers off and managing not to drown.
We also checked out the local park, Goodale Park. 
Unfortunately the playground was under construction.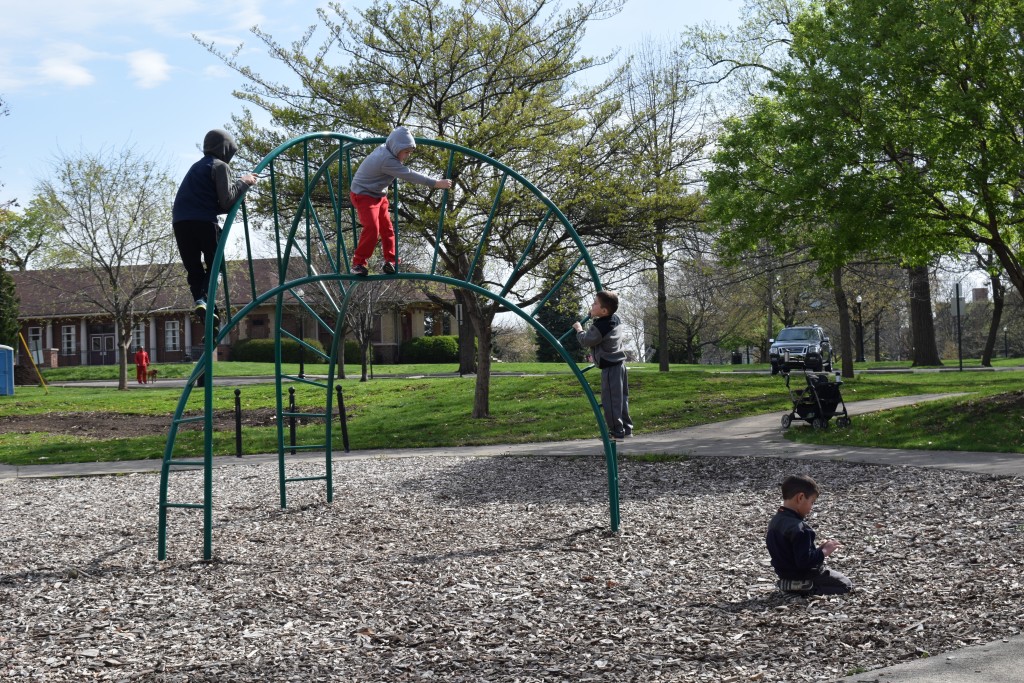 But after the boys shook off their city skins, the ones where everything is planned for them, they started to enjoy the other parts of the park.
Like the lake.
Looking at the fish.
And finding sticks.
And discovering pinecones in different stages of life. 
And generally enjoying large, open green spaces with room to horse around.
After Adam's work was finished, we were able to enjoy some of the bigger sites. First we checked out the Columbus Zoo.
It was a very big zoo. The parking lot was so big they had a tram service to the entrance.
The amount of animals they stocked was quite impressive. The kids really like the reptiles and aquarium. 
So did everyone else.
It was so crowded that the phrase, "It's a Zoo" was quiet appropriate.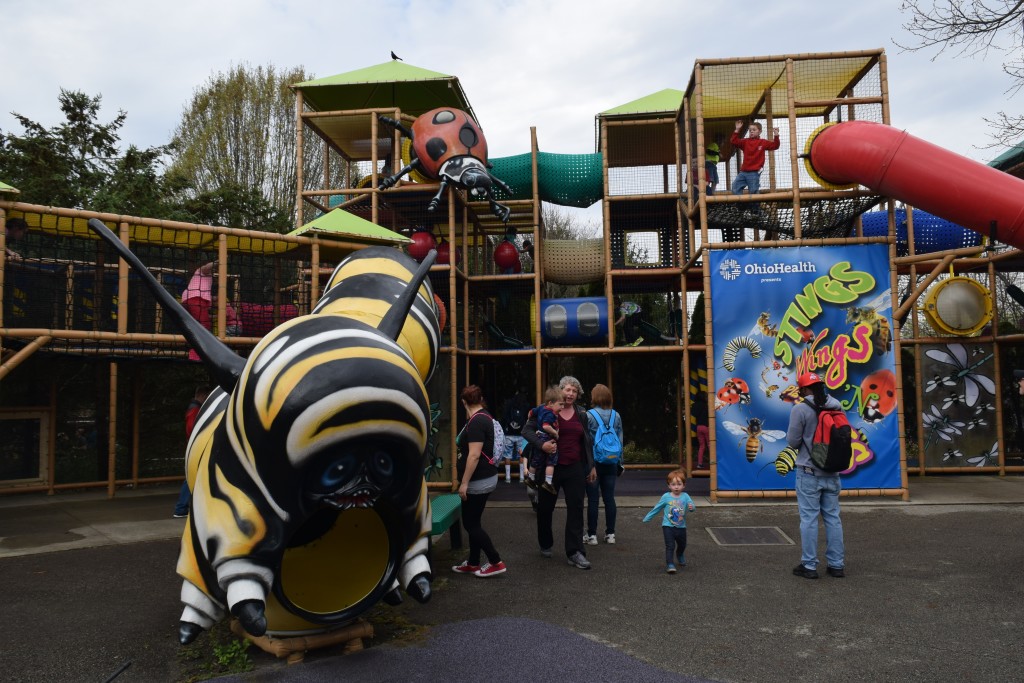 They also really liked all the kid play spaces.
And the Dippin' Dots!
The next day we checked out the Center of Science and Industry, or COSI.
I loved, loved LOVED this museum.
Everything was so hands on and kid friendly. 
They had loads of science volunteers with pop up stands around the museum. 
We saw a movie in their Giant Screen movie theater, the kind shaped like a huge dome.
We also checked out the outdoor park.

And their temporary Mindbender Mansion exhibit, filled with mazes and puzzles.
They had this huge play space for the twins. They were having so much fun that Aaron said I 'ruined his life' when it was time to go.
They pretended they were bandits stealing food and hiding here…
We also checked out the Scioto Mile, a large outdoor space in the city center.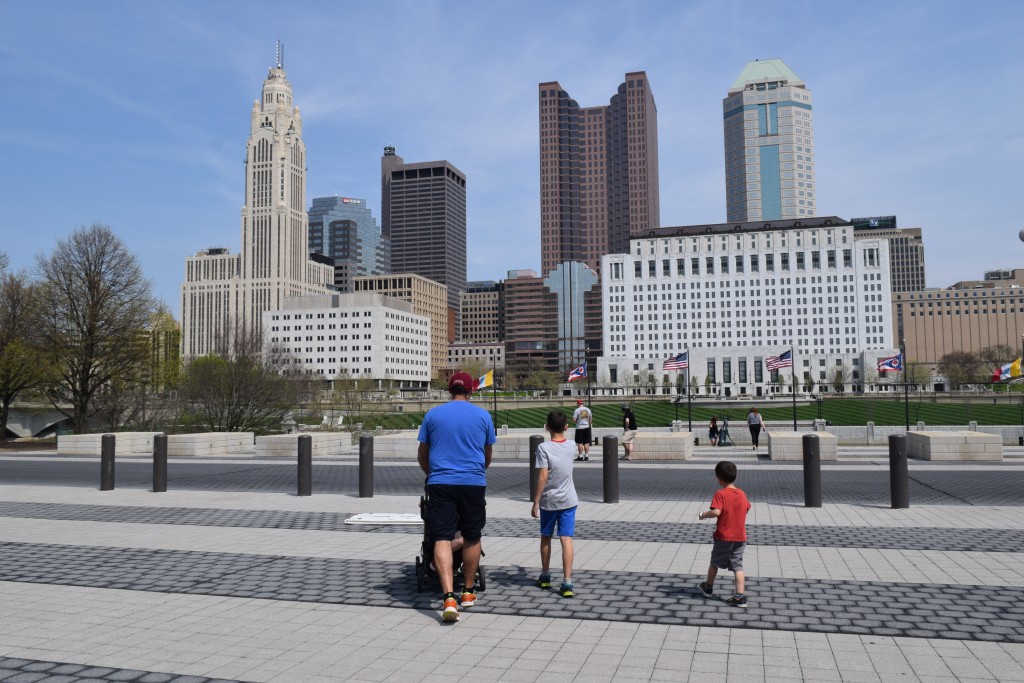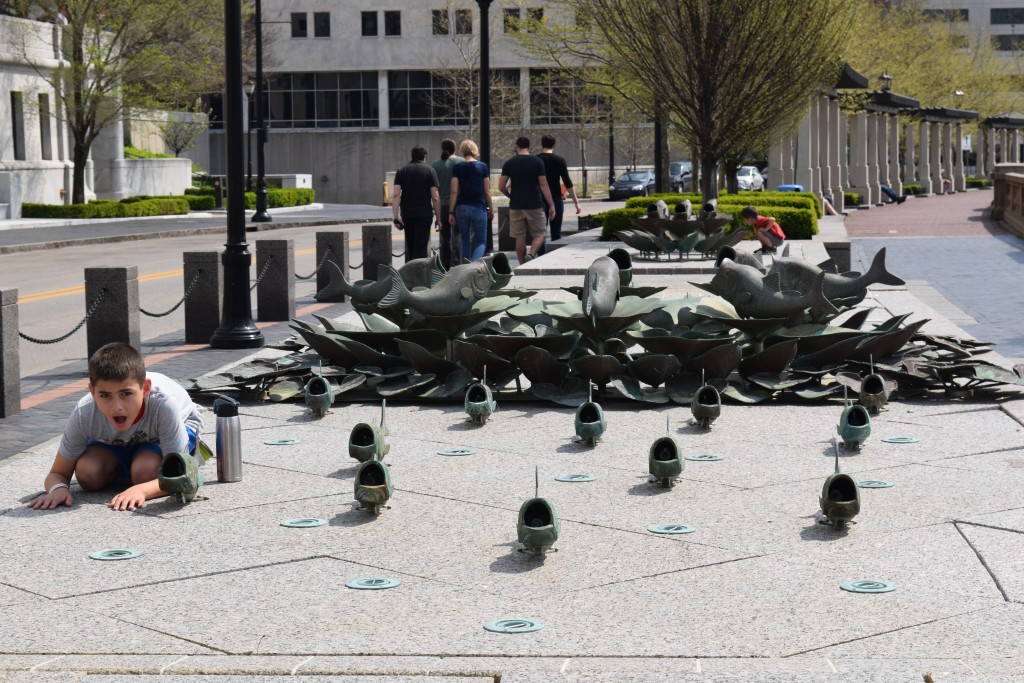 Sometimes we just hung out in the hotel and had down time.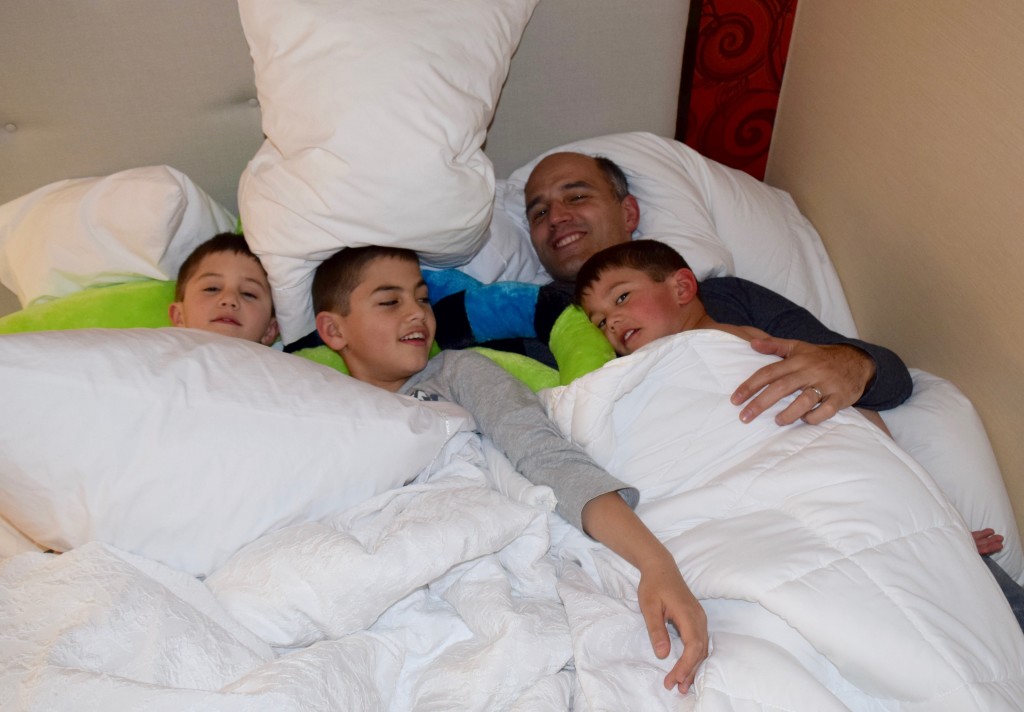 We also sampled many of the cities delicious eats.
At North Market for pretzels and dip.
And Jeni's Splendid Ice Cream. Columbus OH is the birthplace of this ice cream genius.
We ate at many chain restaurants that don't exist in Chicago.
Like Gordon Biersch.
And Buca di Beppo.
The restaurant was so full of tchotchkes that we spent most of our time playing I-Spy.
Finally, we got to see some of Adam's long time friends who live in Columbus for a dinner at El Arepazo.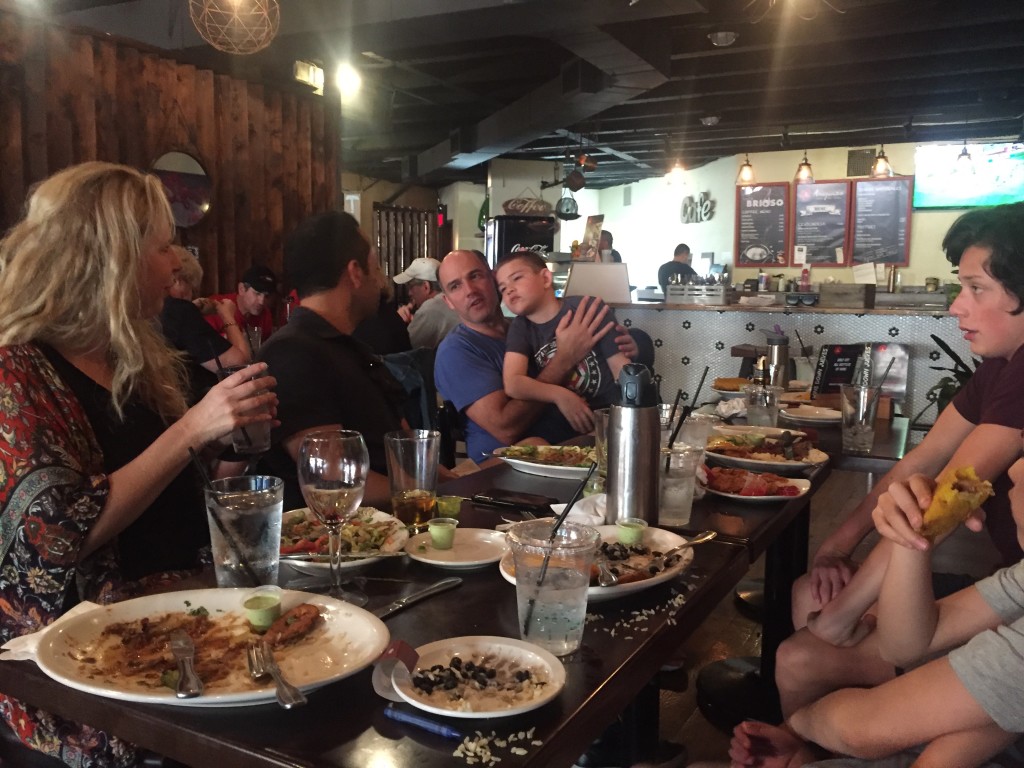 We let Jack take the picture…
He might need a bit more practice.
Finally we headed back home.
(Picnic stop at Eagle Creek Park.)
Aaron spent most of the vacation confusing our trip to Columbus with our trip to Florida. On the first day he asked when Grandpa was coming to visit us at the hotel. A day later he asked where the pizza float that we used on our trip to Florida was. Finally he asked which day were were going to the beach.
When we got home, we talked about our favorite things at dinner that night. Most of the kids agreed on COSI but Aaron loved most that Grandpa was coming to visit him soon.
Pin It