I hereby declare this year as the year of Elsa. Disney's hit movie, Frozen, was a huge hit for Halloween this year and almost every single girl was wearing an Elsa gown. We even saw Jack's classmate and younger sister in matching Elsa outfits.
There were two main characters in the movie. Both women. But I didn't see much of Anna on the halloween circuit. Which made me wonder if young girls identify with the tortured, complicated Snow Queen better than the carefree, fun loving, brave little sister who actually is the real heroine in the story. Or maybe they just all want to be the one with superpowers and really cool dress.
Either way, with four boys I will not have the opportunity to dig into a little girls psyche.
I did, however, ask Adam if we had bought Disney stock BEFORE this movie came out.
Our costumes this year were also from a movie, but a very different genre.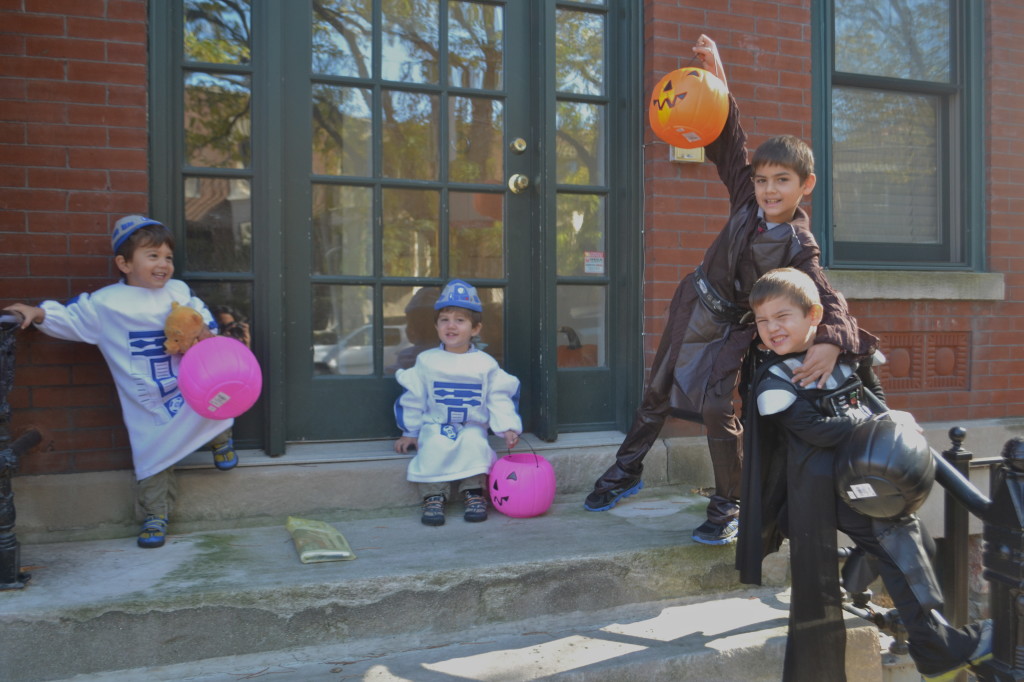 It all started with Ben's decision to be Darth Vader. The fact that he always wants to be the bad guy is a psyche I'm actually trying to avoid digging into.
Jack came up with the idea of all being Star Wars characters and claimed Anakin Skywalker as his own. Then he cleverly thought the twins would make good R2D2s. The hats for the twins made me think they could use them later for a bar mitzvah. They would make really cool Kippahs.
We trick or treated this weekend BOTH days. Saturday was the Clark Street Spooktacular and Sunday, Halloween on Armitage. Having attended both, I must say I really preferred
Armitage. It's much smaller, quainter, and less crowded. Clark Street had some great additions like street performers. We also got more candy, but in order to do so we had to push ourselves and our stroller into and around a lot of people, screaming at our kids to stay close the whole time. Armitage there was time to stop and chat with each store. The shops actually seemed interested in the kids and commented on their costumes. And it was close enough to our house that we could just walk there unhindered by a stroller. Armitage also has nice candy in fancy bowls. I loved the samples from Vosges Chocolate. I even trick or treated for a mini bar of Pink Himalayan Crystal Salt Caramel Bar. And a Jr Mint. Okay, and a mini Heath Bar. Alright I ate a bunch of candy people! I was worse than the kids on Armitage!
We already have huge bags of candy and Halloween is not even here yet. Lord help me keep to my diet!
Pin It