In an effort to replace all the food dyes and unnatural preservatives, I've been spending a lot of time in the kitchen making fresh desserts, snacks, and breakfasts.      
The last thing I wanted when I cleared the cupboards was for everyone in the house to think there was nothing to eat anymore. I hoped they would find that more nutritious and less processed is just as good and sometimes even better.
I've actually found a few things that are easy to make, cheaper than store bought stuff, healthier and contain no artificial anything. I also had some disasters.
This journey has taught me that there is something very gratifying about knowing all the ingredients in your food.
For Breakfast, to replace the store bought granola bars, I made Ina Garten's Granola Bars.
I switched up the add ons, I skipped the apricots and cranberries and added chocolate and peanut butter chips. Everyone but Jack ate them like crazy. Not just for breakfast, they were begging for them for snacks as well. So much cheaper, tastier and healthier than store bought!
I also found a replacement for the Nutragrain fruit bars, Whole Grain Fruit Filled Bars.
They were sooo good. Everyone ate them. And, like the granola bars, I could use them for snacks in the afternoon as well. With 6 people, if you spend the time and effort cooking it, it does NOT get wasted!
Finally I tried a twist on a quesadilla that I saw on Pinterest, with peanut butter, sliced banana and chocolate chips. You can see the recipe in detail here from Budget Bytes.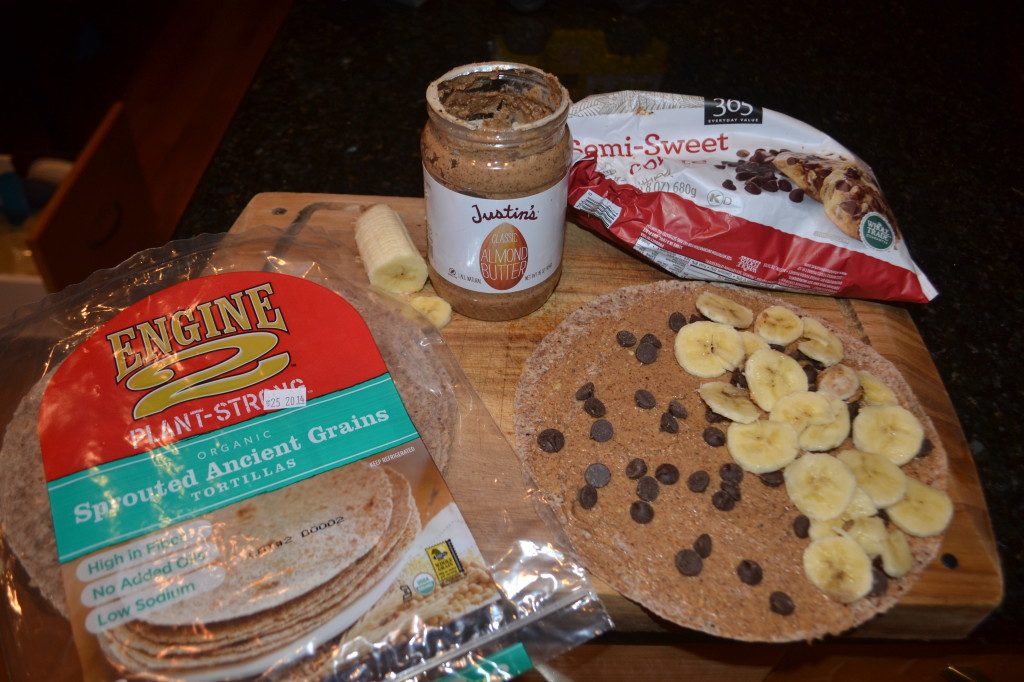 This one didn't go over as well, maybe because the ancient grains tortilla I used was kind of hard. Sam opened his and licked out the contents, and that was the best of all the kids efforts.
Desserts are one area I am lazy about, but I've been working away, trying to replace all those dyed frozen treats and artificially preserved shelf cookies.
I made Giada de Laurentiis' recipe for Chia Seed pudding. Jack liked it enough to ask for seconds.
I added some blueberries to mine as well since I had them, but also thought it would be nice with some orange segments or raspberries.
I had a disaster trying to make my own recipe for gluten free cookies.
Guess what, people? Coconut Flour and Almond flour don't rise, no matter how much baking powder you put in. They have no gluten in them. I still ate it all, it tasted great if you ignored the look.
And I invested in a Zoku Pop Mold. We whizzed Noosa strawberry rhubarb yogurt together with a bunch of strawberries, a few dates and a dash of agave nectar. All but Sam loved them. I had them eat them in the tub and it was, for once, a super easy clean up. Jack and Ben love the endless possibilities. The next pop was Jack concoction of lemon yogurt, strawberries and raspberries. Then Ben picked a pop – frozen homemade lemonade.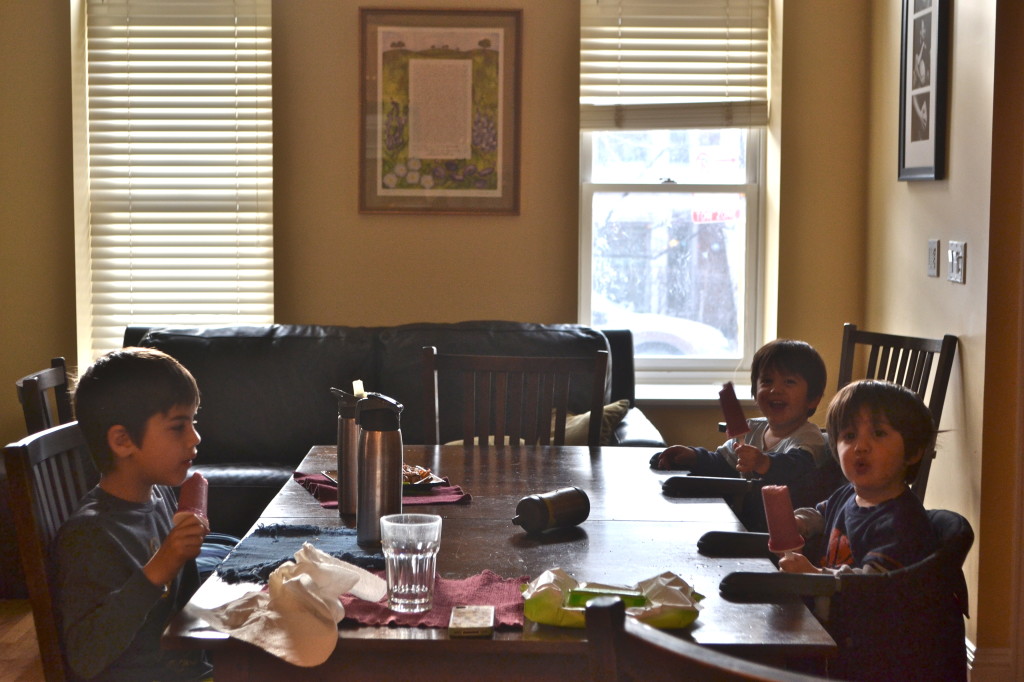 I also tried a few things from my new China Study Cookbook like Vegan cookies and Peanut Butter Chocolate Bars.
The cookies were tasty, but because they lacked butter they were kind of muffiny, instead of the crispness I am used to in a cookie. The kids didn't complain, though. They excitedly ate those whole grain cookies for dessert without noticing the change in texture at all.
The peanut butter chocolate bars were a huge hit…
I also had lots of new store bought options around. Because even when you up your cooking game, you still need some lazy back ups just in case. Jolly Llama pops, Kozy Shack puddings, dye free milk chocolate sunflower kernels, dark chocolate covered goji berries made for much healthier treats!
Stay tuned, as this food adventure is not over yet. Next week I'm trying black bean fudgesicles!
Pin It