This week we received shallots, fingerling potatoes, a leek, an english cucumber, red pepper, carrots and broccoli.
There were a lot of repeats from my box two weeks ago, but I guess it's hard to get abundance and variety in the dead of winter.
I used the carrots first. I like to chop them up real small with an attachment that came with my immersion blender and hide them in bolognese sauce. O also added some of the shallots to this. I paired it with a recipe that my friend Pam sent me, Spinach Souffle. She swore all her kids ate it, even the one that refuses anything green. I didn't have as much luck. Ben, Adam and I were the only takers. I guess 1/2 of the family isn't a bad go, and as an added bonus, Sam now knows how to say "souffle".
Next I used up the rest of the carrots in a healthed up version of carrot cake that I blogged about before. I included the recipe here. The kids ate it for dessert for 3 nights before it was all gone. I was secretly pleased at all the nutrition that I snuck into that dessert.
Since it's so cold here, I couldn't resist making a leek, broccoli and potato soup. I chopped up some turkey bacon bits and cheese shreds for the garnish. It came out perfect – the potatoes were rich enough that there was no need for dairy to make it creamy.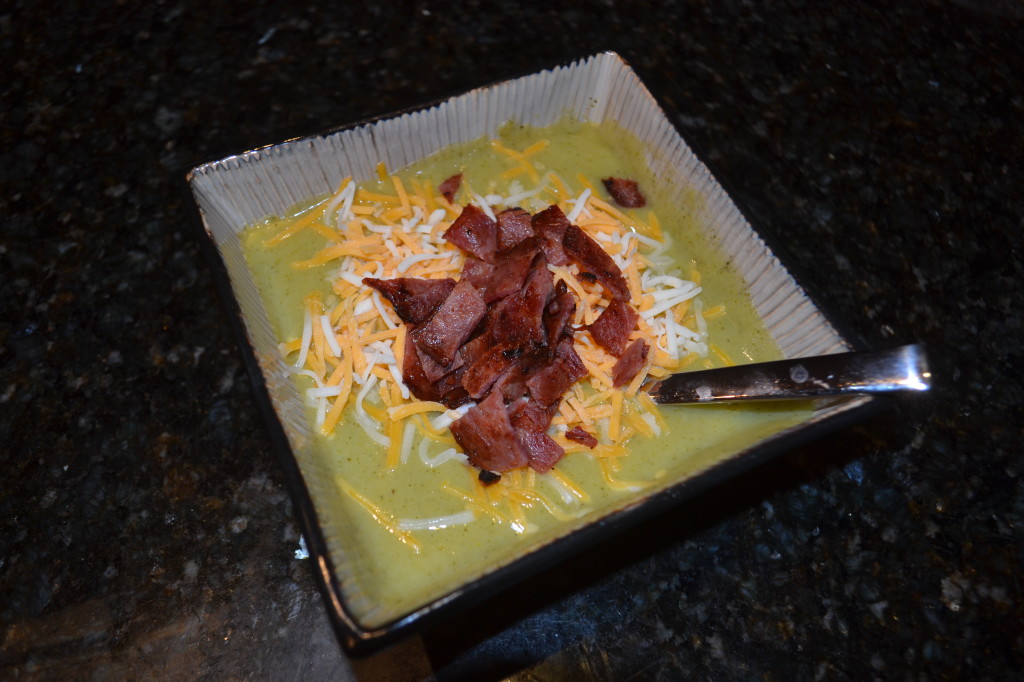 Broccoli, Potato and Leek Soup
Prep time:
Cook time:
Total time:
Easy and nutritious soup. Great for cold weather. No cream necessary!
Ingredients
1 tbsp olive oil
1 leek
2 cloves garlic
2 russet potatoes, peeled and cut into large chunks
1 broccoli stalk, chopped roughly with stalk included
4 cups chicken broth
Salt and pepper
Shredded cheese of your choice (I used mexican, but cheddar would be great too)
Turkey Bacon
Instructions
Saute leeks and garlic in olive oil about 5 minutes until softened
Add potatoes, broccoli, and chicken broth
Bring to a boil then simmer uncovered for 20 minutes
In the meantime, fry up the turkey bacon, let cool and chop into bits
After 20 minutes, blend soup with an immersion blender
Add salt and pepper to taste
Top with cheese and turkey bacon
That left the red pepper and cucumber. Which I was tempted to just chop up and dip in hummus, but in the end I needed the red pepper for grilled cheese and homemade 
tomato soup
.
Finally I used the cucumber in a Jamie Oliver recipe I saw on TV. He simply used a peeler to cut the cucumber into ribbons, then added soy sauce, rice wine vinegar, grated fresh ginger, sesame oil and a squirt of lime.
Pin It