This week, Red Beets, Sweet Potatoes, Yellow Onions, Lacinato Kale, Pinto Beans, Cilantro, Red Leaf Lettuce, and Fennel.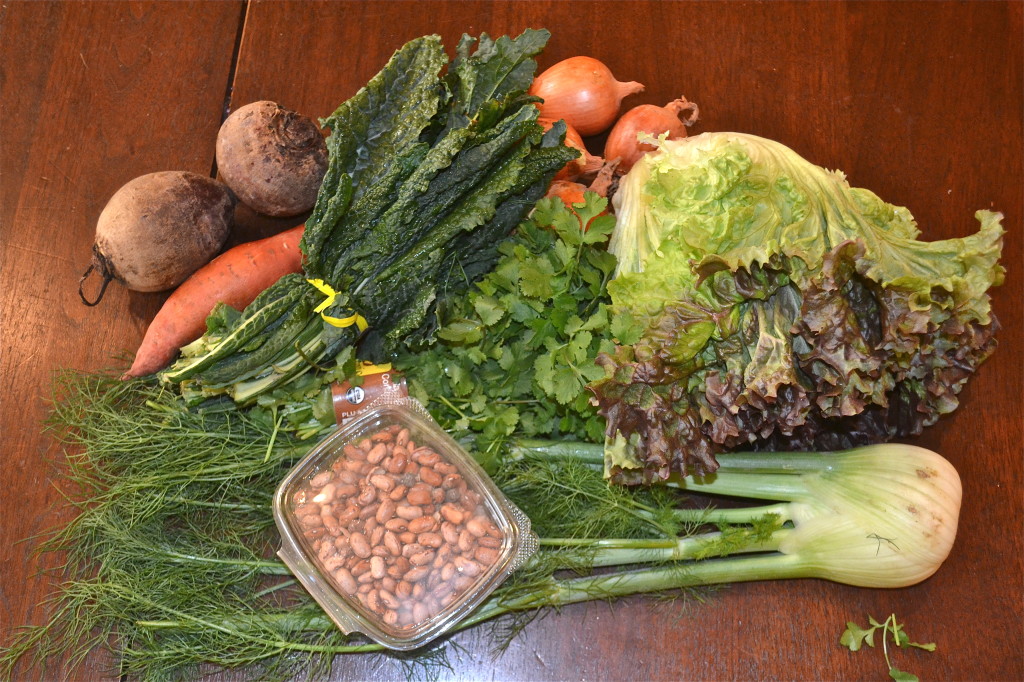 I immediately turned around and used two of the items for an adults only dinner for two that evening. It happened to be Adam and I's 8th anniversary and having new and different veggies made for a great and adventurous new meal.
First I made a salad with the kale. I used a recipe from Marin Mama Cooks. It was called Lacinato Kale Salad. It was really good and now I think I'll have to explore her blog more! My husband said it kind of tasted like a healthy caesar salad.
I paired the salad with Linguine with Sardines, Fennel, and Tomato. I didn't have sardines so I used tuna. And I only had spaghetti, not linguine. Turned out perfect. I don't usually cook with fennel because I'm not crazy about licorice flavor. But after fennel is cooked it mellows and sweetens quite a bit. I loved this and would definitely cook it again. Adam has already claimed the leftovers for his dinner tonight.
The next night I used up the red leaf lettuce as a side salad for the leftover pasta. I also used the beets. I roasted them along with the sweet potato for my sweet potato boats (more on that later) in the oven. Then let the beets cool, peeled them and diced them. I layered the red leaf lettuce, beets, grapefruit, sliced red onions and feta. I dressed with a vinaigrette of balsamic vinegar, honey, olive oil, dijon mustard, and minced garlic. It was wonderful!
For my newly roasted sweet potato, I topped it with some left over black beans and ripe avocado from the fridge. I sprinkled a little salt on top, because nothing is more yummy then a salted avocado. It was so filling and so delicious I was sad. Sad it took me 41 years to discover the combination. So easy, so nutritious and so tasty!
In fact, I can't believe how many wonderful new dishes I'd gotten out of this delivery! And so pleased I didn't have any failures this time around.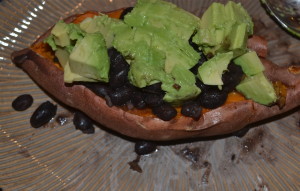 Pinto Beans were soaked over night and cooked on the stove then used in a big pot of chili for the superbowl. Also some of the onions got used in this recipe. Cliché, but I had to do it. It was easier than I thought to work with dried beans and as a bonus no possibly damaging tin cans. Made me think about changing my pantry a bit.
Pin It