Tony and Nenoy are visiting us this week. As I mentioned before, they are related to me, somehow. (Obviously on my mother's side.)
I've spent a lot of time at their house in Florida, but this was the first time they came to mine. I wasn't sure what to expect when they visited. All I knew is that they planned their trip around the Taste of Chicago.
Which really tells you quite a lot of about these people. They are serious foodies. Whenever I see them I'm always surprised they do not weigh 1000 pounds each. Because these people can eat.
They arrived with a list of things they needed to check out. Al's Beef, Deep Dish, a genuine Chicago hot dog, and of course, all the tid bits at the Taste of Chicago. They even managed to fit some culture and city tours in, between bouts of eating. And when they returned at night, tired from all the walking, they turned on "Master Chef" and watched people cooking food. We also spent a lot of time talking about food. I got many great tips this week. I promise to share them in later blogs.
A couple of mornings I woke up to see this on my kitchen counter…
I told Jack we were having custard buns and Chai Sui Bao from Chinatown for breakfast. He shouted, "I love those!"
Even though it was naughty white carbs and forbidden pork, I had to smile. It warmed my heart that Jack is already integrated into the Chinese culture. Over the generations we may have lost the language and the slanty eyes, but here was proof that a little piece of my heritage will be preserved for at least one more generation.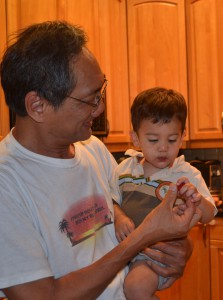 It turned out that having Tony and Nenoy around for the week was a real bonus for me. They were super helpful with all the kids. Nenoy cleaned my kitchen better than I knew how to and Aaron became attached to Tony, following him around everywhere and crying unless Tony was holding him.
Not only did they watch the kids, clean and come home every night bearing food but on Thursday, they also cooked us an amazing meal.
Nenoy made dumplings and Tony made a Jamaican Brown Stew Chicken. Both were so delicious I ended up stuffing myself before my girls night out that evening.
It has been so nice having them here. They basically showed up and acted exactly like family should. Or how you hope, in a perfect world, they would.
I'm going to be sad to see them leave. Perhaps I can convince them to come back next summer, surely they haven't finished tasting all the culinary delights Chicago has to offer?
Pin It