Lots of changes have been happening here, and I thought I'd give you a little update…
The warmer weather is a change in itself, seems like everyone is happier now that we can spend more time outdoors in the sunshine. And it's a keen reminder that summer is just around the corner.
What have we been doing with this warmer weather?
Jack has started soccer and baseball again. A few weeks ago he played against his buddy Angus as they are not on the same team this year. It was very cute to watch Angus running from second to third base while Jack waved as he passed. As 6 year olds, they have started to actually follow the rules. People can get "out", not everyone gets to run the bases no matter what.
Jack's soccer team is coached by two soccer enthusiast and as a result they have a killer team this year. Each game is a blow out! Jack is learning a lot, and has even managed to score some goals.
Jack has been better about his big brother status with the younger kids, even Ben.
Ben has started a phase where he talks about wanting to be a girl every day. Some days he won't answer us unless we call him, "Jackie", the female version of his idol, Jack. He's quite a bruiser, so I'm not sure what it all means. I still see him play "Hulk Smash" with his toys, or have the dinosaur obliterate a tower he's just built, then he'll go and try to wrestle Jack or Papa to the ground. He's got a crush on Abby, a girl in his class. We shamelessly use it to get him to go to school every day, "If you don't go you won't see Abby, will you?"
We are screwed for next year.
Sam has reached a whole new level of mischief. Anywhere I turn he seems to be. Like climbing up to the top bunk in the bunk beds. Anything new I have around the house he finds instantly and plays with. I found the boot I use for my stress fracture in a plastic play tunnel the other day…
Aaron is still running a fever. He is on day 5, which I find slightly alarming but I have brought him to the doctor's office twice and he checks out fine. Poor guy has been a coughing, tired mess this week. Apparently there is a bug going around lately that lasts 7 days, let's hope it's that and nothing more serious.
The twins also graduated to big boy car seats this month, they seem to really enjoy them, though I find it challenging to get them in and out of the car now. My new method is to carry them both at the same time, one of each hip, trying to close and open doors without any free hands. It's quite comical, and if I could I would take a picture of it. But for now you'll have to settle for a car seat shot…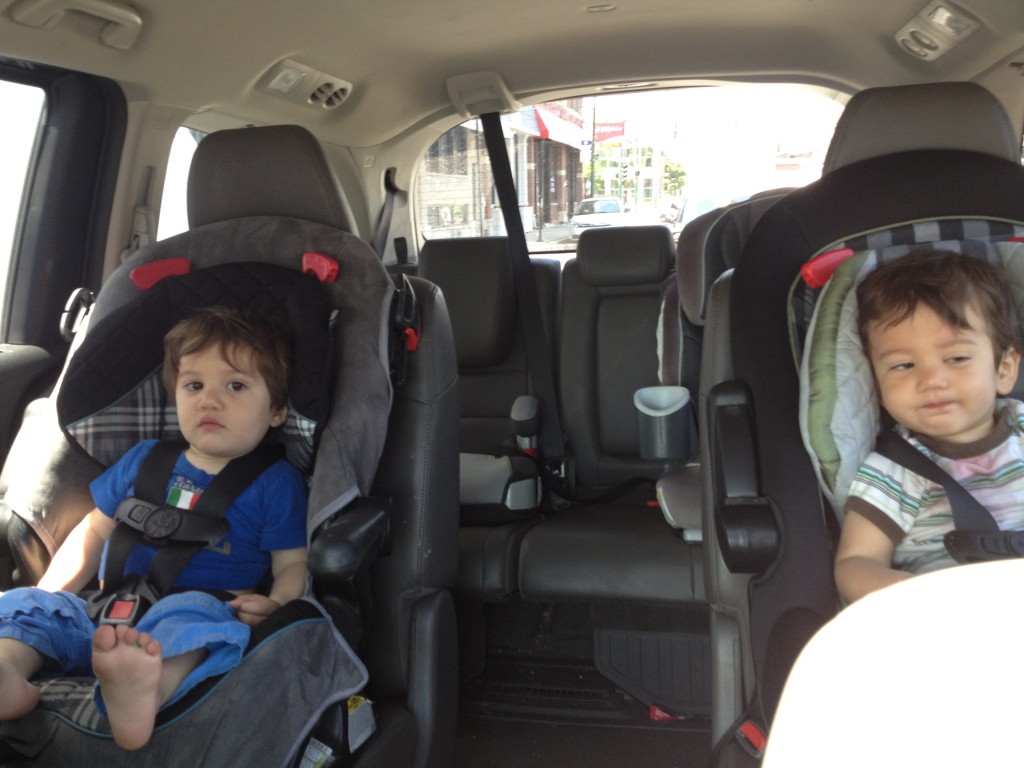 Pin It