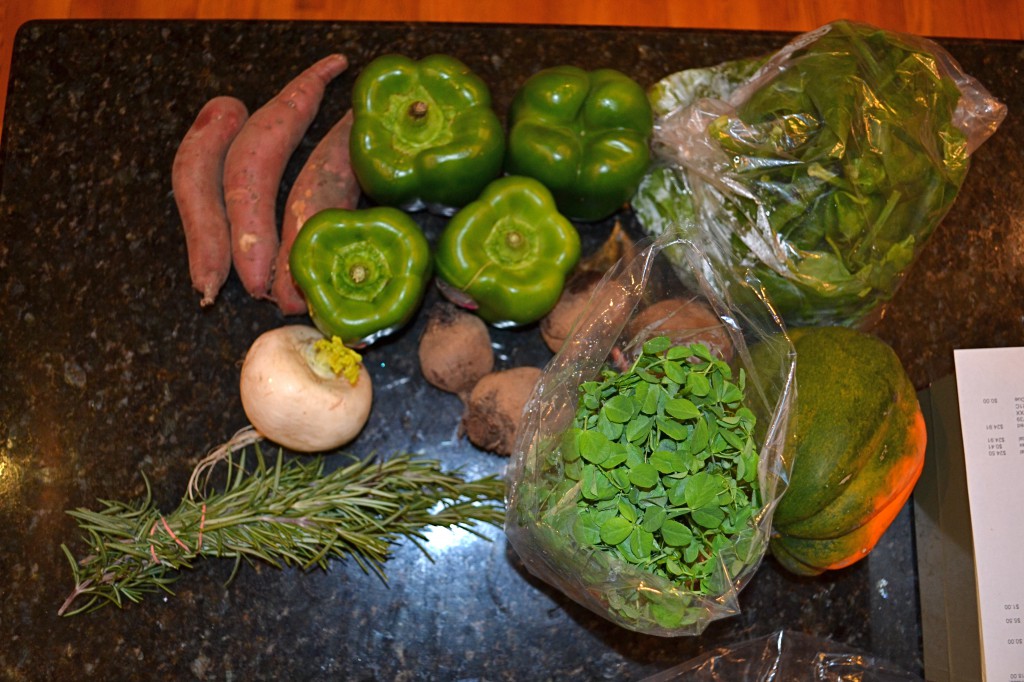 This week I received Beets, White Hakurei Turnips, Yellow Onions, Japanese Sweet Potato, Acorn Squash, Pea Tendrils, Spinach and Rosemary.
Immediately I put the beets and sweet potatoes in the oven to roast. The sweet potatoes were mashed up as a side dish for the kids one night. The beets cooled and stored in the fridge for salad.
The pea tendrils and spinach made for a lovely salad…
I used the rest of the beets and spinach in another salad another day.
I had no idea what to do with all those green peppers. In the end I added one of them to the coleslaw I made with the cabbage from the last delivery. Adam does not like the creamy stuff so I used a sweet vinegar base instead.
Acorn squash made for a nice soup. Actually since we are going to Florida soon I added the acorn squash and any other veggies I had in the fridge that seemed suitable in a soup. Cauliflower, carrots, onions, celery, spinach, all got chopped and dumped in a pot with a box of strained tomatoes and some water. It was seasoned with the fresh chopped rosemary, salt and pepper.
The poor turnip got ignored. I need to up my turnip game if they decide to keep sending me such a varied assortment of them.
Pin It