Last month the person in charge of the website for Irv and Shelley's must have been on holiday because they never updated the site, or the invoices. As a result, I have an invoice listing the delivery items from the week before, which I must say looked much better than what I got on November 21st! The delivery the week before had pumpkin pie!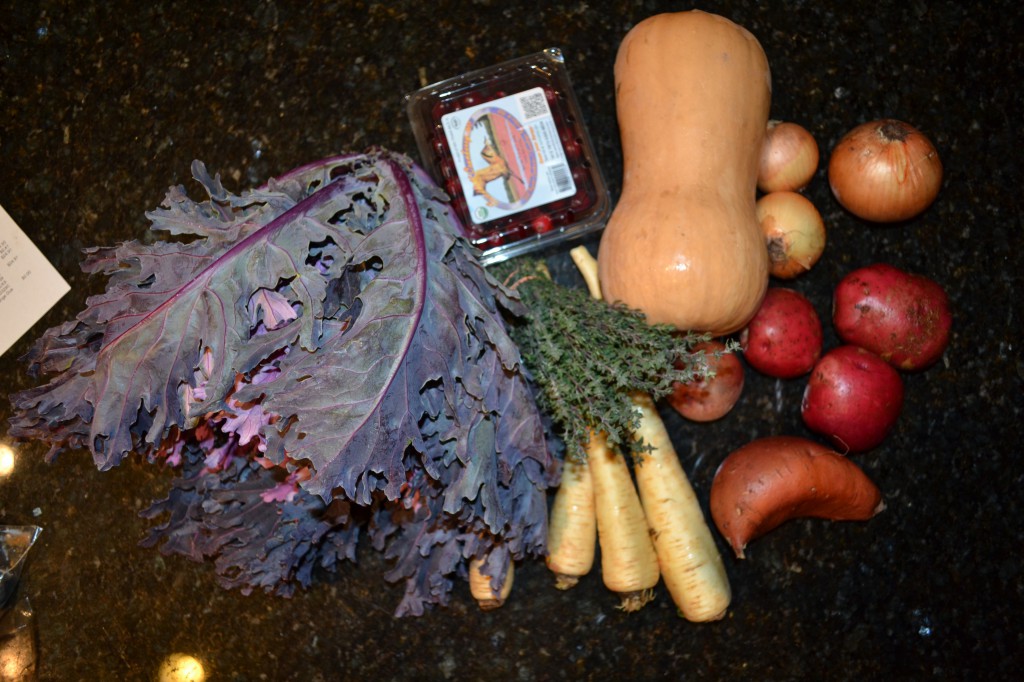 Above is, I think, some kind of purple lettuce, parsnips, butternut squash, cranberries, red potatoes, one sweet potato, and some onions.
I purposely didn't buy any veggies today at the store, thinking no matter what came in the delivery, I'd find something to make as a side dish tonight. But after seeing the delivery I had no idea what to make with any of it! Certainly I couldn't whip anything up quickly.
Any purple lettuce I found on google seemed to be more decorative, the stuff you add to landscaping. So I decided to taste it. Was I a good enough cook to make something great from this without a recipe? I briefly day dreamed about becoming the next iron chef.
It was waxy, and a bit bitter. I lost interest. I forgot about it until the next delivery came. I ended up throwing it out. Shame on me!
The Squash was pureed into baby food.
I used the cranberries in muffins. I found a cranberry pecan muffin recipe online. It was pretty healthy and the kids weren't into them, I think our frequent Starbucks visits has engendered them to prefer a sweeter taste.
Onions always have use in our house. These particular ones help build a base for a tomato soup and the start of a bolognese sauce.
The potatoes, thyme, and parsnips all were used with the next delivery of vegetables…
I made Minestrone AKA as my garbage soup. Dumped some of the red potatoes, some of the carrots, the leek, and the squash all in there along with some other things.
Another night I chopped the sweet potato, the parsnips, the rutabaga, carrots, and daikon radish, some more red potatoes alongside a few other hearty veggies I had in the fridge. I tossed them with the thyme and rosemary, salt & pepper, and olive oil and roasted them. Served beside baked salmon.
Half the cabbage was used in a mongolian beef dish another night. The rest was made into a cole slaw with a vinegar based (instead of mayo) dressing.
Green leaf lettuce tossed with Paul Newman's Caesar Lite dressing and paired with grilled eggplant.
Pin It