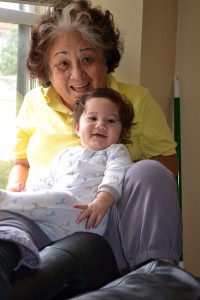 Mom arrived last night from Florida.
The older kids were super excited to show her everything and the babies have been giving her the smiles she never got from them the first time she came to help. (They were not yet 6 weeks, so she did a bunch of work with no reward.)
She can't believe how cute the babies are, and wondered how I could be so lucky to have four handsome boys. She does take some credit for the genes, which I think is fair enough. I also think that people find their own likeness attractive. Having said that, I happen to think they are all super cute boys too.
I have a list a mile long of things I want to do while she is here. This morning already I went to the grocery store BY MYSELF. I sipped decaf Starbucks while casually perusing the aisles. The check out lady and other workers didn't recognize me without the kids, confirming the fact that I really have no identity outside of, "Adam's wife", "Jack's mom", "Ben's Mom" and the "Twins Mom". I guess I used to just be known as "Nikki", so having so many new identities must be a trade up, right?
Anyway, who cares. All I know is that I'm getting my hair cut, a massage, and going clothes shopping in the next two weeks without paying for a sitter or asking Adam to cover 4 kids on his own.
Pin It