As usual we made the most of our two week vacation by booking three separate vacations into one.
Our first vacation was to Disney. We decided to go back to ride the new Guardians of the Galaxy ride at Epcot.
We booked two days at Disney, both with park hopper options. On the first day we got all our favorite rides in at Disney Studios then headed to Epcot for the new Guardians of the Galaxy ride.
The new ride was amazing! It was like a Space Mountain, amped up and with a backstory. At one point I felt like a was gliding through space like Gamora, with the wind whipping through my hair. Also like Gamora, I was a bit green after the ride. As I get older I find roller coasters effect me more.
The second day we went to the Magic Kingdom then back to Epcot to see some of the rides we missed. We all really enjoyed the Test Track ride was well. When I first visited Epcot it was just six countries and no rides, it's changed quite a bit since then.
After the two whirlwind days, we booked an early breakfast to see my good friend Laura and her family before heading down to Boca in time for Adam's afternoon work calls.
Laura's husband Chris worked on the Guardians of the Galaxy ride that we came to town to see, so it was like Laura's husband somehow created not one but two reasons for me to be in Orlando.
Laura was not the only friend I visited while in Florida.
During the second vacation, in Boca Raton, I was able to utilize lots of free babysitting from my father. We went to a delicious dinner one night with my friend Kate and her new boyfriend (I forgot to take a picture!) at Trattoria Romana. Another night we had dinner with Gina and Mike at one of my favorite Boca haunts, Luff's Fish House.
On New Year's Ever we went to my friend Jessica's house for another fancy dinner cooked by Jessica and a neighborhood party afterwards.
This year we didn't make it to midnight. Maybe it's because I'm an old woman now? Are you are silently protesting this comment? I can prove you wrong. While we were in Boca, my AARP membership came in the mail. So there, my elderly status is official. Also, see previous roller coaster comment.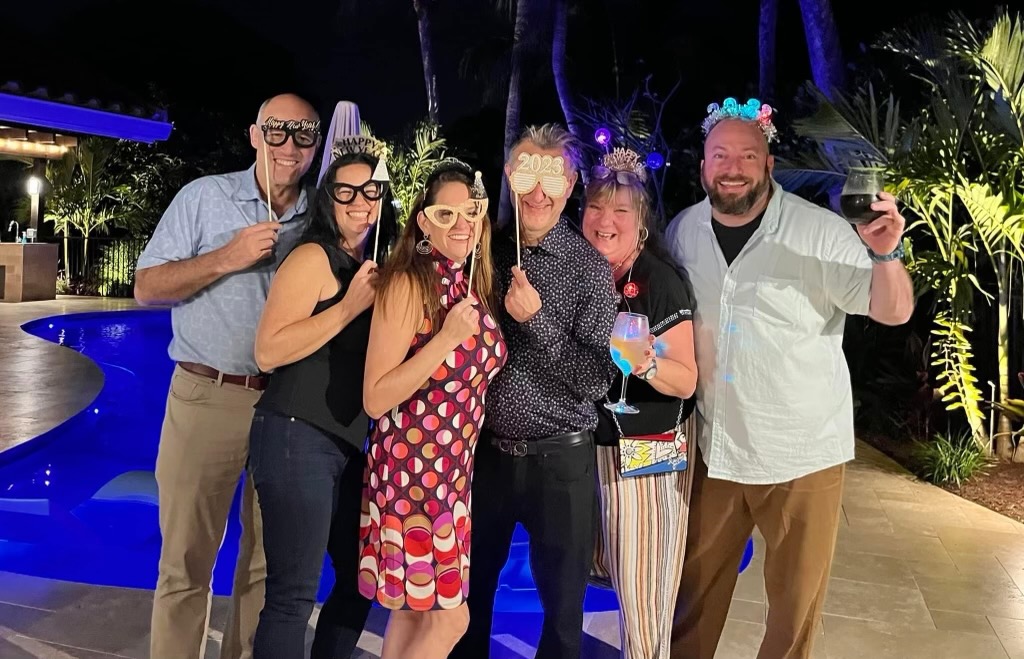 Adam and I also got to spend some time with Adam's family, whom we also consider friends. We met up with cousin Jackie and her husband Mark one afternoon for lunch.
After lunch, we hung out around Mizner Park, eating ice cream and checking out all the outdoor spaces. So nice to be outside in warm weather this time of year!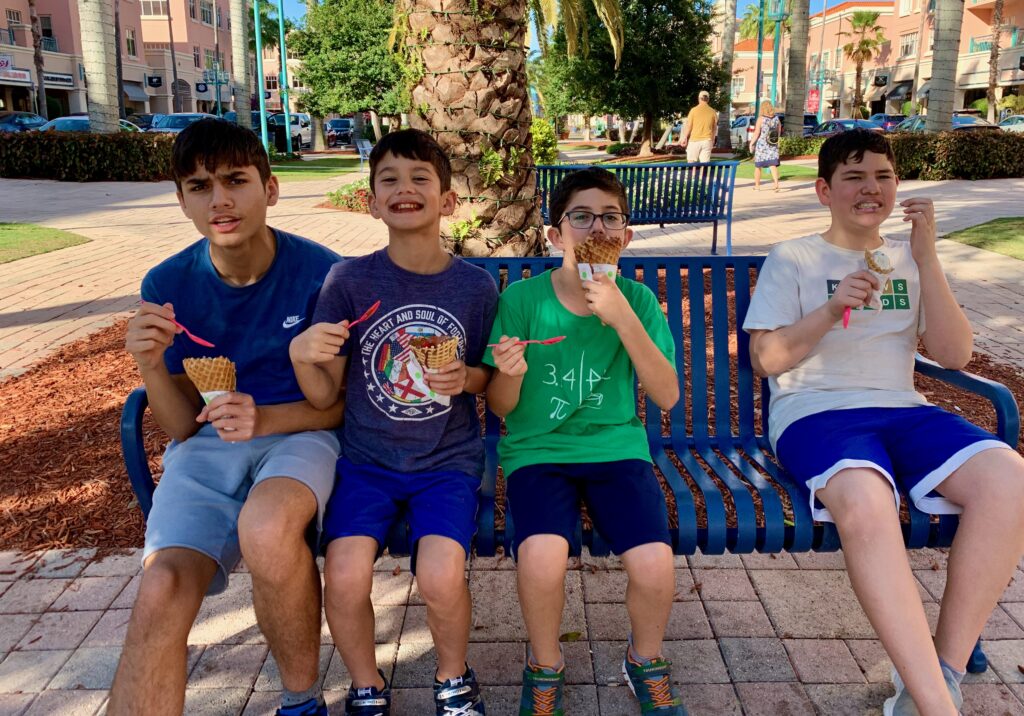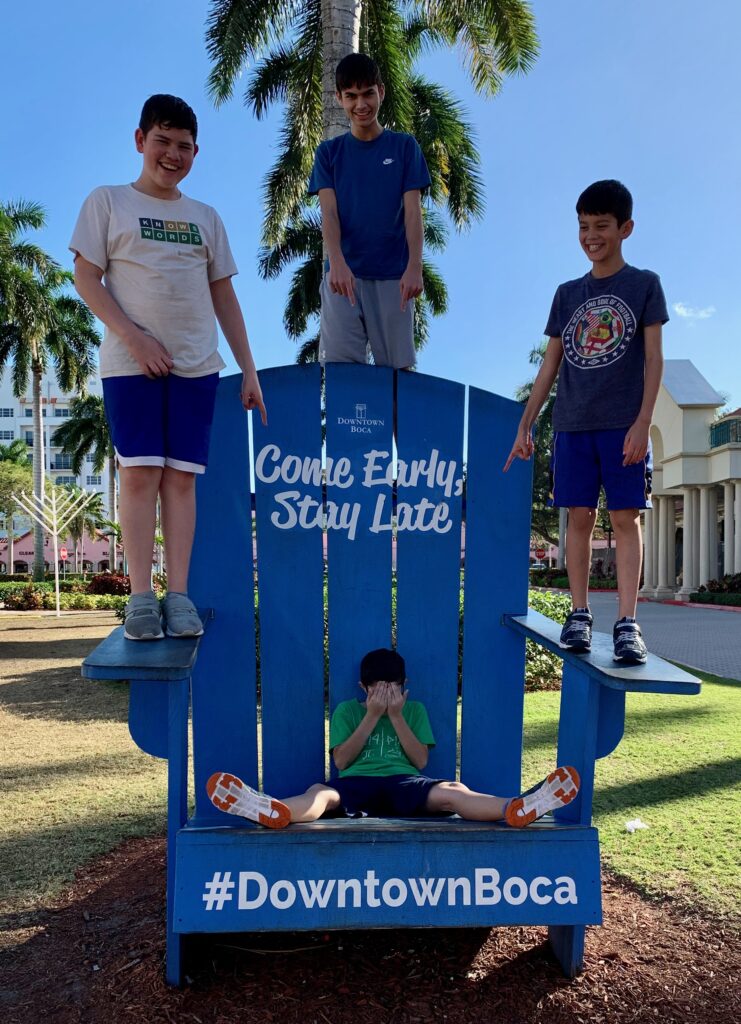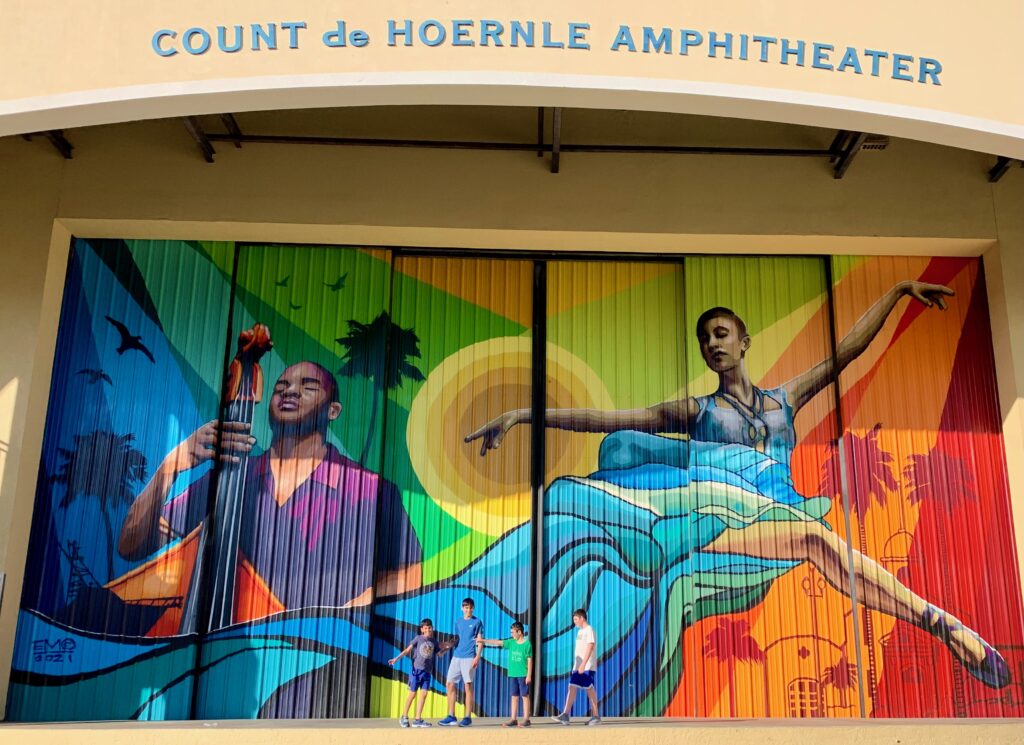 One afternoon we headed down to Miami to spend time with my mother's family and friends. We attended a Memorial Luncheon hosted by the Chinese Cultural Association for my mother.
Here I got to meet my mother's cousin, Denis. I also got to spend time with many of my mother's friends, including Winnie and Gloria. Also Nenoy and Tony, who used to host my mother for Christmas every year. Nenoy and Tony are either related to me or just have the same last name. I think related, but I don't know how. It's a bit hard to tell when you are taught to call all your mom's friends Aunt and Uncle, related or not. Also, it doesn't help that Chinese people all have the same last names!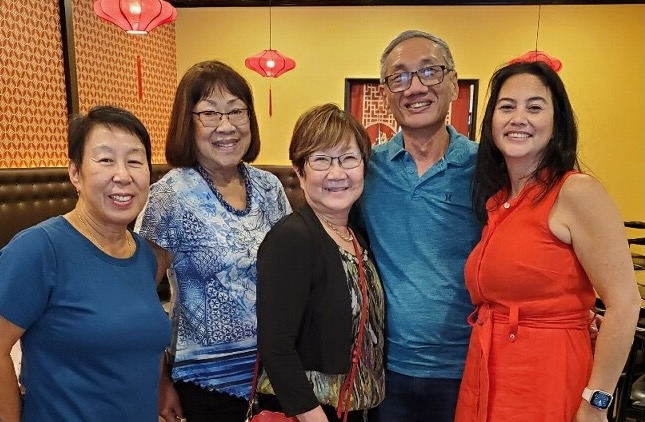 Spending time with my Mom's family, maybe family, and friends was not the only side of the family covered on this trip.
We were also lucky to see lots of family members from the other side of my family, the Devenskys.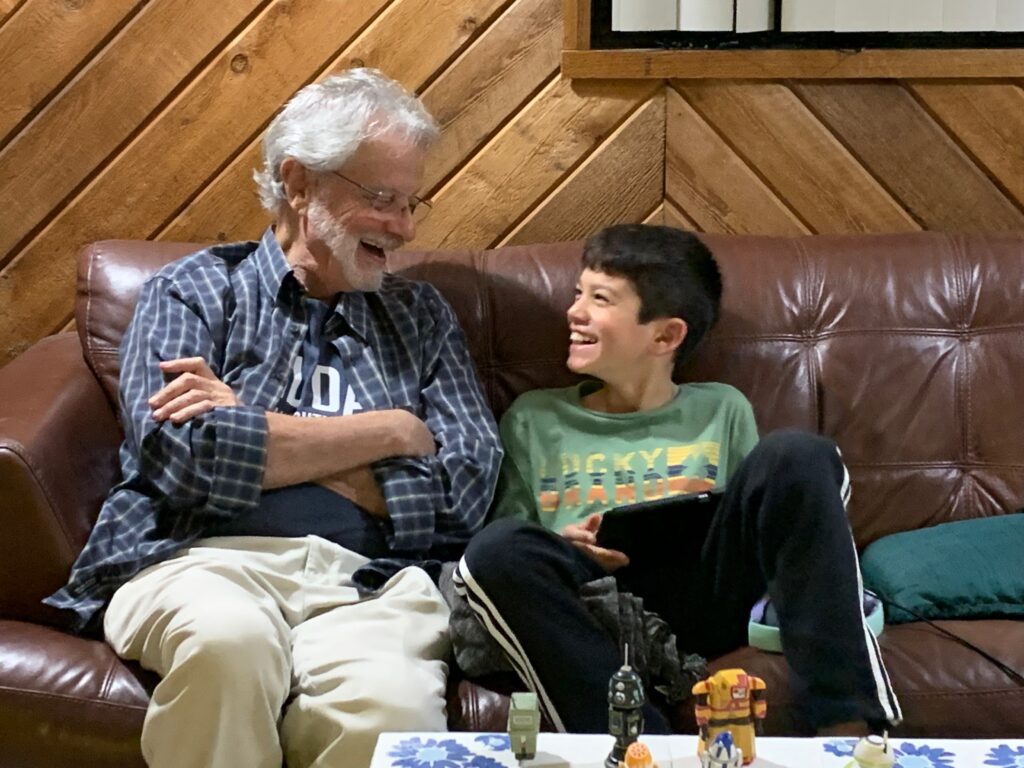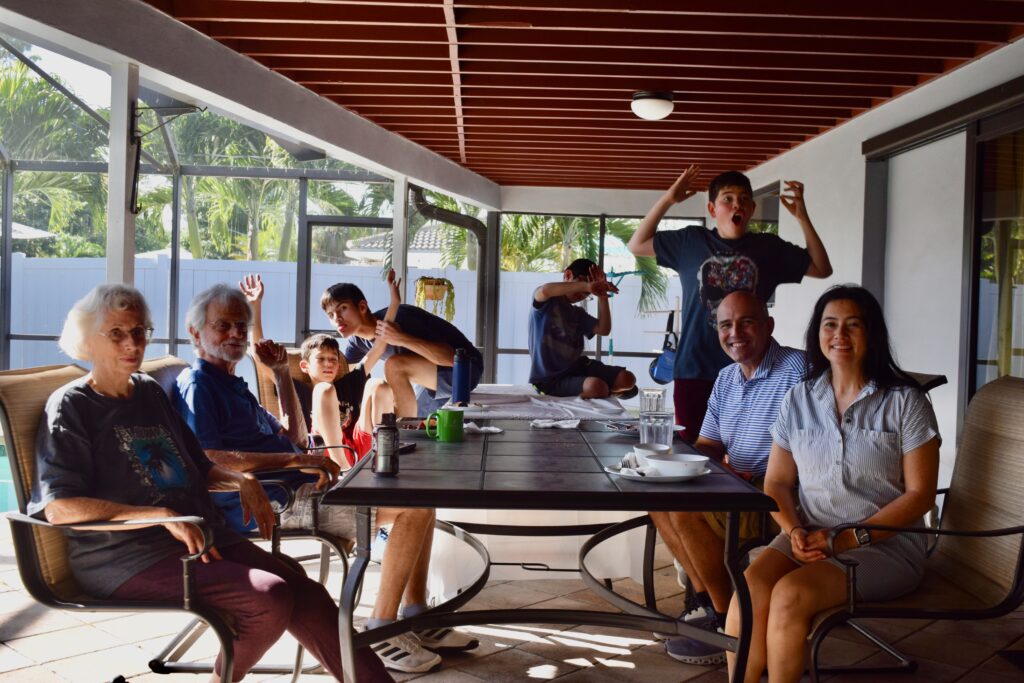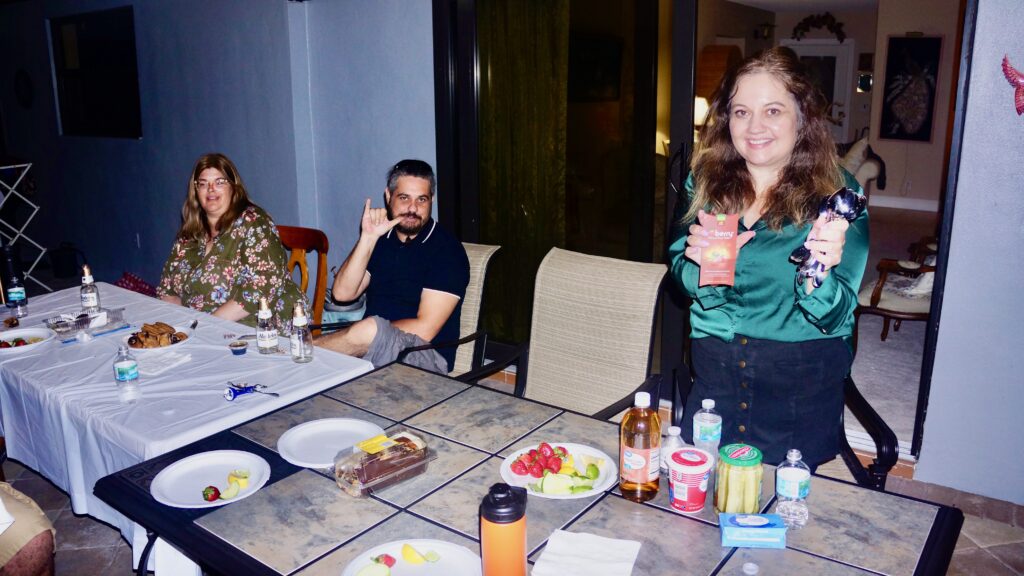 My cousins Alexa and Julian came over one night. Alexa brought MBerries and we all tried them, they made everything taste sweet! Julian also brought a laser that he modified. It was so powerful it popped balloons in seconds. The kids loved it.
But wait! It's not over yet! There is a THIRD vacation! In Jamaica! Yes, as the Hanukkah Bears foretold, we decided to head to Jamaica as part of my 50th birthday celebration.
We stayed an all exclusive resort, the Hilton Rose Hall Resort and Spa. They had water slides, a lazy river, and many activities for the kids to do. We played tennis, ping pong, and spent lots of time in the pool. And even more time eating!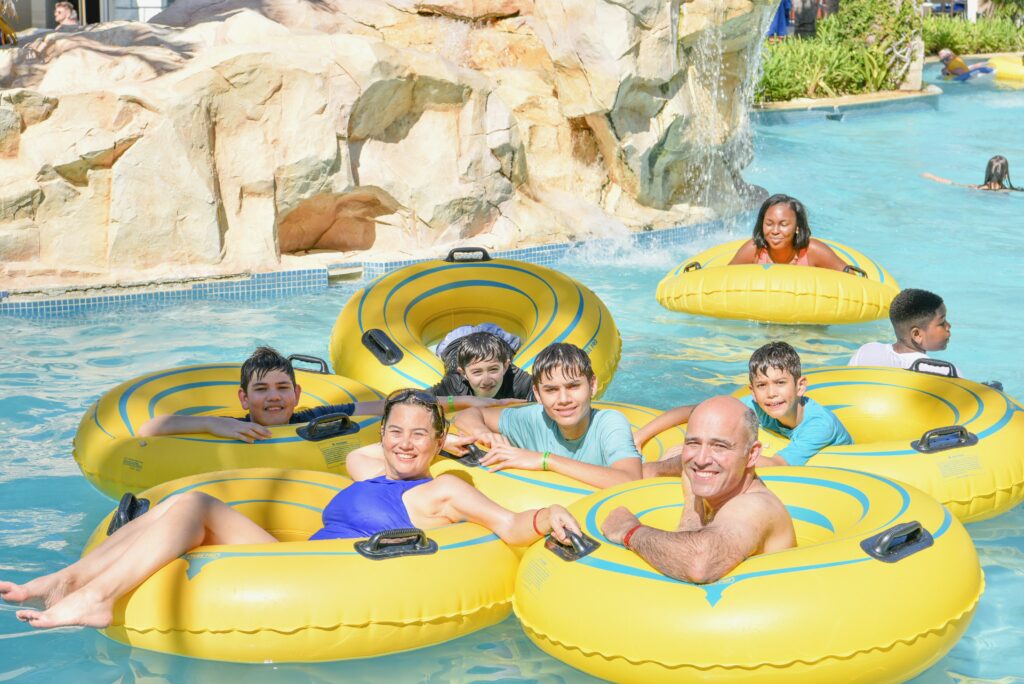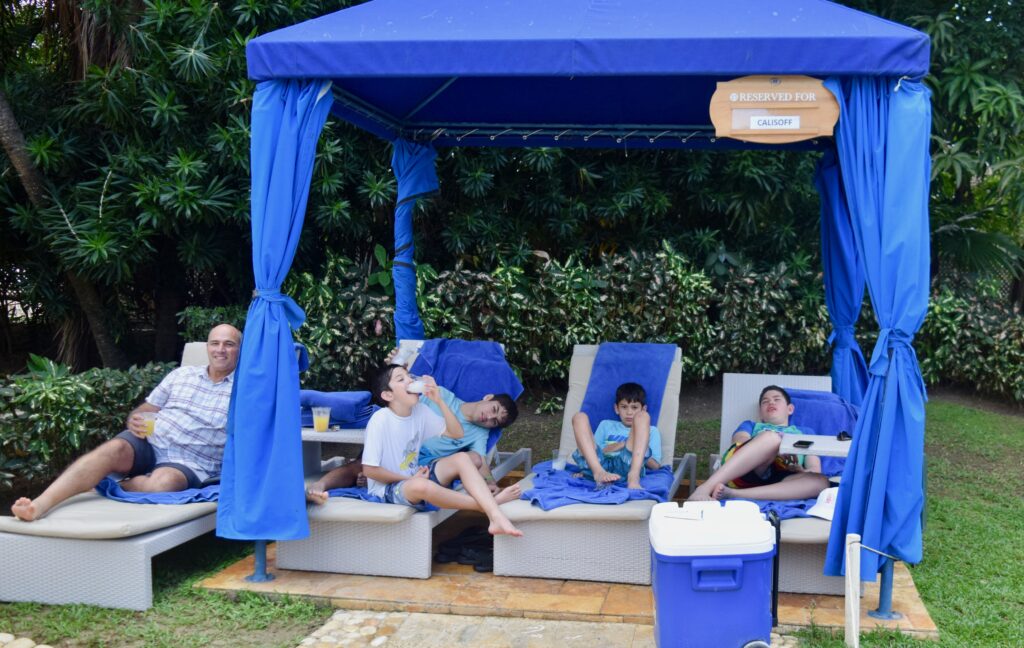 Besides all the eating and playing, we did one excursion to Dunns River Falls. I remember climbing this as a kid and wanted my kids to enjoy the same experience I had.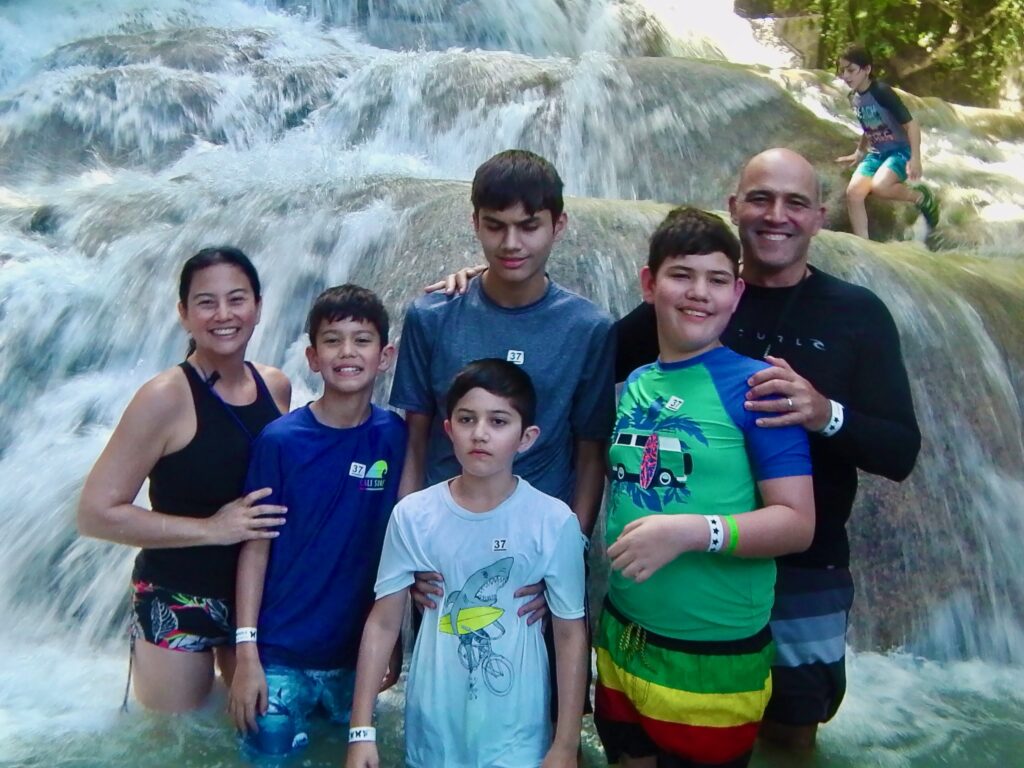 No one wanted the trip to end. Usually when I return to our flat after a long trip I think, "Hey this place is pretty nice." This time, however I felt like every area of the house was overstuffed to the gills and needed a serious reorganization. Vacation is over and as my friend Laura texted me yesterday, it's time to Maria Kondo.
Pin It