Last week for Spring Break we drove TEN LONG hours to North Carolina to visit my sister.
Anyone who knows me knows I'm a sucker for time with family. I will jump huge hurdles to spend more time with them and I've yet to find an amount of time that feels like too much.
And this was a very special visit because not only did I get to see my sister and her entire family but my father was going to be there as well!
The entire week before the trip Jack woke up every day counting down the days until he could be with Grandpa Devensky again.
We packed up the minivan full of our stuff, games, iPads, movies and snacks and headed out last Wednesday for the first of 4 days of driving.
The kids love to sleep in hotels, mostly because of the free sugary breakfast and the hotel pool.
We used the pool the morning before the second half of the drive down and I think it calmed them out and made the drive much more manageable.
When we arrived we went straight to Aunt Lara's. There the kids were entertained with the few toys Lara had left in the house.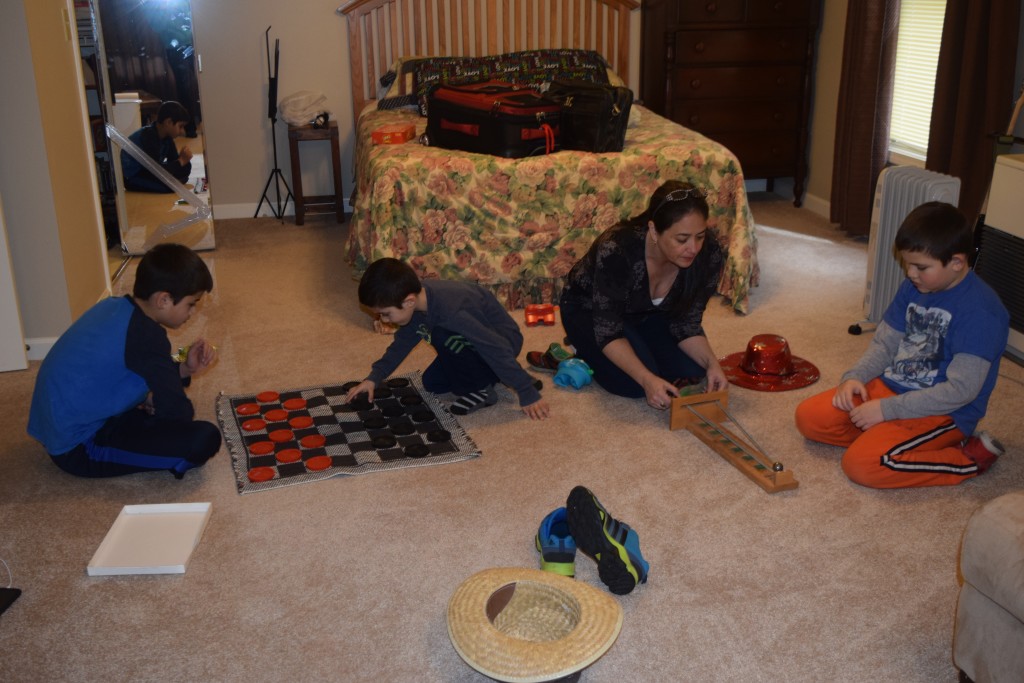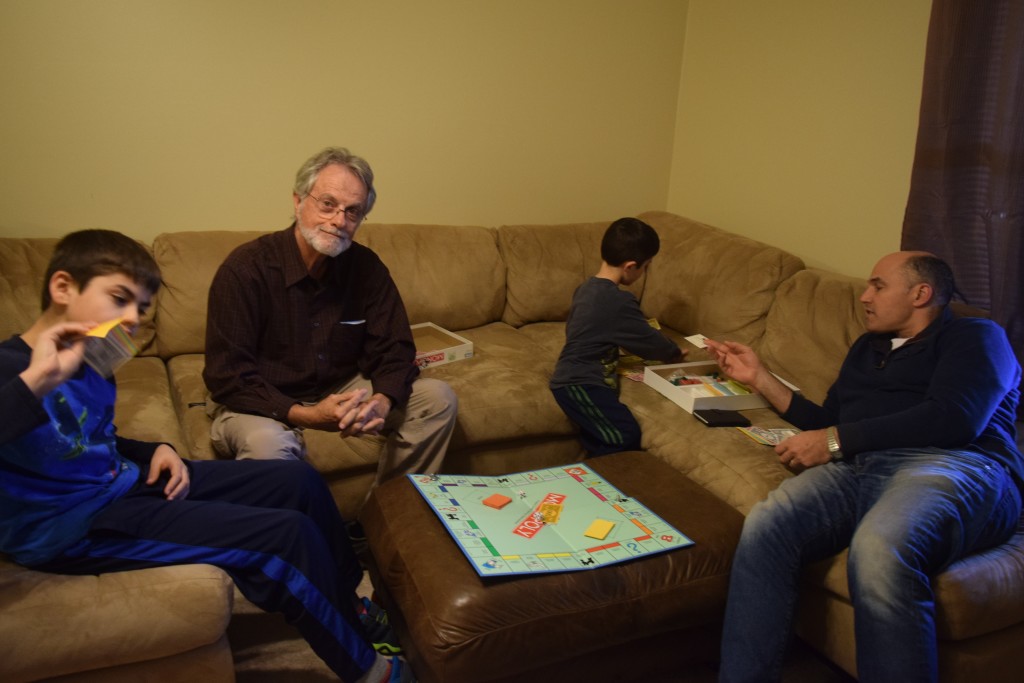 Some of the toys were Lara and Brent's toys that they use now!
Ben was waiting for weeks to see Uncle Brent's shark tooth collection.
Brent had the kids in rapture with all the fun things he showed them. First he started exploding things.
Then he decided it would be fun to launch Ben's Imaginext toys out of his leaf blower. They competed to see whose would go the furthest.
And he had other uses for that leaf blower too. They were begging for more 'wind showers'!
I think this was the moment when Brent took over as favorite family member to spend time with. Sorry Grandpa.
After a meal at Aunt Lara's, we headed up to Brent's family's cabin, where we would be staying for the next three days.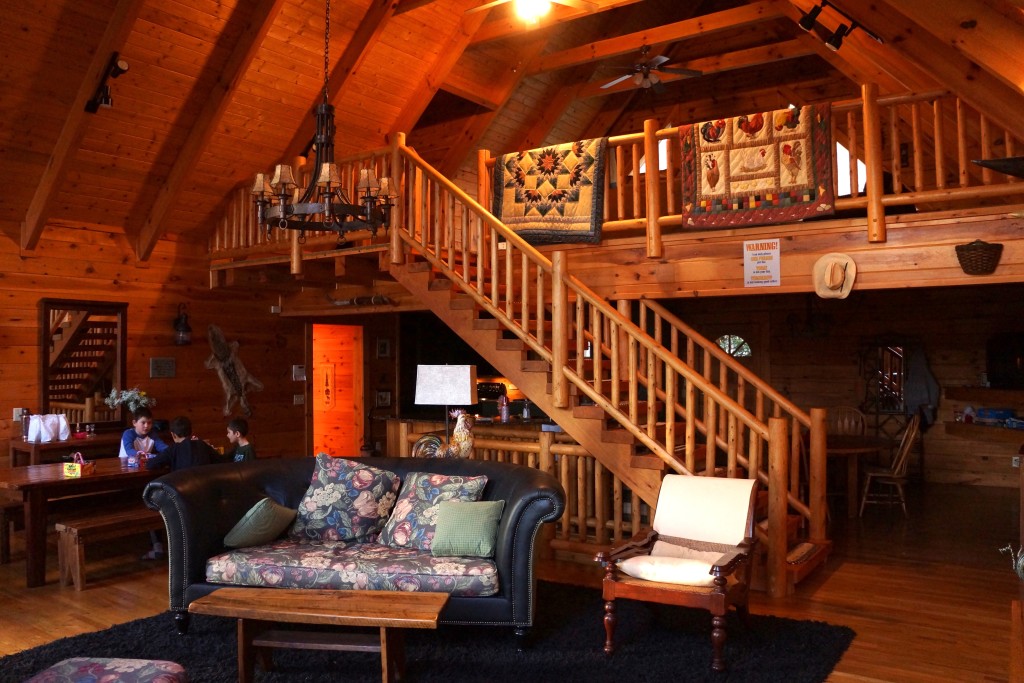 We selfishly took Grandpa with us.
The kids settled right into playing pool with Grandpa in the basement.
Really it didn't matter what they did, Grandpa can find ways to entertain them with absolutely no props!
That next afternoon we had lunch on Main street, then hit the Mast General for some old fashioned candy.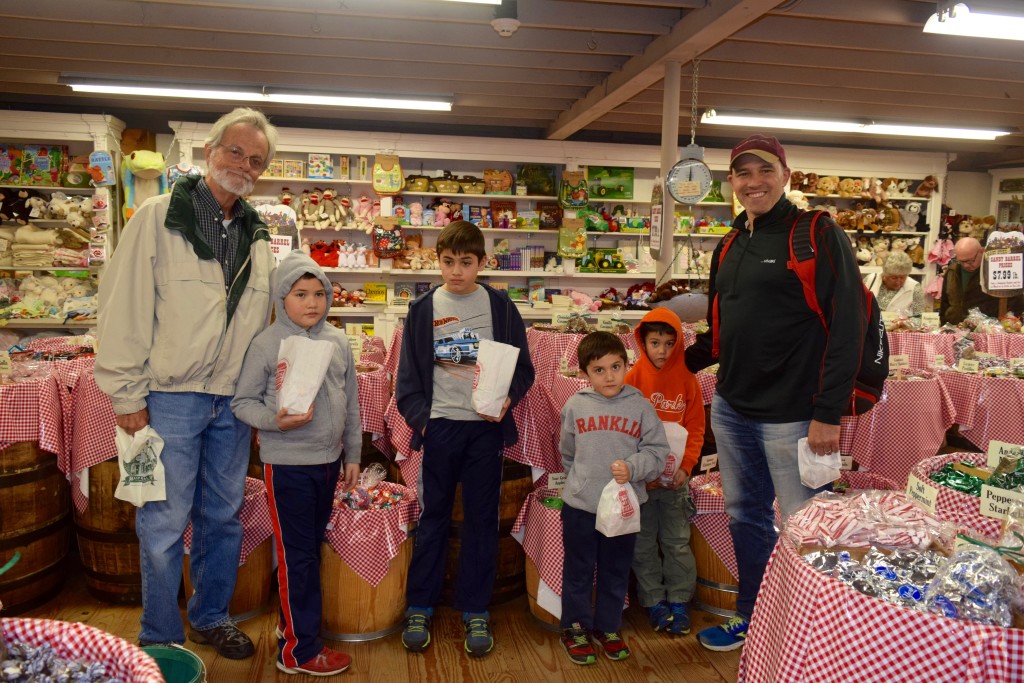 Afterwards, we walked off that candy at a hike called Water Knob.
Last time we were here it was fog as far as you could see. It was great to actually get a view this time!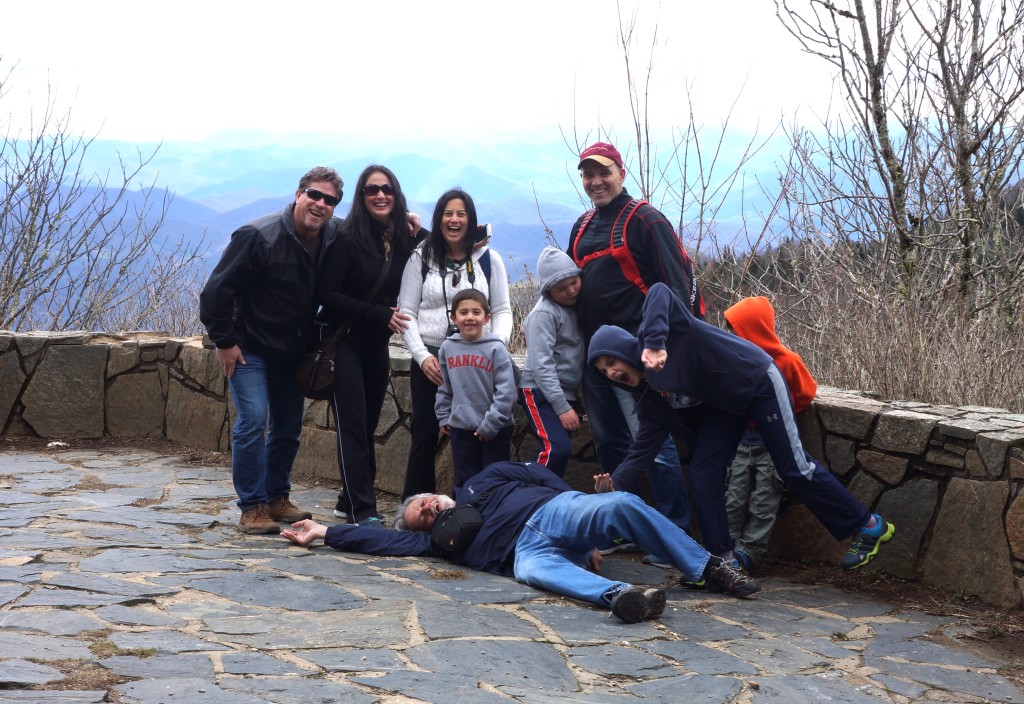 That evening Adam and I hosted a Passover Seder. We forgot the shank bone and the Seder plate but it was really nice to just have a meal with so much family around.
Saturday we hiked again, this time around Lake Junaluska.
Sam threw up the night before so we dropped him at Lara's and took the rest of the kids. Sam got Brandy all to himself.
That evening Lara organized a major shindig at the cabin we were staying at.
I even managed to have my college buddy, Jennie, and her family over.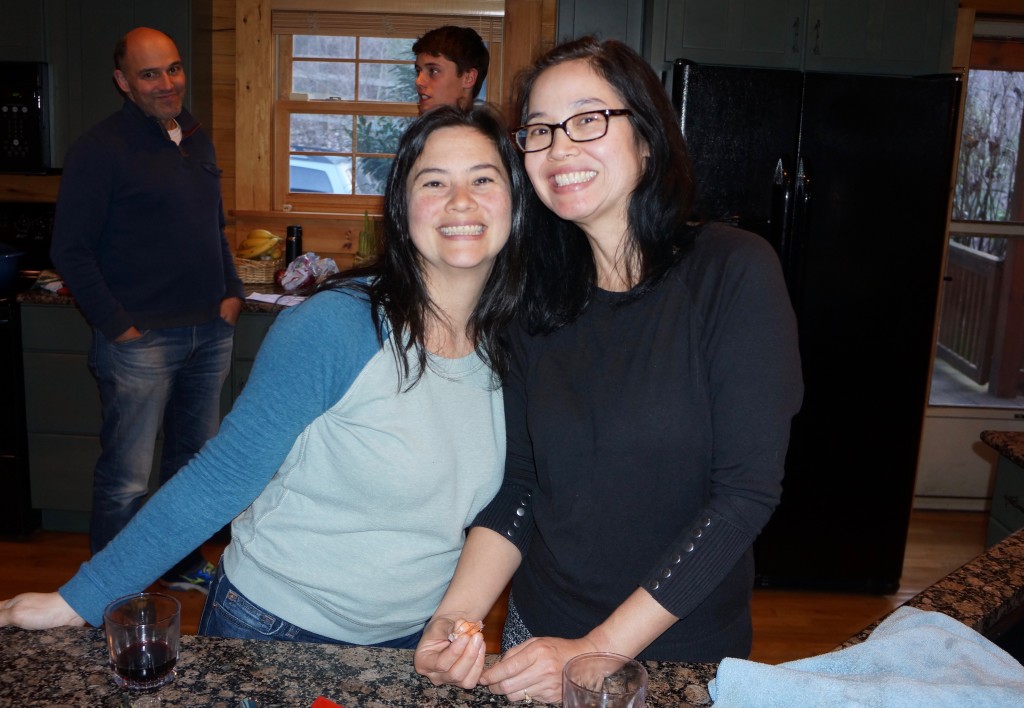 Her boys are close in age to mine and they quickly took up a game of hide and seek.
When Clay showed up it turned into a different game – college aged cousins and significant others verses the kids. The college aged cousins were done for, except for Clay who wrestled in high school and could miraculously hold off 6 growing boys at once.
Sunday we planned an Easter Egg hunt for our boys.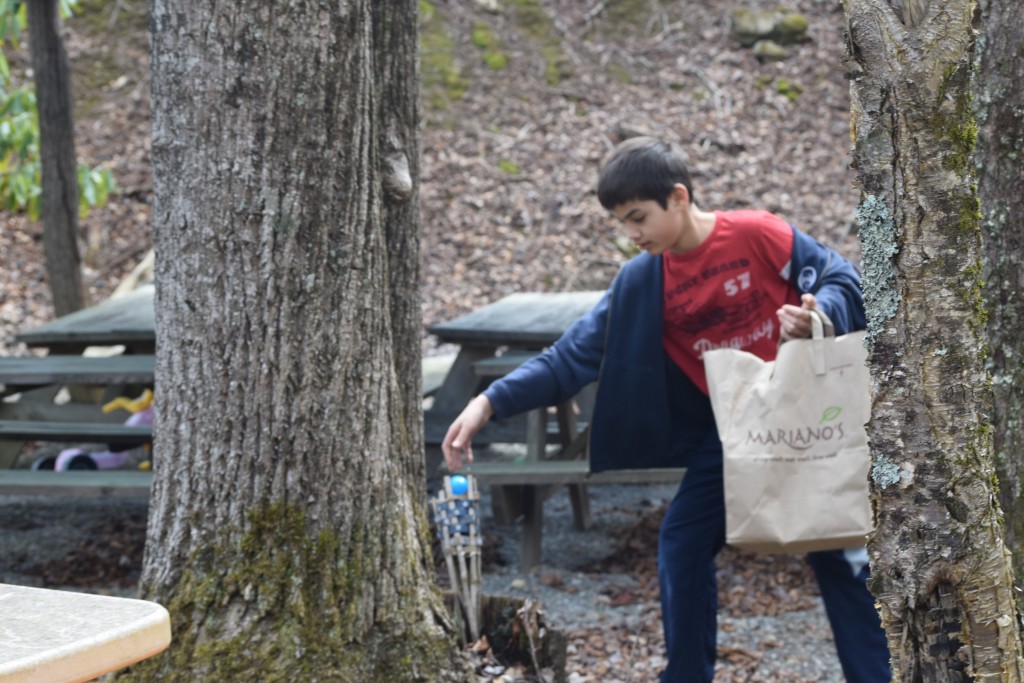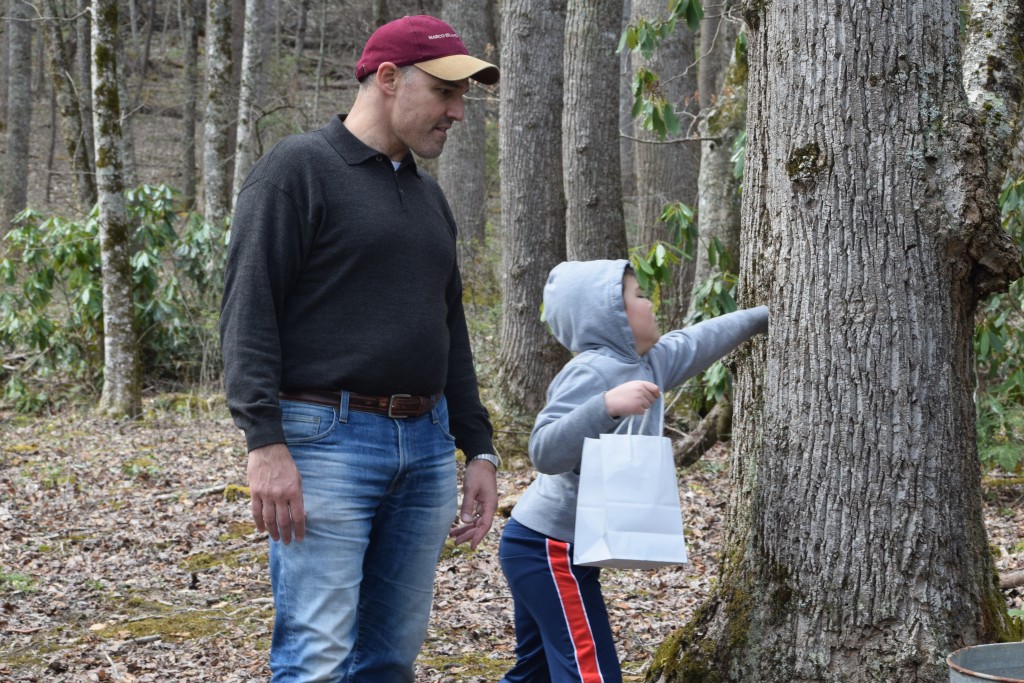 Lara and Brent also had lots of other stuff ready for us to play with – fishing, feeding the ducks and the donkey, and Frisbee. I was surprised my kids wanted to fish but I think it's because Uncle Brent suggested it. I'm pretty sure if he told them to cliff dive they would do it.
It was a beautiful trip. Watching the kids explore nature, having so many family members around me, and forcing Adam to take some time off work. It was a trifecta of holidays.
Pin It