A visit to Timber Ridge Lodge in Lake Geneva has become one of our Thanksgiving traditions.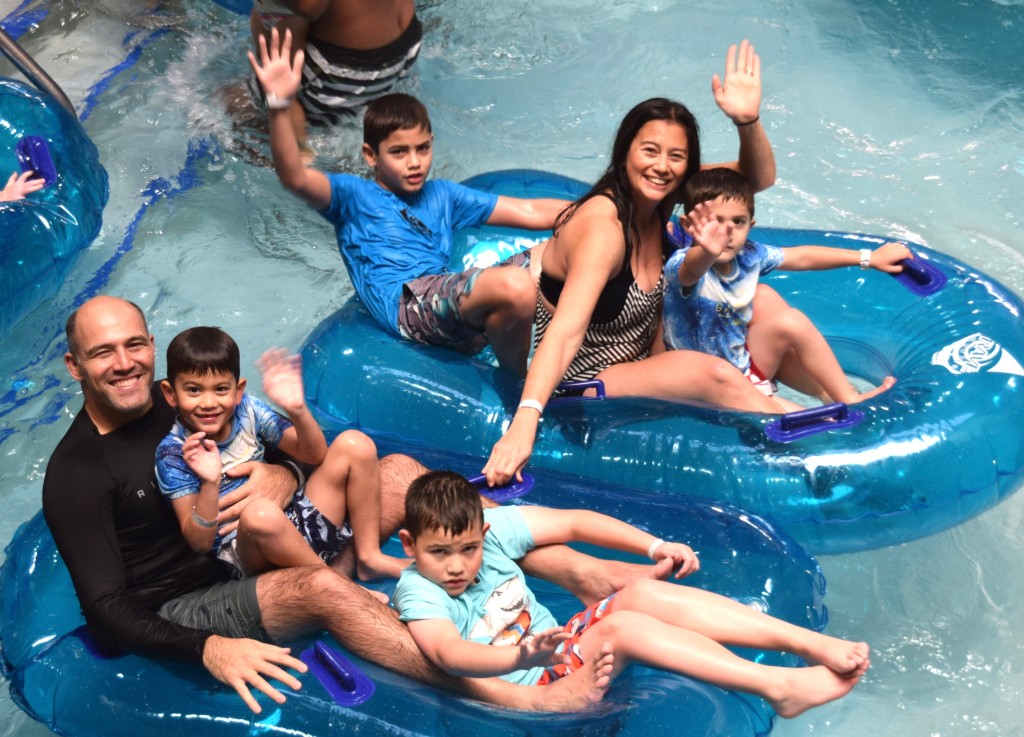 With no family in town, we are free of the usual holiday constraints of cooking, traveling long distances to visit with extended family and stuffing ourselves silly on thanksgiving turkey and trimmings. Instead we spend the time with our nuclear family swimming, playing at the arcade, doing kid friendly activities and yeah, well, we did stuff ourselves silly on thanksgiving turkey and trimmings too. I guess we had to drive a long distance to get there too so really we just skipped the cooking part!
Adam almost didn't book the trip this year. Then one night he was talking to someone, I can't remember who, whose oldest child is two years old than our oldest child. That oldest child was too cool to do anything with the family anymore. Adam ran home and booked the hotel rooms. How many more years will Jack find this trip fun? When will he think it's not cool enough for him?
I hope not for many more years. This trip is just starting to get easier for us!
The first night we were there, Sam lost his first tooth.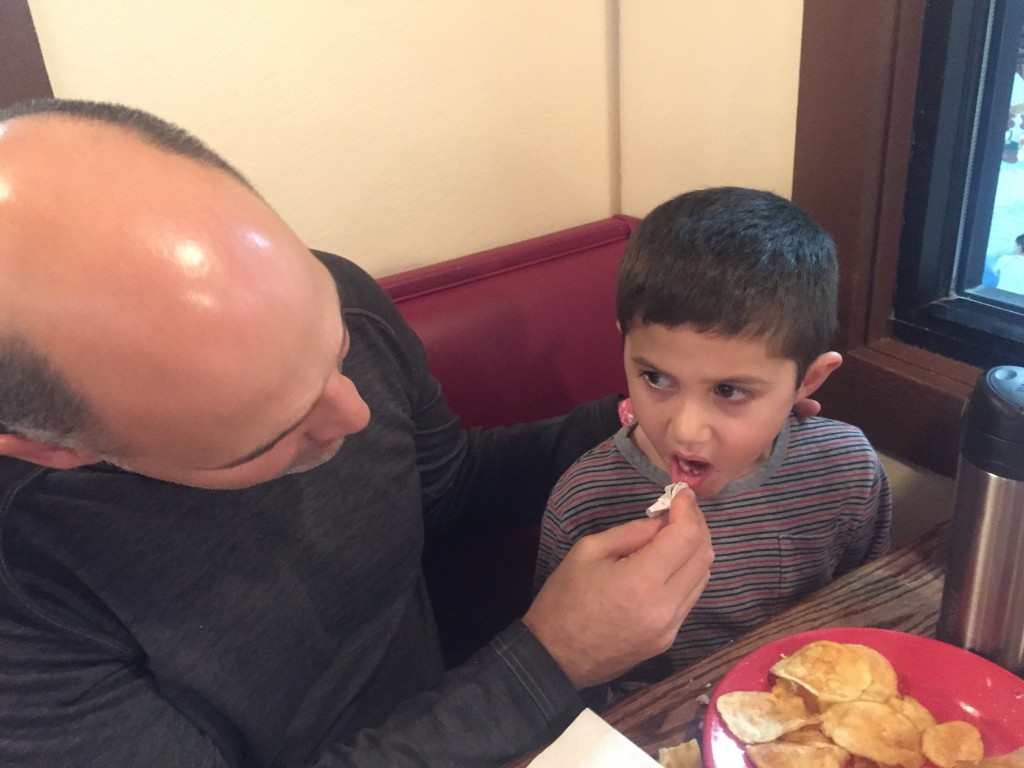 Luckily the tooth fairy makes scavenger hunts at Timber Ridge as well!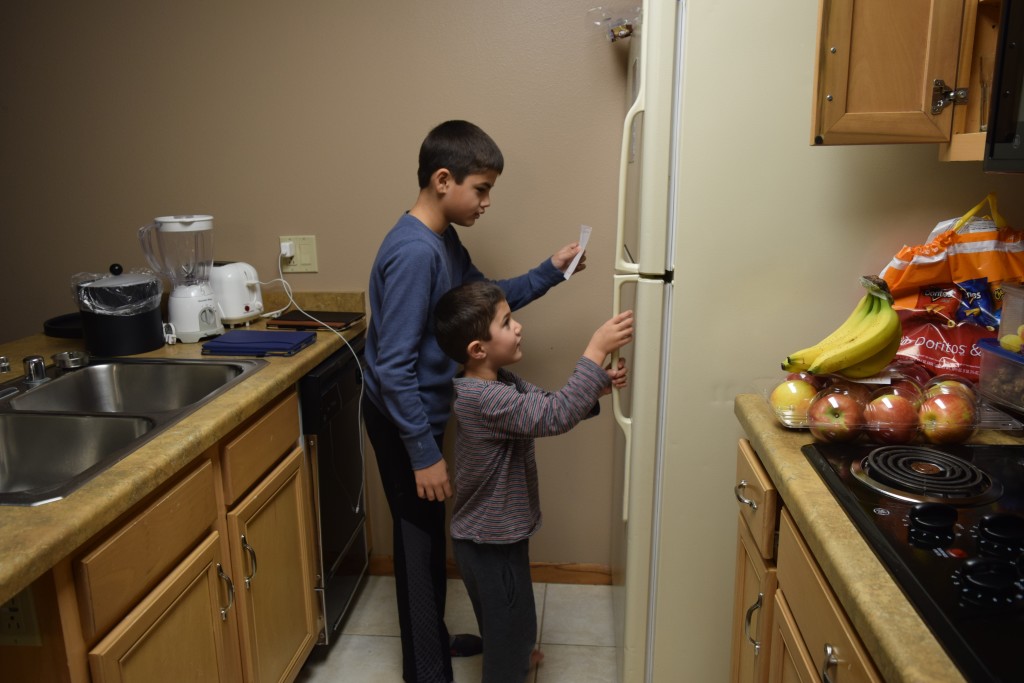 For the first time, Ben worked up the courage to try the green slide. Last time we were here every kid, included the twins, did this slide. 
Not only did Ben conquer it once, he managed to slide down it 100 times over the course of our entire visit! As Adam can attest to, there are SEVENTY ONE stairs to get to the starting point for the green slide. I think Adam walked these enough in the past four days to work off a pound of fat.
This year the twins got to visit the hot tub for the first time. It is for kids ages 6 and over, but we dutifully taught them to lie about their age before we entered the water park.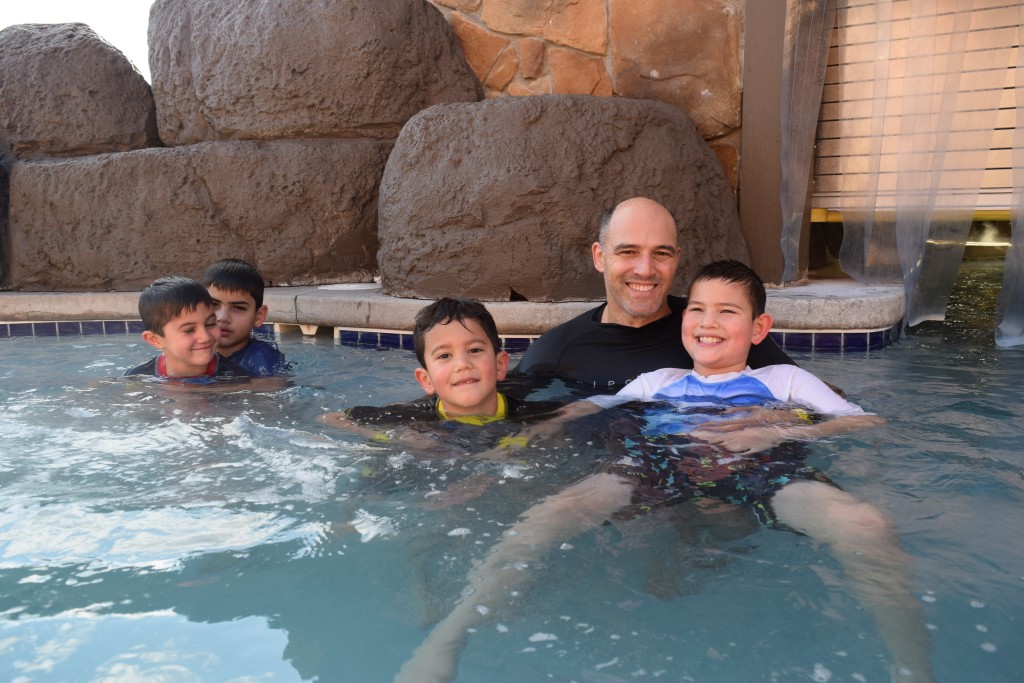 Last time we visited the twins couldn't swim. It makes going to a water park where one parent has to cover at least 2 kids and sometimes 3 a nerve racking event. This year, although we never let them out of our sights, we no longer worried they were going to drown every single moment. We could step back a bit instead and enjoy seeing them splashing around.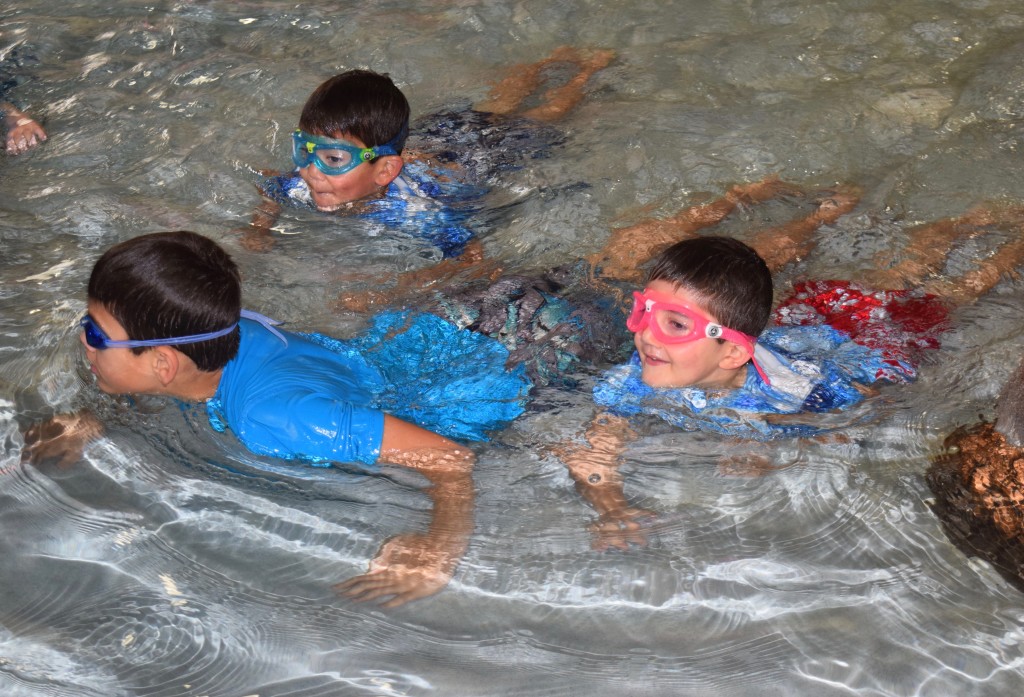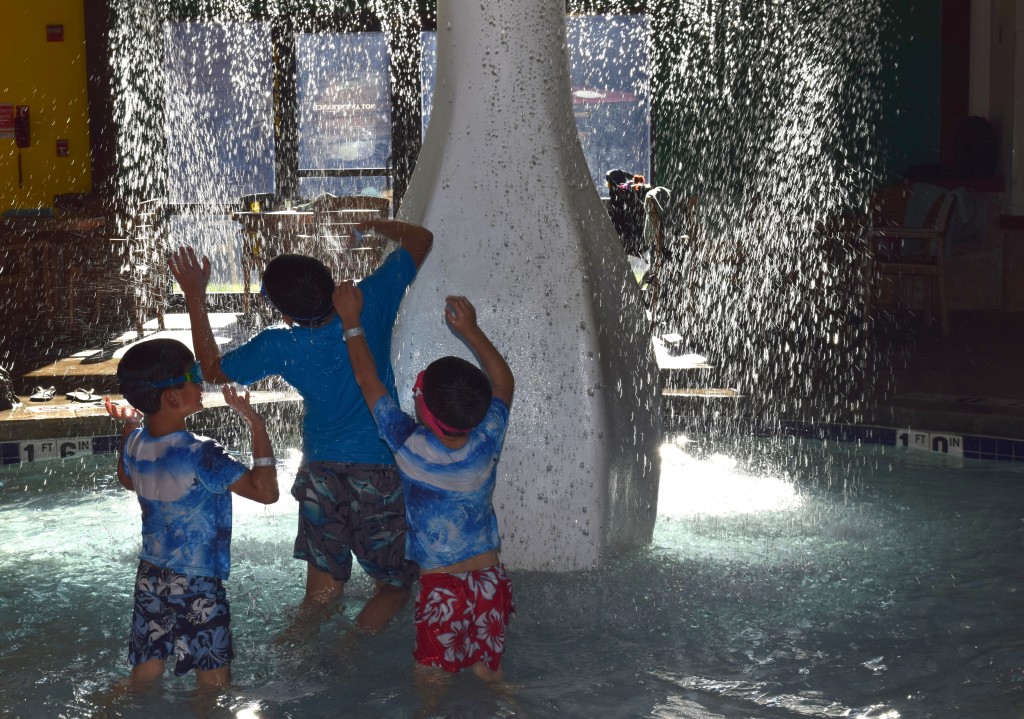 The other key to making our trip much easier was Jack took on the responsibility of 3rd adult while we were in the waterpark. I felt bad asking him to always take a partner with him, but he not only took the duty on without any hint of annoyance, he willing took whichever partner we threw his way. Not one of his many younger siblings was made to feel like they were second best. He was such a great babysitter that the boys all wanted a turn with him!
All the kids did the rope monkey bars, but the twins still needed help from us.
Ben only had one major meltdown during the whole trip. Timber Ridge has many kid friendly activities you can join for free, where they give out prizes. We signed up for a timed scavenger hunt which ended up in the arcade. There were many factors that could have brought on the meltdown, the very stimulating lights in the arcade, the sudden overcrowding, and the rush to change activities before he was ready. However, we suspect it was mostly the timed nature of the event, working under pressure is not something Ben can handle right now. Besides this one moment, it was one of the best trips he has had with us for a while.
Besides hitting the water park every day, we spent a lot of time in the arcade.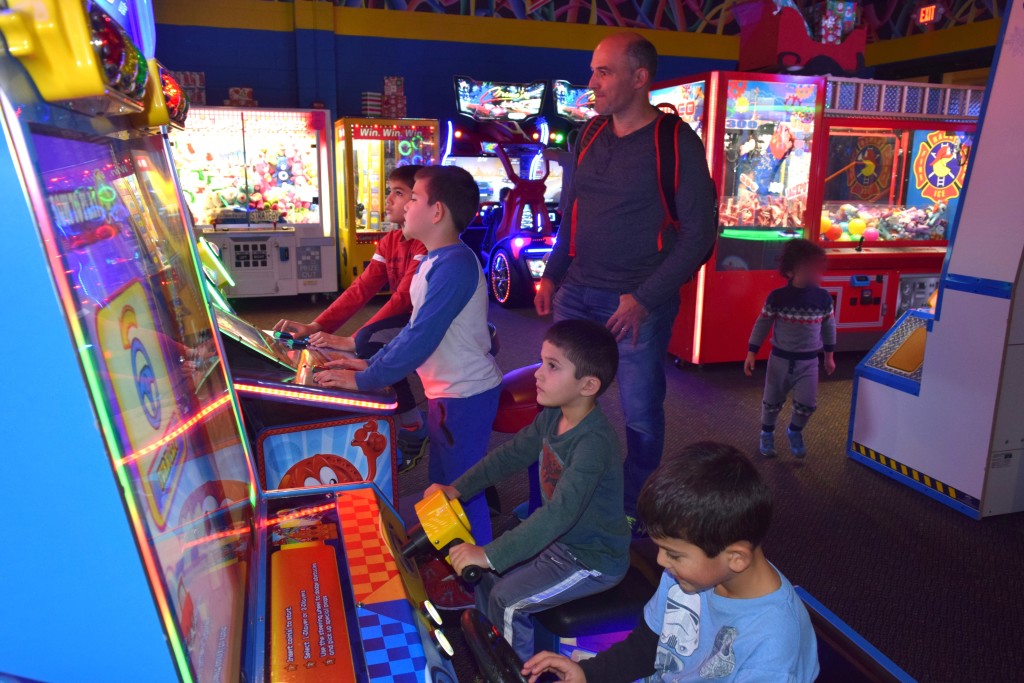 The boys won lots of tickets and traded them for more junk to fill our already over stuffed house with.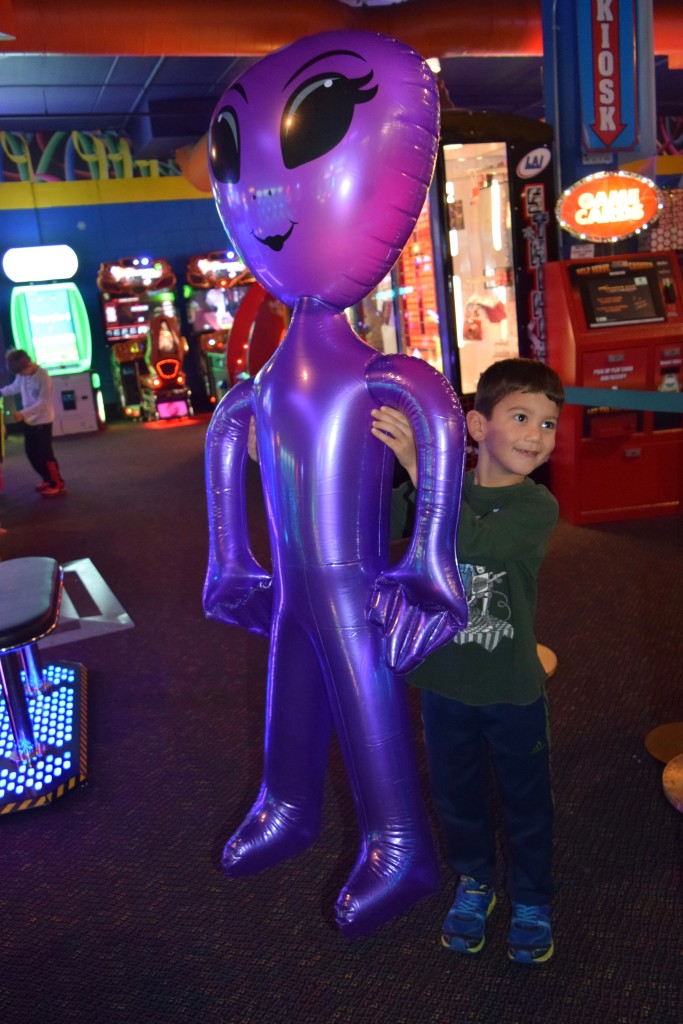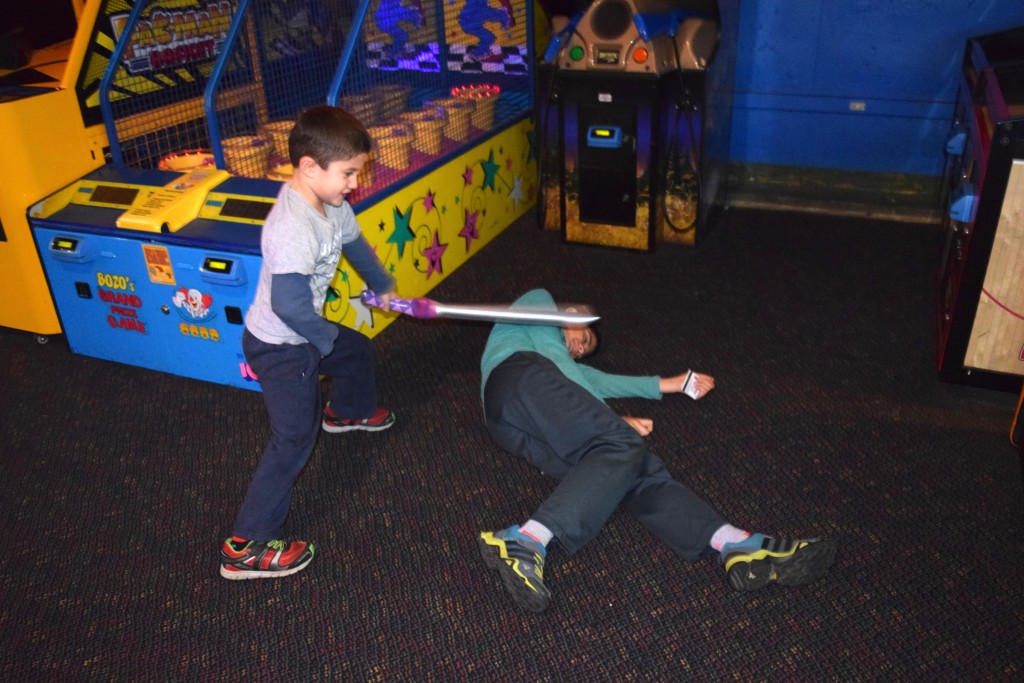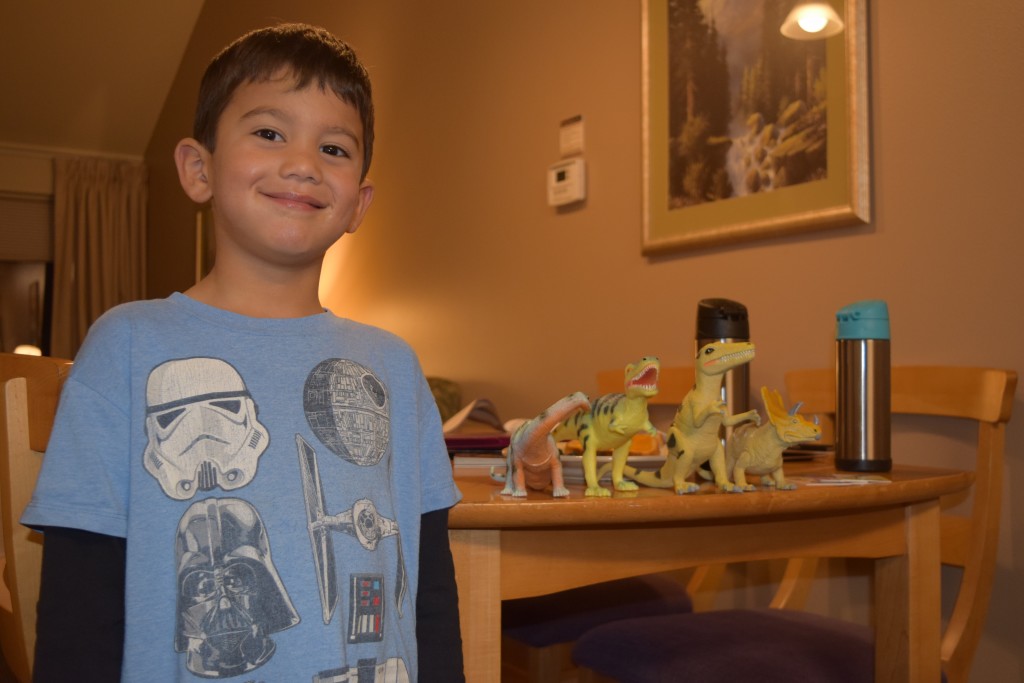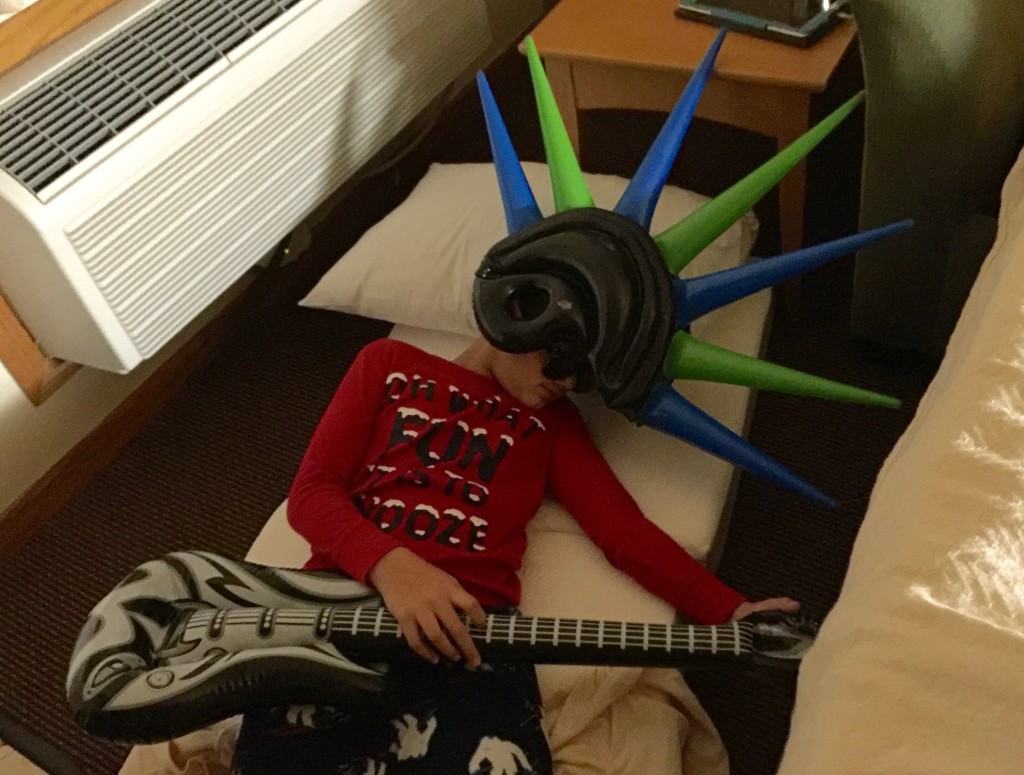 We also did lots of the family fun activities they had to offer.
We made sand art by filling these plastic butterflies with colored sand.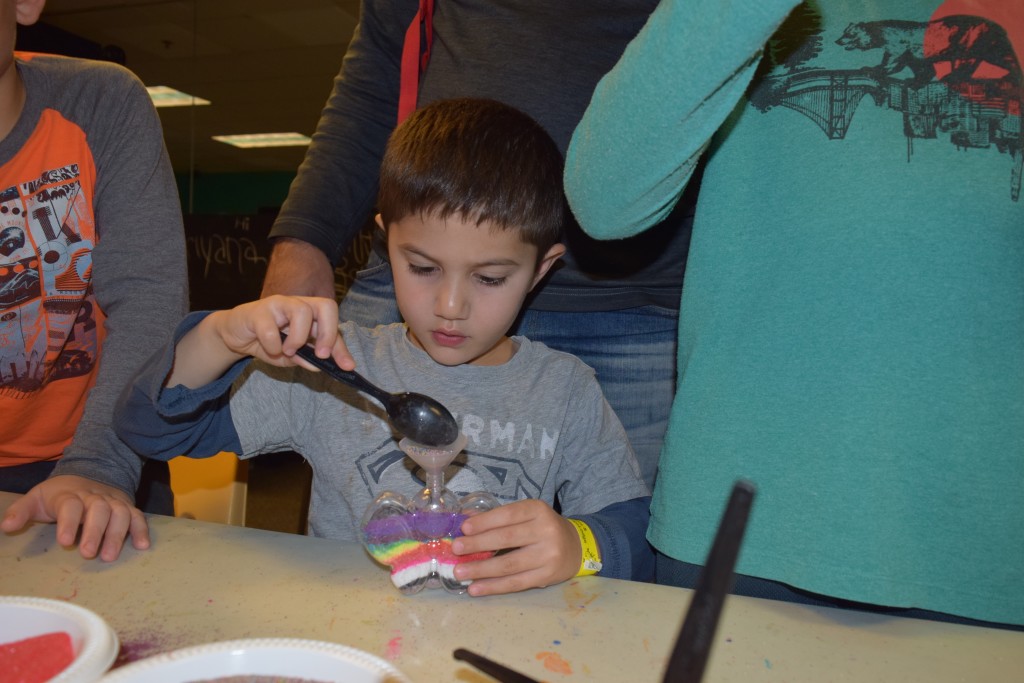 We did 2 different scavenger hunts. We decorated cookies.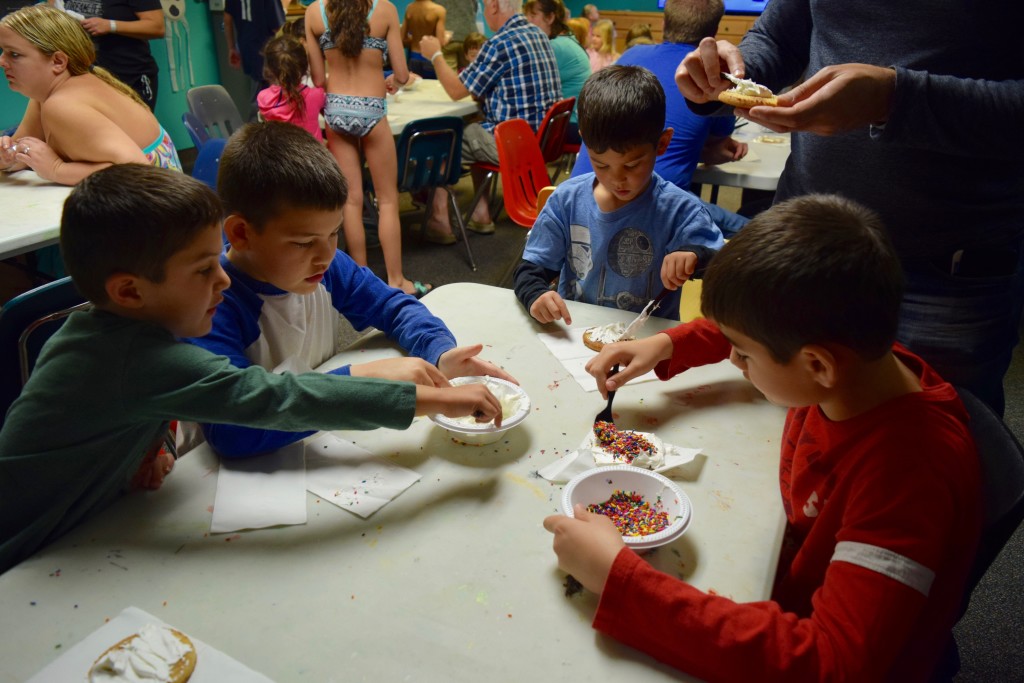 We played family bingo. I actually won this time!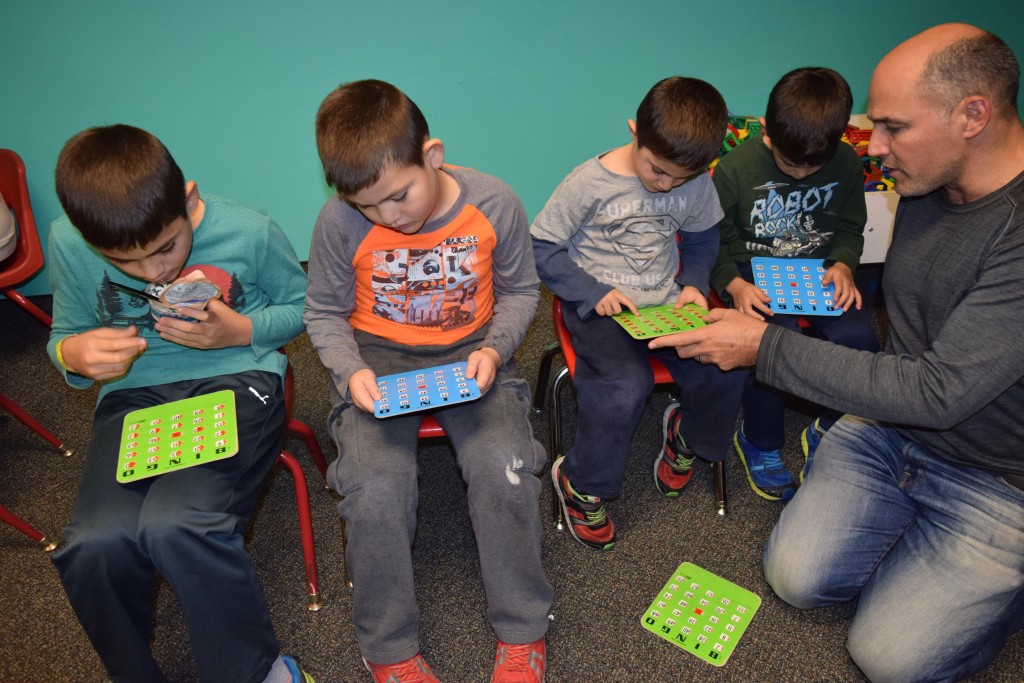 We did cookies, milk and story time.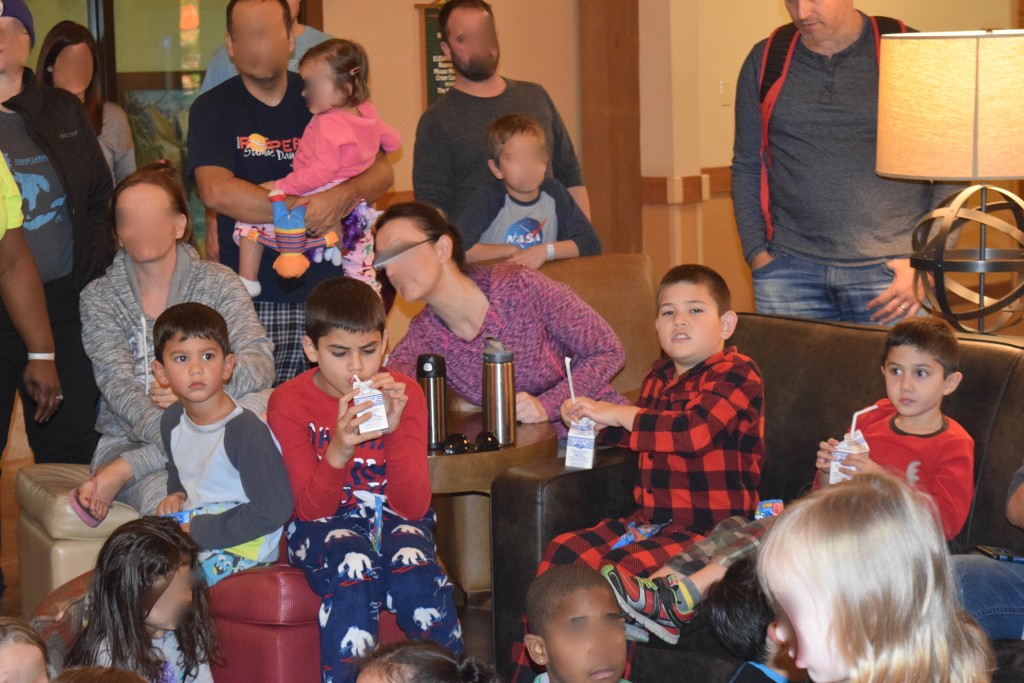 Aaron raised his hand and correctly answered the question (after Jack very nicely told him the answer!) and won a puppy. Afterwards we visited with Timber Ridge's mascot, Bruce the Moose.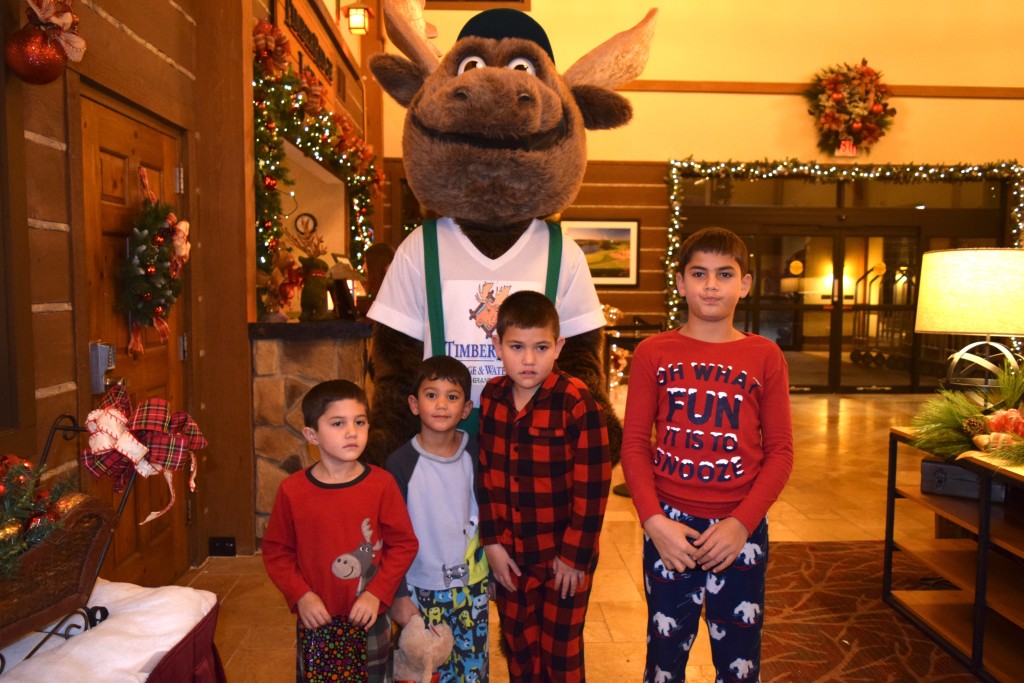 A lot of these activities had other prizes you could win like arcade game cards, pretzels with cheese or cookies. The boys won them all. They enjoyed many free pretzels and cookies!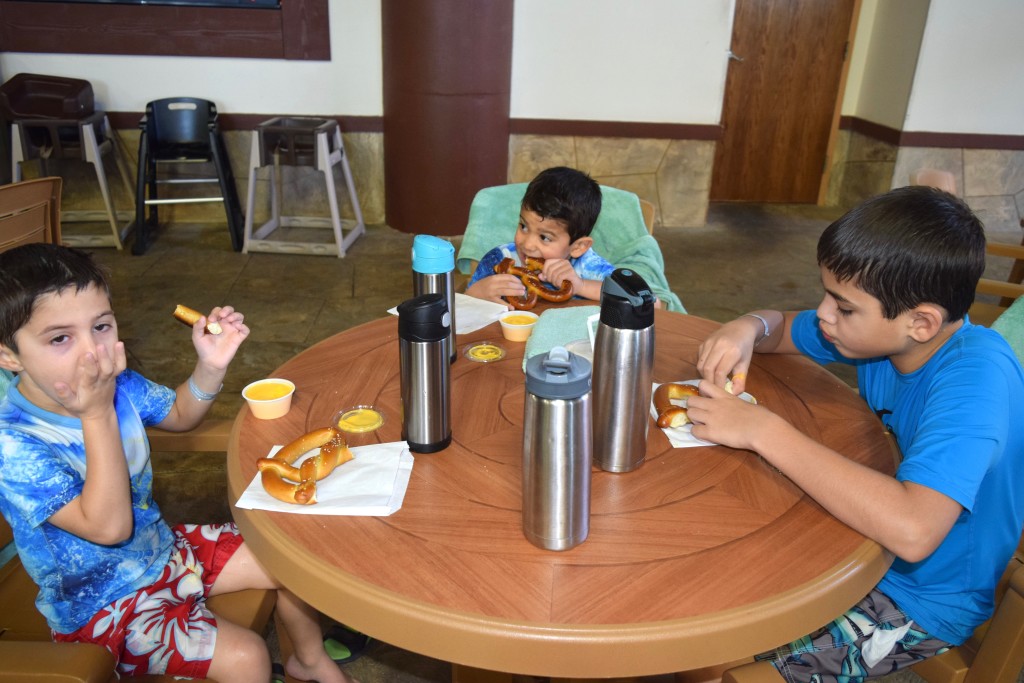 We also did a trolley ride to see the holiday lights.
We left exhausted and satiated. By the time next year rolls around it will be just long enough for us to forget all the answers on the scavenger hunt, to forget the easiest way to get into the floating tubes for the green slide, and for all the toys we won at the arcade to be broken.
It will be time to go back again.
Until next year Timber Ridge!
Pin It