The kids were super bummed that today was the last day of Hanukkah.
Although there are some perks for us parents as well during this special week: happier kids (sometimes!), fun family memories, and lots of chocolate coins to nibble on, it's also a major pain in the butt. Buying, wrapping, preparing the ceremony of candles and presents, carving out extra time each night for them to enjoy them during the busy school day, then finding places to store all these new goodies adds stress.
Oh and for some reason one year I thought it would be a good idea to add another layer of work for myself, the Hanukkah bears.
Yesterday morning they rappelled into our house as Teenage Mutant Ninja Turtles.
I think the kids spent more time playing with them dressed up than they did with their Hanukkah toys that evening!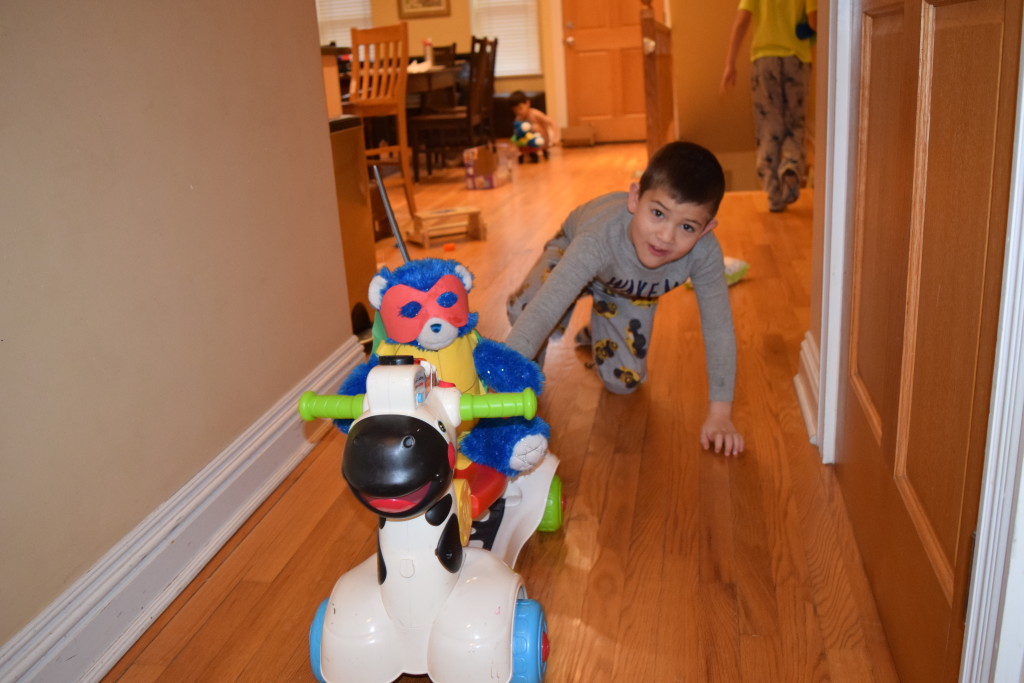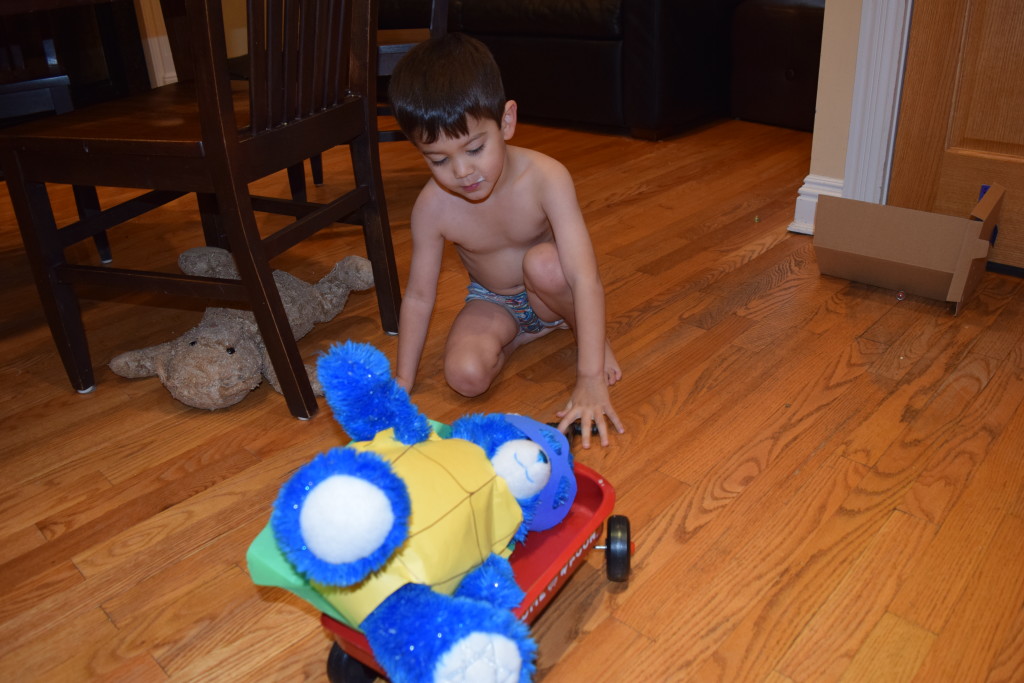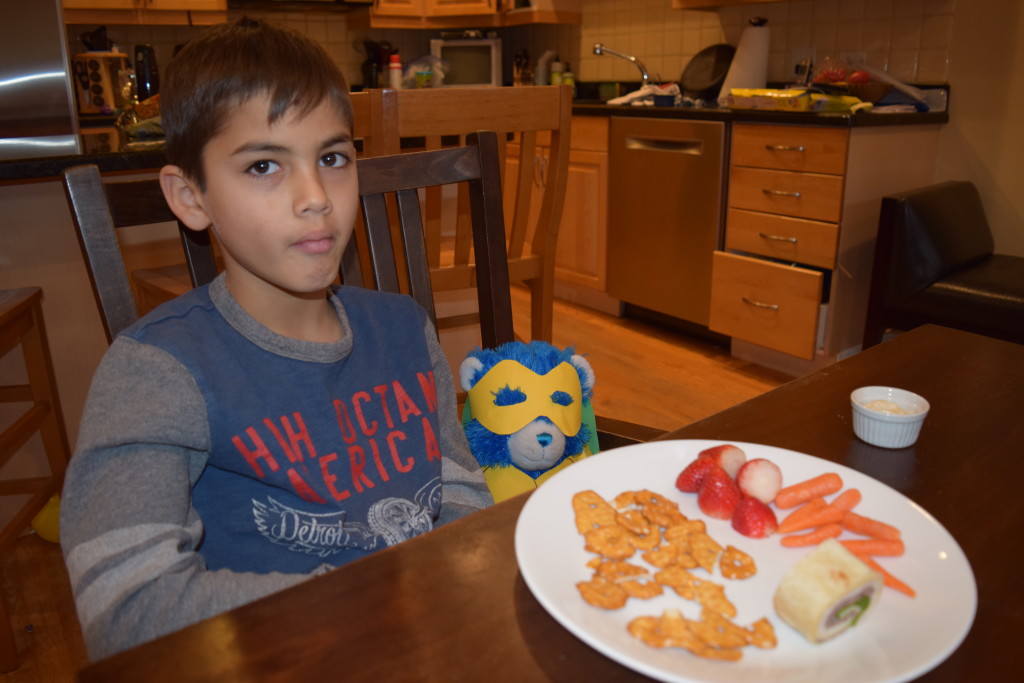 Jack brought his to every meal.
That evening the kids were given 24 tubs EACH of Play-Doh. There is never enough of it in the house and they are always fighting over what little we have so maybe all these tubs, now labels with their names, will stop that for a while.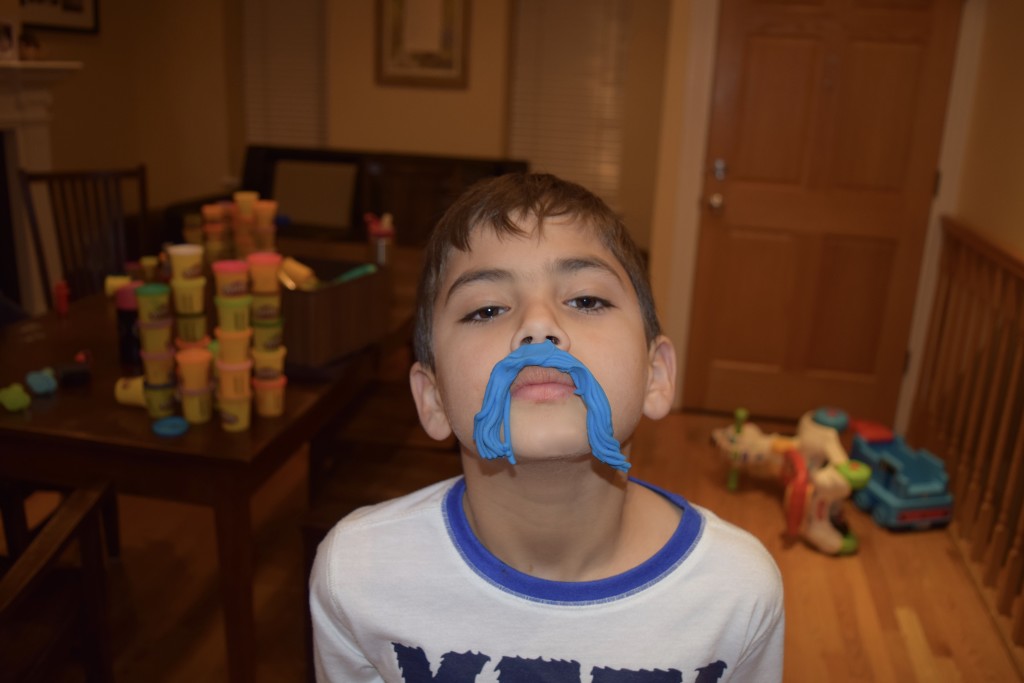 That evening we had a babysitter. Adam and I were invited to a friend's holiday party in the suburbs. It was a lot of fun, too much fun! We ended up getting home late, dreading that we would be up later still in order to set up the Hanukkah bears.
When we got home our sitter informed us Jack had lost a tooth.
First we set up the bears….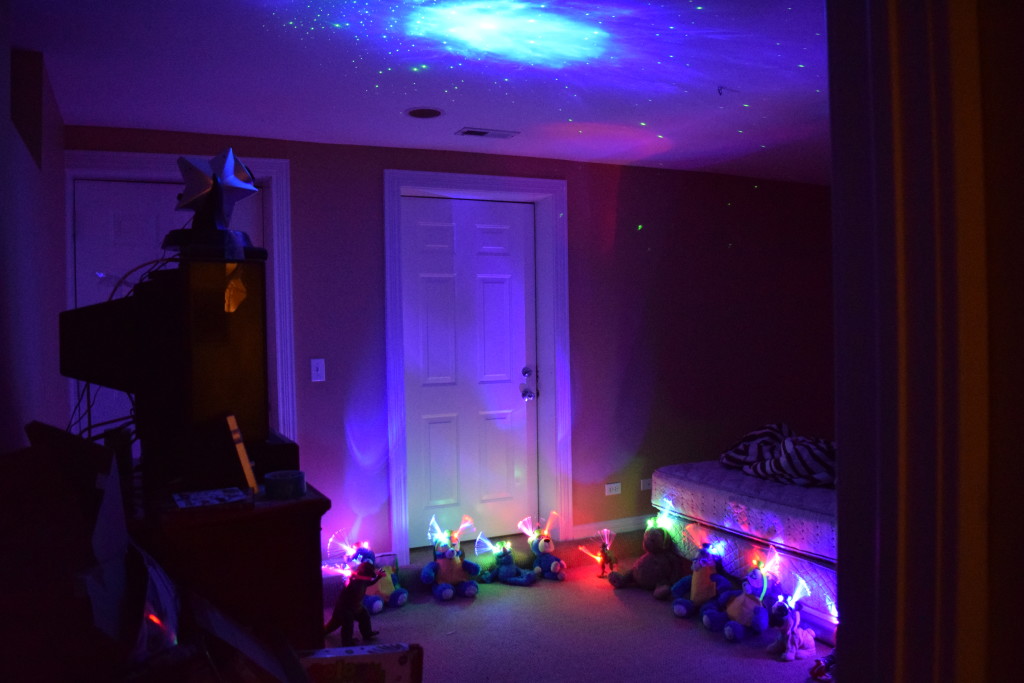 They had a rave in the back room, basically with the leftover Halloween props. They invited a few friends because it's not a party with just your other brothers, is it?
Again, we didn't make the tooth fairy easy in this house either. At Chez Calisoff you can't just shove some money under the pillow. The kids expect their own scavenger hunt.
Adam and I quickly made an eight clue hunt, each clue including a letter.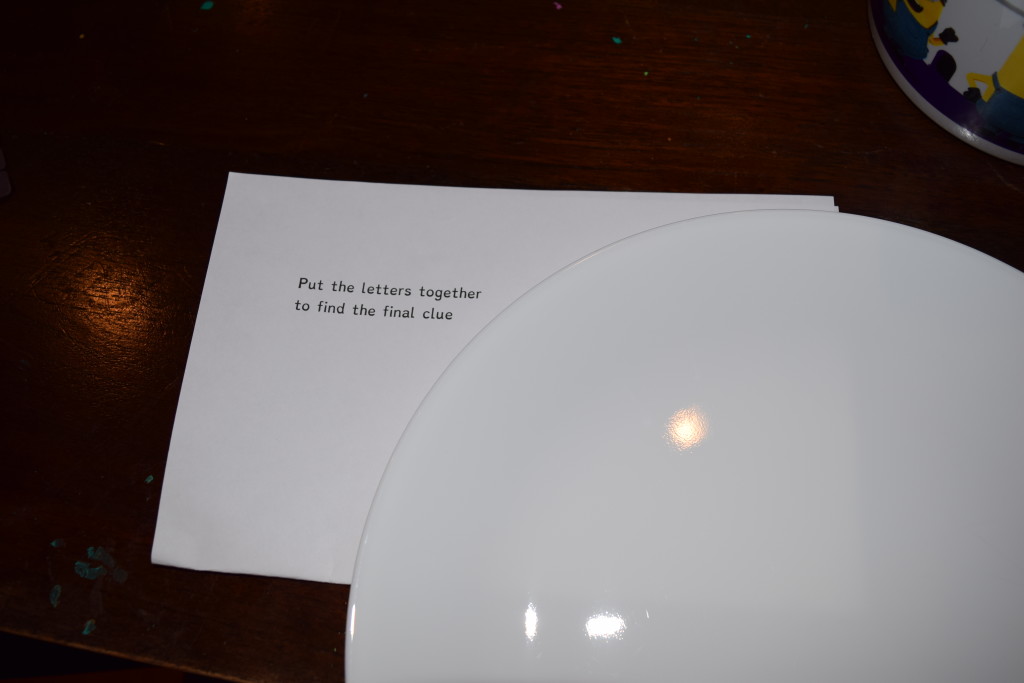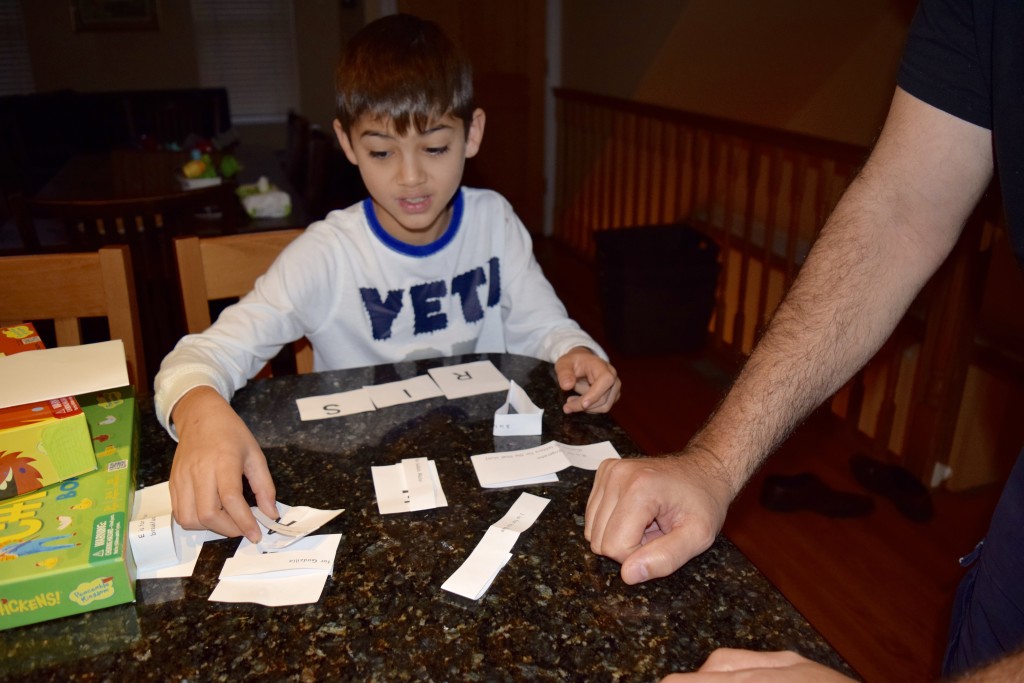 The clues spelled out "RISK GAME". This was one of the toys he asked for this Hanukkah. It was laying open, half played in his room.
Tonight was the final evening. Some of the toys we gave included non competitive games by Cooperative Games. You win together. It's a weird concept but so far both Ben and Sam really love it. Ben has a lot of trouble losing but we still want him to play board games with friends and family so this was a good solution. In fact I think it's good for all the kids!
Sam also opened his Barbie Dolls. Yes, in addition to his Barbie House, he requested Barbie Dolls. Did I ever mention that pink is his favorite color?
We were wondering if it all meant anything.  Would he open them and sit them down for a tea party together like I used to as a kid? Ask if he could buy the same shoes and clothes to wear for himself?
Ha! He opened them, promptly stripped them naked and started laughing hysterically that you could see their butts.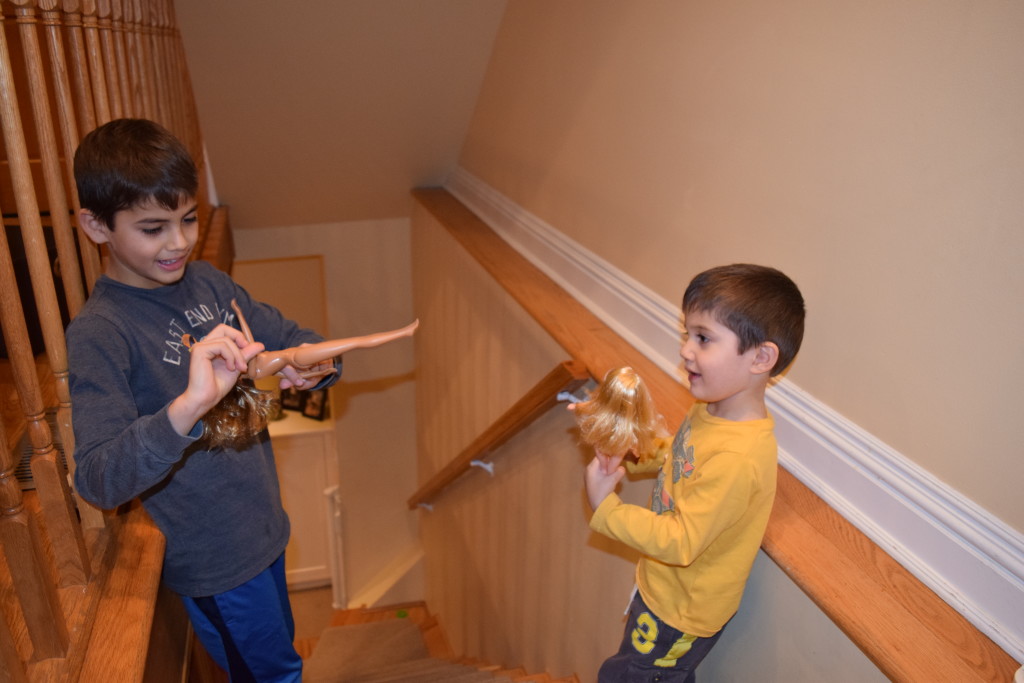 Above, Jack and Sam having the dolls do a naked dance (one of the kids favorite things to do is strip down and run around the house naked yelling, "naked dance! naked dance!". It happens all the time and is hilarious but visually unbloggable.)
Ah, Hanukkah. Until next year you kooky, euphoric, exhausting holiday…
Pin It