And before I knew it, it was over. Grandpa was gone. And everyone in the house was depressed by it.
With kids, every time a grandparent comes to visit, the visit is different from the last time they were here. I think it's because the kids change so much, even in a short 6 month period. Everything is new. The kids are taller, their features morphed. They have outgrown old annoyances and grown new, irritating habits. They have matured in good ways too, more caring, more athletic, better readers, more self sufficient. Systems and schedules have changed as well.
Last time Grandpa was in town was October 2014. He noticed a real difference from that last visit. Before, no matter what he did it wasn't enough. No matter how late you stayed up, you couldn't keep up with the laundry, dishes, toy mess, overflowing closets, kids needs.
This time around there were pockets of time to sit down and catch your breath, the first whiff in many years of constant motion. This is not so say it's not busy around here. We are still laundering, cleaning, cooking and meeting the emotional and physical needs of four demanding boys. But I will admit it's getting less exhausting. Slightly.
One thing having more time to breath let me notice was how Grandpa's energy effected the house.
In an age where electronics keep everyone in a state of distraction and disconnection, Grandpa gave our kids (and us) the incredible gift of human connection.
He was never too busy, distracted, or tired to give his full attention to the kids. There were no requests or games, no matter how illogical, that were too trivial for him or that he lost patience with.
One morning the twins buried him in their bedding, then laid on top of him and laughed and laughed. When he wanted to get up for coffee Sam told him NO! DON'T LEAVE! He sat back down until Sam was ready to release him.
He walked 20 minutes as Jack's 'prisoner' because Jack was enjoying the game so much. I'm sure it wasn't comfortable to walk like that but he embraced it fully, making jokes and participating the whole way from the zoo home.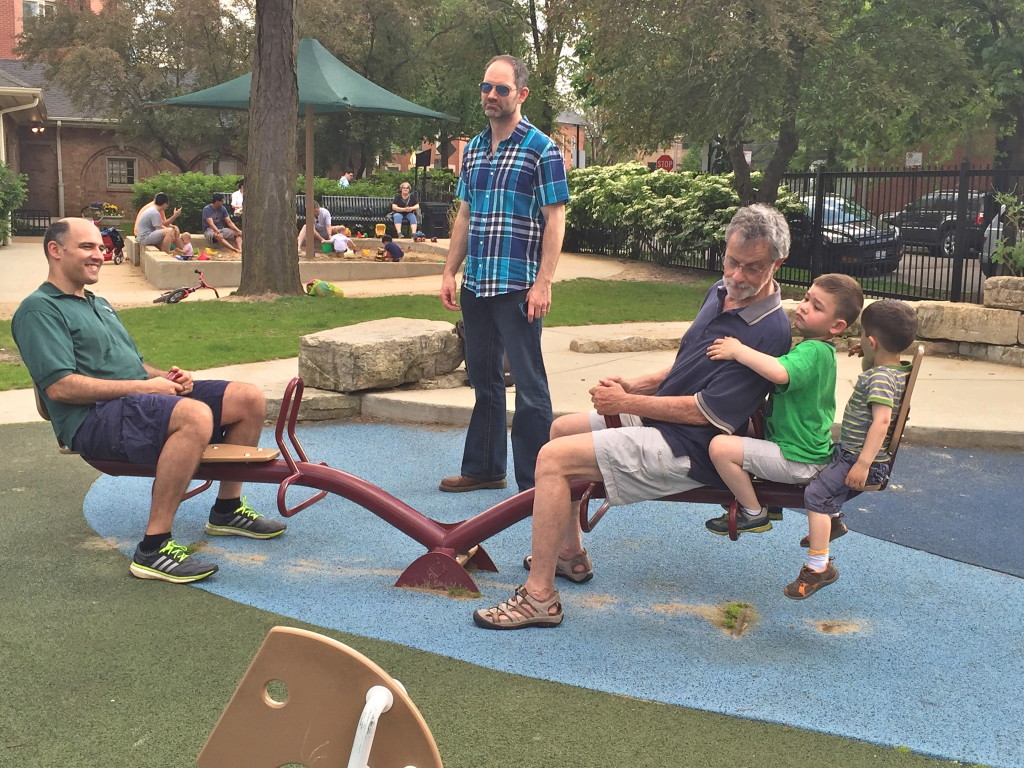 How many guys in their 70s who fractured their pelvis and tote a fake hip would do something like this? I can barely sit in the see saw at my age without feeling like my thighs are going to burn through my pants. But look how Ben clings to Grandpa. Ben was so attached he asked to sleep with Grandpa every night.
He made time for every kid, playing games that thrilled and delighted them.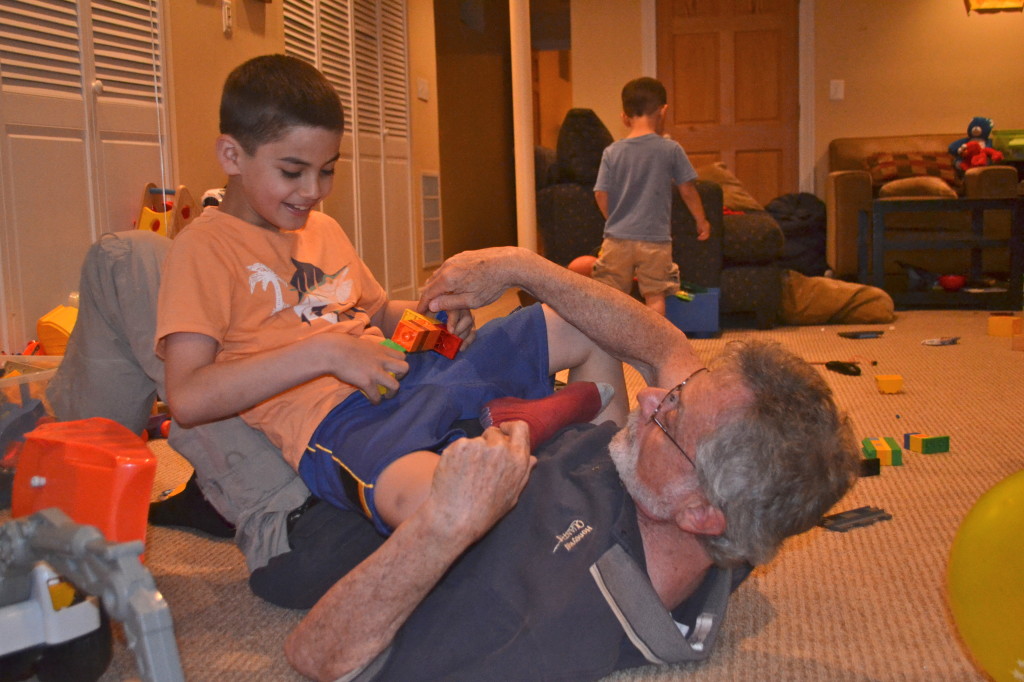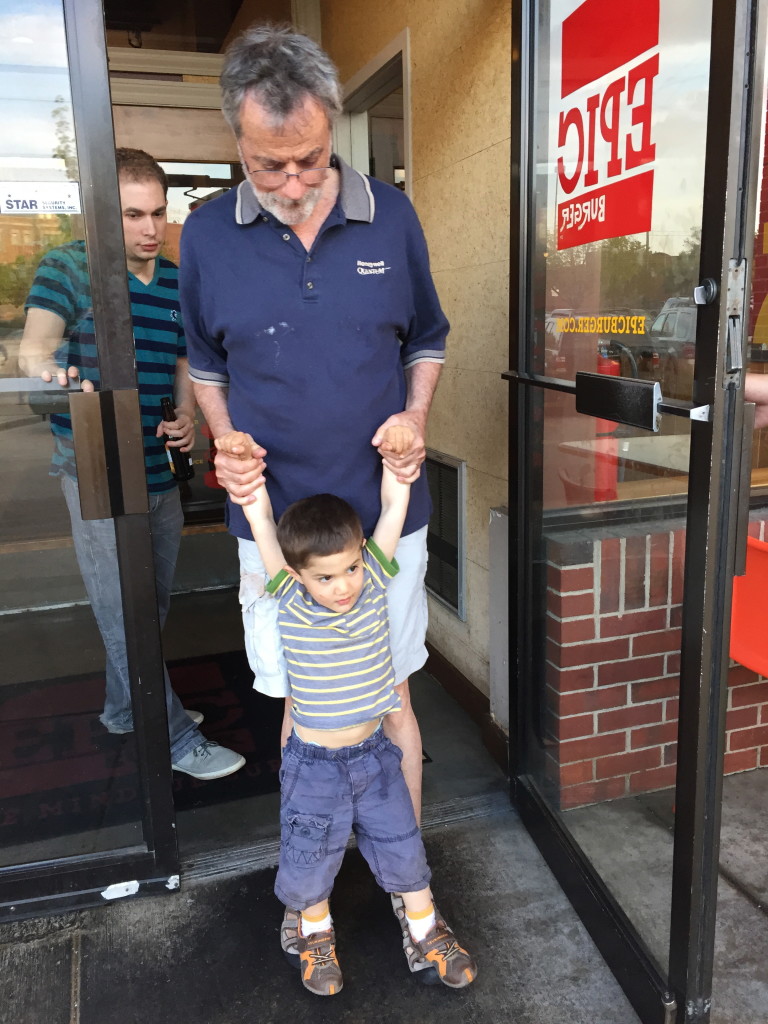 He distracted the kids from many tantrums and fights with his clever, entertaining tactics.
And sometimes he simply sat with them, enduring their cartoon marathons.
And that's not all! He gave of himself freely to me as well.
During nap times I was able to jog and run errands. After the older kids went to school I left the twins with Grandpa most mornings and drove Adam to work. And Adam and I were able to go out a few times alone, even if it was something as simple as putting the kids to bed and running errands.
Did I mention he fixed our towel rod and a kitchen drawer too?
We are all going to miss you terribly Grandpa!!!
I'm going to take your lead and wait as patiently as I can to hit you up for another visit.
Ah, who am I kidding! I guess the patience wasn't inherited. Grandpa, there will be suggested dates for your next visit in your inbox by the time you get home.
Pin It