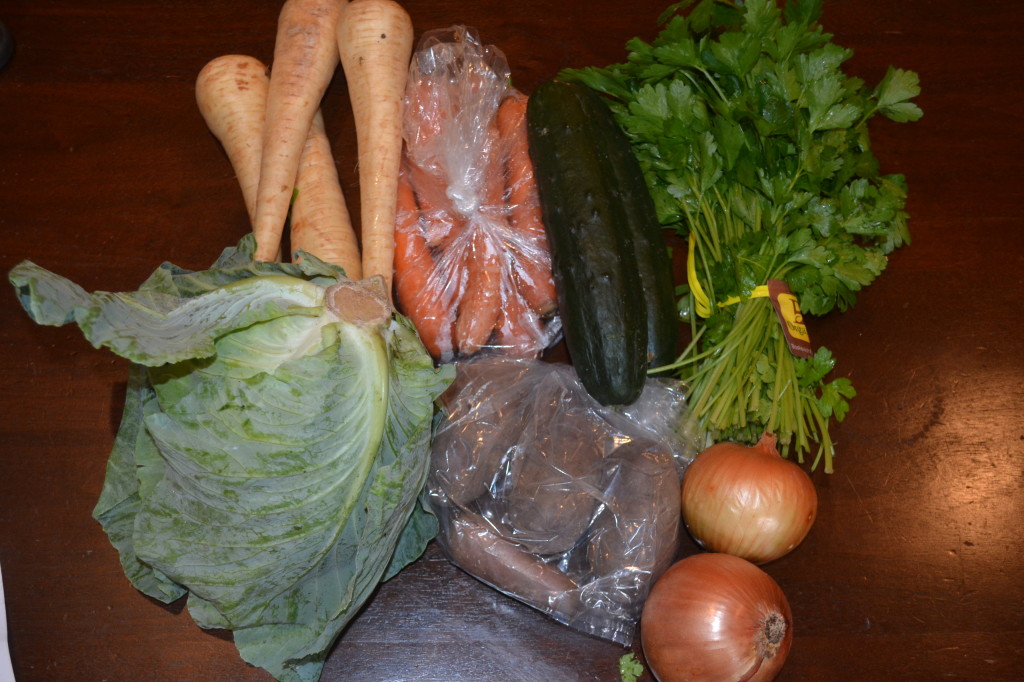 This week carrots, parsnips, cucumber, cabbage, fingerling potatoes, onion, and parsley.
Carrots, parsnip, cabbage and some of the parsley were used for a hearty winter vegetable soup. I also added butternut squash, leeks, celery, tinned tomatoes, cauliflower and some seasonings. I like to make a big pot of healthy vegetable soup in the fridge in the winter. I can eat it every day, it's super healthy and filling and keeps me from grabbing something that is easy and quick to make but not as nutritious.
Cucumbers went into home made sushi rolls.
I meant to put the potatoes in the soup but forgot so I made them into a side dish, diced and roasted with garlic and rosemary. When I cut them open they were a gorgeous speckled purple. They tasted the same as regular potatoes, though.
Along with the potatoes I used the rest of the parsley turkey burgers which were grilled up on a snow covered grill one night.
Onions always get used up as a base to many dishes but I think I used these two for a sloppy joe night and a gorgeous, spicy chana masala.
Pin It