Coming back to America after 8 years abroad was like returning to your warm bed on a cold winter morning. Everything was familiar and safe.
Actually at first it was an adjustment. I found it unnerving that I could understand everyone's conversations around me. I felt as if I was constantly eavesdropping. I also found it odd that I now blended into the crowd. No one stared, no one approached me to check me out.
But the adjustment was quick because it was something that I had already lived. I knew it, I just had to recall it all.
I loved knowing where to find everything again. All the food I loved, the clothing stores I adored. I loved the convenience that this culture provides. I loved understanding how everything worked. My assumptions about society were correct. I knew when to tip, the appropriate time to greet or thanks someone. When something broke I knew who to call to fix it.
So I guess it went unnoticed for a while that, even though I was moving back to America, it wasn't quite home. I had absolutely no experience living anywhere where it snowed.
I remember the first time it snowed when I moved to Chicago. I broke into a run with my tongue out trying to catch snowflakes. Adam informed that is what dogs also do when it snows. I've seen Jack and Ben try the same trick. It doesn't really work, but I guess there is something primal and innate about trying it.
This winter, and every winter I get a little more education into the way things work when you live in a cold place.
So far in the past I've learned how pipes can burst and cause A LOT of damage if your not careful.
Static electricity in the winter is something I'll never get used to. I've got a memory of a goldfish when it comes to static electricity. It always surprises me when it happens. Surprises and shocks, that is!
The other day I was out playing in the snow with Adam, Jack and Ben. We built a snowman. It was the first snowman that Ben ever built. Actually it was the first snowman Jack has ever built as well. I thought some more and realized it was the first snowman I had ever built too!
This winter I learned the best way to dry wet boots.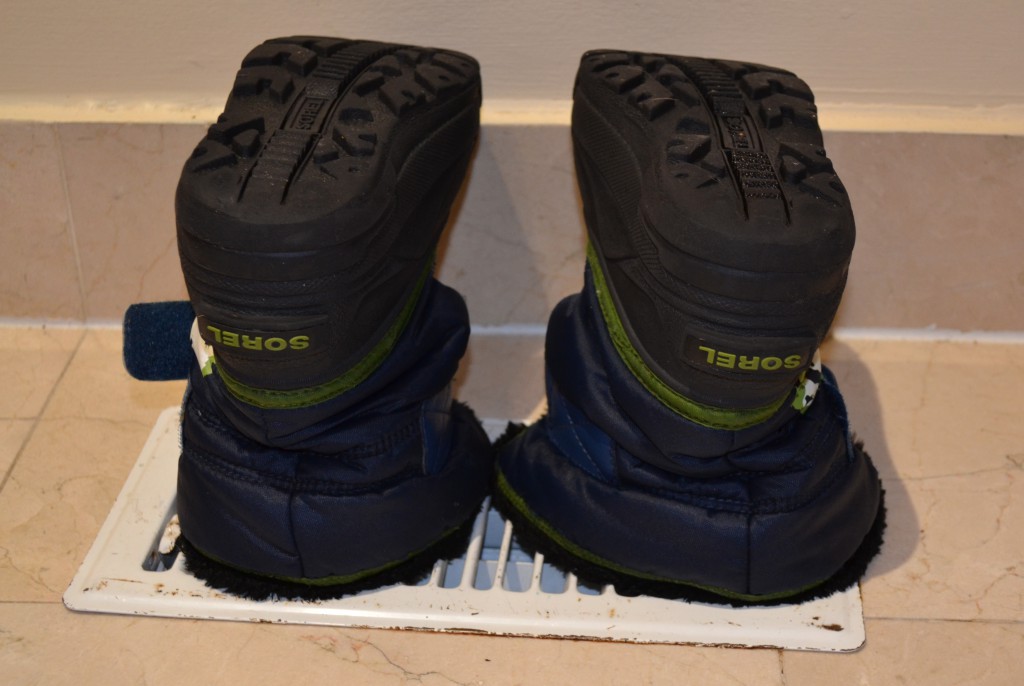 I also, after 5 years, finally found gloves for the kids that don't fall off and manage to keep their hands warm while playing in the snow. The L-bow glove covers you all the way up to the elbow. I put them on before I put on the jackets and they are super secure.
Pin It