This week we received acorn squash, leek, beets, Japanese eggplant, corn, kale, poblano peppers, salad mix and oregano.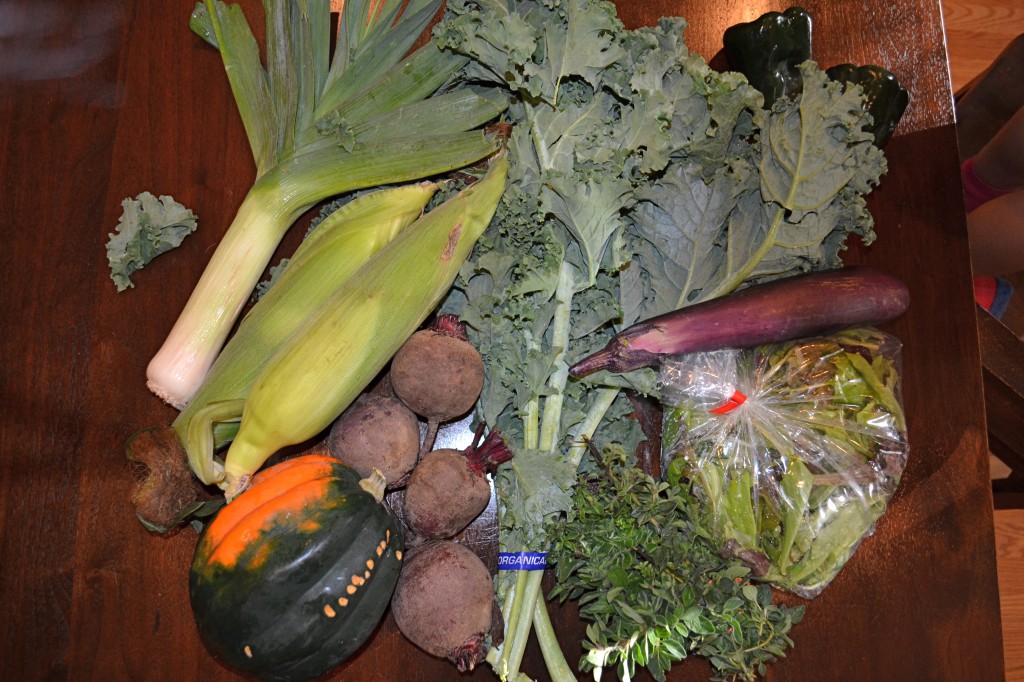 I'm kind of impressed with myself that this stuff didn't all go to waste, considering the week we've had here.
I baked the acorn squash, drizzled with maple syrup, salt and pepper. You just cut it in half and bake cut side up. After it's baked you can scoop out the flesh or peel off the skin. I added a pat of butter and ate it as a side. It was okay. I think next time I'll try it in a soup or some other way.
At the same time I baked the beets. I also steamed some green beans. I let them both cool and put them in a salad with goat's cheese crumbles, lettuce, and candies pecans. Balsamic vinaigrette. Love beets. Can not believe no one else in this house will touch them.
I threw the poblano peppers in with a tamale pie I was making in my slow cooker. So good. I hate the cold weather, but at least it means more slow cooker dinners.
The salad was paired with a pasta dish. Rotini with Italian Turkey sausage, mushrooms, and the fresh thyme from last delivery.
Corn was boiled up as a side dish. The eggplant was also a nice side. One night while I was grilling chicken I oiled, salted and peppered the eggplant and grilled it to a gooey, crispy yumminess.
Leek and Kale both went into a quiche for dinner. The left over salad leaves made a nice side dish with this.
The oregano is wilting in my fridge still, but I'm hoping to add it to a greek salad with leftover grilled chicken as a lunch one day before it gets too soggy.
Pin It