This morning Adam asked if I wanted to take the boys out to see Thomas the Train in Union, IL or go back to Santa's Village in Dundee, IL.
Both destinations are over an hour away.
Both places are crowded.
Both seemed like a lot of work and effort, but the little voice inside my head reminded me that one of the things I've wanted to do was give the boys a really fun summer. And both these places would be a day that the kids would remember for a long time.
In the end we chose Santa's Village. Mostly because by the time we organized ourselves we saw that there were no more tickets to ride Thomas online. And going all the way out there to find out you can't ride Thomas when you see all the other kids doing it is probably a memory NOT worth making.
Santa's Village is a curious place. I mean, who comes up with a concept that is basically an amusement park for kiddies mixed with some animals and calls it Santa's Village? Perhaps you need a childlike mind. A mind that doesn't completely connect so neatly, like children's minds often do, to understand and build a place like this. I mean if I were to name it I'd probably go with just the "Azoosment Park" part. Or "Wild Animals, Wild Rides." Or "Get Dizzy, Eat Sugar, Fried Stuff and White Carbs".  Anyway, there we were with a hundred or so other families in the middle of summer at a place called Santa's Village.
It was the twins first time and they definitely enjoyed lots of the rides. Some they were too small for, but most of them were okay.
Some of them Jack was too big for, but this year he didn't seem to mind. When they were on this ride Adam turned to me and said sadly, "This might be the last year we take Jack to this."
So sad when you realize a part of your kids childhood will soon be gone. I like it better when they outgrow stuff and you only notice it in hindsight. Like you wake up one day and realize you haven't sat on your lap for months now. Hindsight makes it less painful somehow.
As usual Adam amped everything up to make sure this was absolutely a very, very special day. Going to an amusement? azoosment? park wasn't enough. There was ice cream too. I managed to talk him out of the candy.
And afterwards, something we never did as kids, shopping in the gift shop…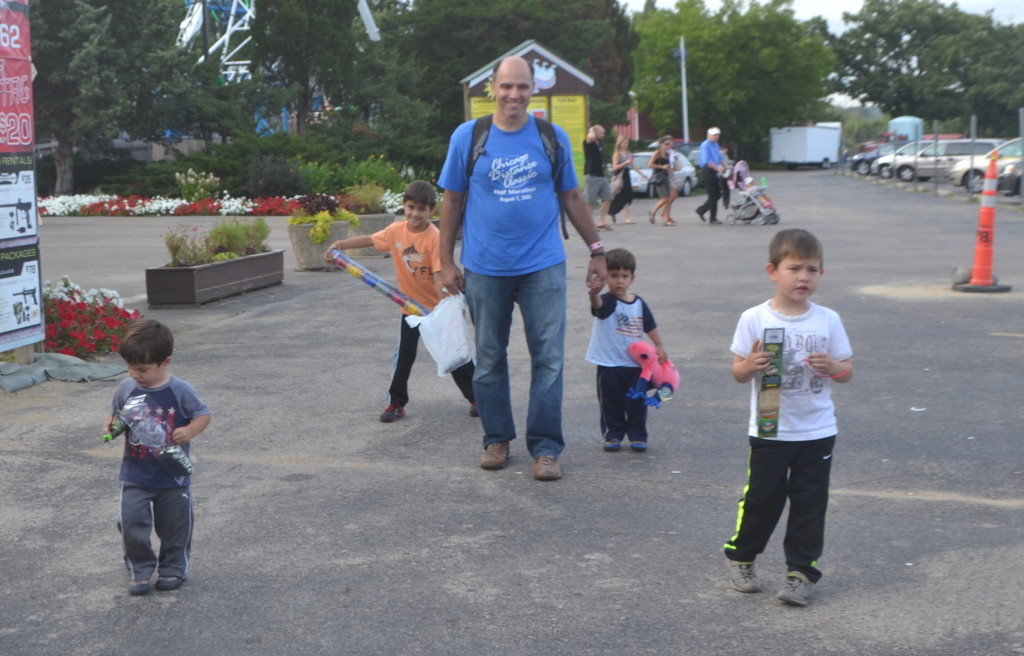 My favorite pick was Aaron's pink frog. He's sleeping with it as I type this.
Pin It