Yesterday a friend of mine, an old flat mate of mine from my days in Hong Kong, sent me a link to her new app.
I met Fionnuala Hanahoe while I was working my first job in Hong Kong at HK Magazine. We worked in ad sales, one of those first jobs where our salaries were such that we could either go out for drinks or eat dinner that night. Often we chose the former. We were inseparable back then. Fionnuala rented a room on Lamma Island and often missed her ferry home. She slept over my place so much my other three strapping South African male roommates thought we were lesbians. I managed to find a place to live close to work, but it was so small that it only fit a bed. Often I would wake up next to Fionnuala with my entire wardrobe, which hung above my bed from wall to wall with a flimsy shower rod, on top of us. The rod couldn't handle the weight of the clothes.
Eventually Fionnuala and I moved into a real flat, with three rooms with our friend Vanessa…
I'm sitting there laughing at what screw ups we must have looked like back then. Who would have thought we would do anything with our lives?
Still, even back then Fionnuala was a hard worker. Eventually she got a more technical job, then she decided it was time to move back to Ireland. The economy was looking up, and she still had the dream to pursue her art work.
Over the years I've watched her from afar living out her dream. She has exhibited many times and recently she got married. She now has a one year old, also named Ben.
When I got the facebook message about Fionnuala's new app, my first thought was, "Oh no." I was worried that it was going to suck, then I was going to have to try to find something nice to say about it without lying.
Still, I dutifully downloaded it and handed it over to my own Ben.
Luckily, I had nothing to worry about. It kept him occupied for hours. After that, I had to take a look at it myself.
Having four kids of my own, I'd like to think I dabble in this sort of thing more than most moms. I was very pleased to see how well the app worked. A very clever and interactive book. I'd rate it even higher than some of the most popular books out there, like Mr. Brown Can Moo, which I feel they could have done so much more with. In fact, I likened it to one of my favorite interactive iPad book apps, Barnyard Dance, by Sandra Boynton.
Here is a picture of Ben's pig that he dressed…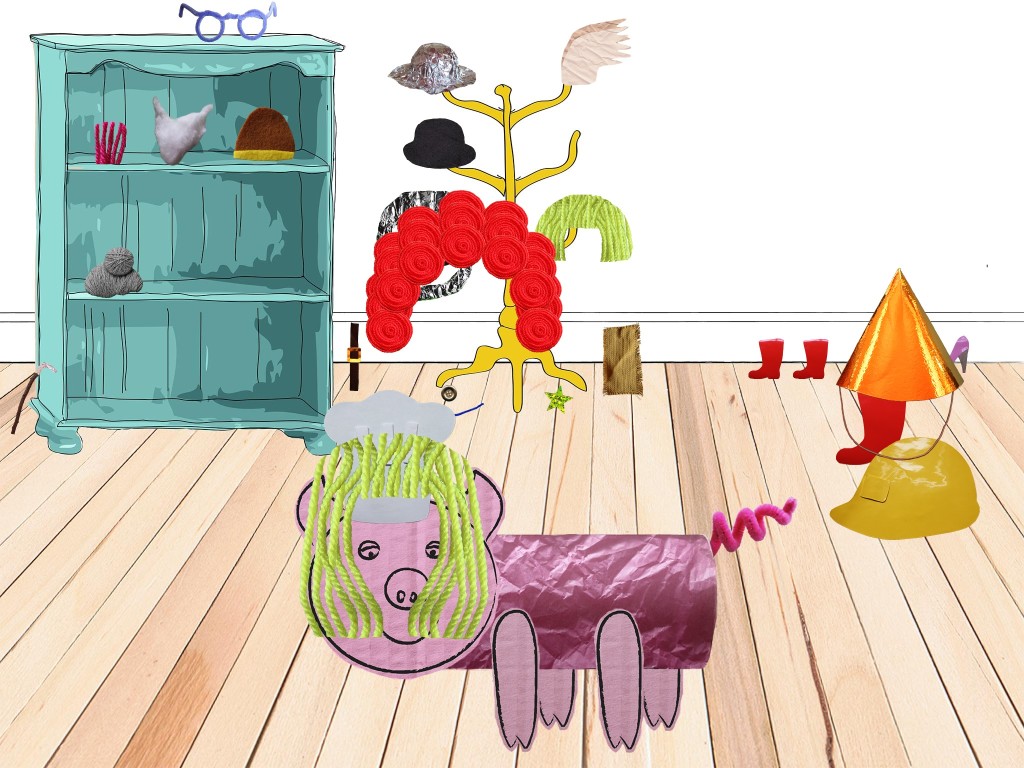 He called it, "My momma". I guess long hair and a chef's hat defines me.
All of the other costumes in the background can be used as well.
Each page has a different activity for your child and it was perfect for Ben's age, though I suspect even a year younger than him could do it as well. And I know Jack, age 6, will have just as much fun as Ben did with it.
If you have a pre-schooler, I highly suggest you try it! I hear Scribbaloo Trains is already in the works…
Pin It